Questa pagina è stata realizzata da
Marc Hoffeld
di Luxembourg
che ringrazio per aver autorizzato la pubblicazione delle immagini dell'opera di sua proprietà.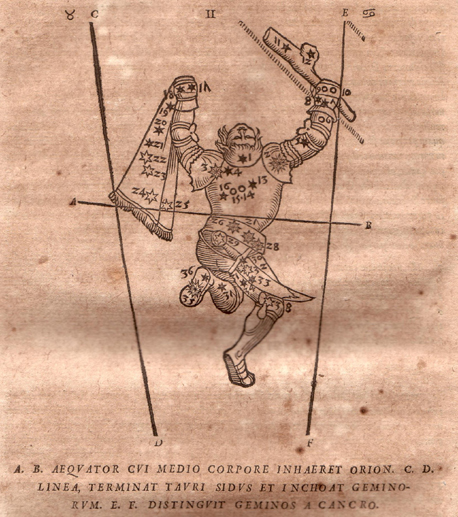 Arati Solensis

PHAENOMENA ET PROGNOSTICA. Interpretibus M. Tullio Cicerone, Rufo Festo Avieno, Germanico Caesare, Una cum Eius Commentariis. C. Iulii Hygini Astronomicon...

Coloniae Agrippinae ( Cologne ) : apud Theodorum Graminaeum, 1569 (1570).
Second latin edition of this book, first published in Paris 1559.
(References : Houzeau.-L. 772; Warner, Sky explored p. 272; Adams 1518; Zinner 2476; Lalande p. 93; Brown B. p. 26)
The only existent works of the Greek poet Aratus of Soli (ca. 315-245 BCE) are two poems written in hexamaters. The Phaenomena imitates a prose work on astronomy by Aratus contemporary Eudoxus of Cnidus, while the Diosemeia discusses weather prognostication drawing chiefly from Theophrastus. Aratus poems attracted the favourable notice of distinguished specialists, such as Hipparchus, who wrote commentaries upon it. The present work is based upon the early Latin translations of Cicero, Avienus, and Germanicus Caesar.
Hyginus Poeticon Astronomicon, a first century before Christ work on the mythical origins of the zodiac figures and based upon the writing of Aratus and Eratosthenes, has been included as a kind of thematic commentary.
The elegantly wrought 48 woodcuts of constellations and astronomical allegories included in this book resemble the figures from the charts of Albrecht Dürer (Imagines coeli Septentrionales and Imagines coeli Meridionales 1515). Although the star figures in the book are anonymous, they are strikingly similar to the illustrations in Theodore Graminaeus book "Erklaerung oder Auszlegung eines Cometen ( Cologne , 1573)". (see Warner, Sky explored p. 98).
The stars included are identified by Arabic numerals corresponding with positions in the Ptolemaic catalog. Aratus refrains from giving an explanation of the planetary movements, apparently because of their complicated nature and the difficulty of calculating their conjunction.
Some other copies of this book can be found in libraries, such as the British Library, the Wellcome Library and the Biblioteca Guido Horn d' Arturo.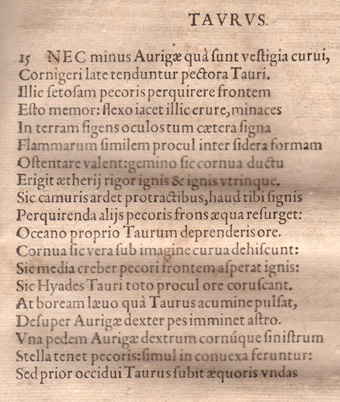 L'opera può essere consultata
nella seguente pagina
per cortesia di

http://bdh-rd.bne.es/viewer.vm?id=0000000204
e per cortesia di

in
https://reader.digitale-sammlungen.de/resolve/display/bsb10139476.html
Le xilografie delle costellazioni utilizzate nell'officina tipografica di
Theodorus Graminaeus per l'edizione del 1569 e 1570 si pensa (vedi:
https://www.astronomie-nuernberg.de/index.php?category=duerer&page=graminaeus-1569)
che siano state stampate utilizzando i blocchi in legno prodotti nel 1534 per la seguente edizione, curata da Gaspar Vopel, di
Gaius Iulius Hyginus
C. Ivlii Higini, Avgvsti Liberti, Poeticon Astronomicon : Ad Vetervm exemplarium eorumq[ue] manuscriptorum fidem diligentissime recognitum, & ab innumeris, quibus scatebat, uitiis repurgatum, Coloniae 1534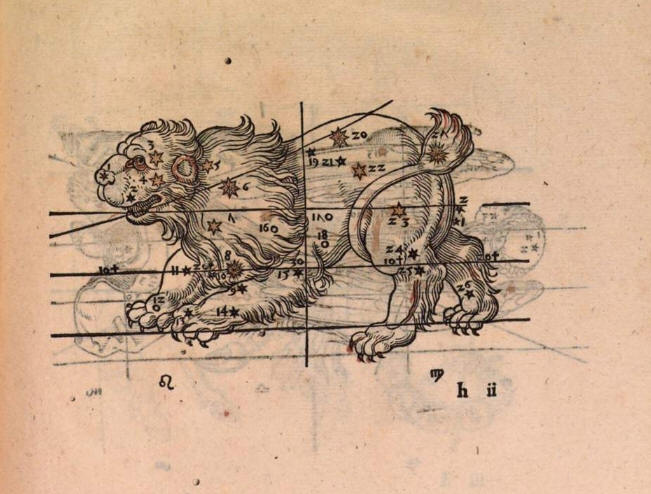 http://www.atlascoelestis.com/Hyginusvopel%201534.htm