Levi Walter Yaggy

Planetary System. Eclipse of the Sun. The Moon. The Zodiacal Light. Meteoric Shower

in

Geography

Yaggy's Geographical Study Comprising Physical, Political, Geological, and Astronomical Geography. Published by Western Publishing House. Chicago. Copyrighted 1887 , Chicago 1887
Levi Walter Yaggy
Planetary System. Eclipse of the Sun. The Moon. The Zodiacal Light. Meteoric Shower
in
Geography
Yaggy's Geographical Study Comprising Physical, Political, Geological, and Astronomical Geography. Published by Western Publishing House. Chicago. Copyrighted 1887 , Chicago 1887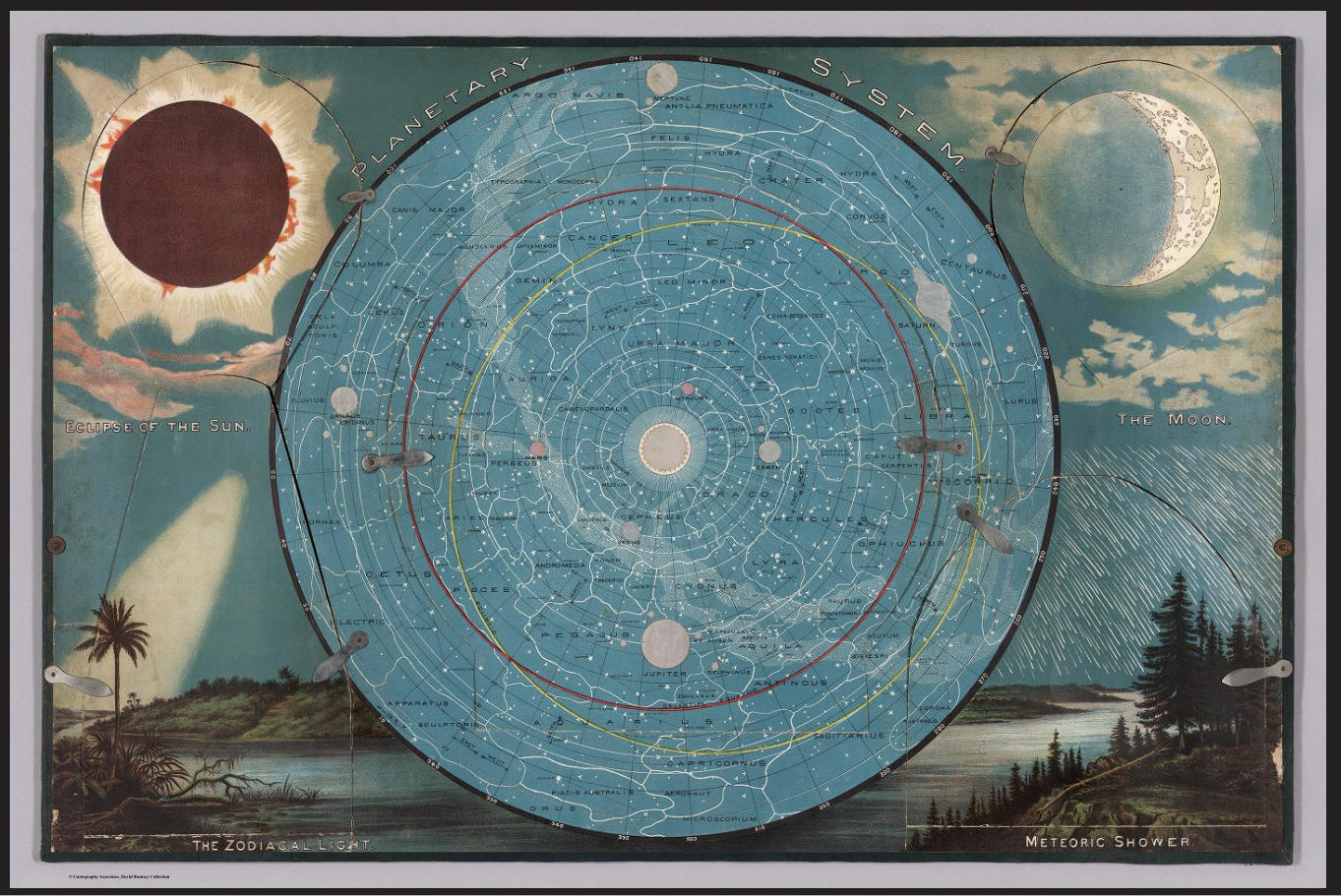 Planetary System. Eclipse of the Sun. The Moon. The Zodiacal Light. Meteoric Shower è una particolare cromolitografia prodotta nel 1887 a Chicago da Levi Walter Yaggi, fondatore nel 1874 della casa editrice Western Publishing House specializzata nella didattica. Non si tratta di una semplice mappa descrivente aspetti dell'Universo ma di una grande tavola indirizzata alle scuole, cm 158 per 96, costruita su due strati, illuminabile dal retro, che permetteva ai docenti di instaurare con i propri allievi relazioni interattive programmabili secondo le diverse esigenze che si presentavano.
Le varie tavole prodotte da L. W. Yaggi potevano essere acquistate singolarmente o assemblate in diversi moduli, raccolti in portfolio e sempre accompagnate da una guida didattica ad uso dell'insegnante.
Il modulo più ampio in tema geografico è rappresentato da Geography,Yaggy's Geographical Study Comprising Physical, Political, Geological, and Astronomical Geography, composto da 15 tavole suddivise in due gruppi nella cartella portfolio che le conteneva. Di seguito presento la relazione proposta dalla Boston Rare Map per descriverne una sua copia proposta in vendita: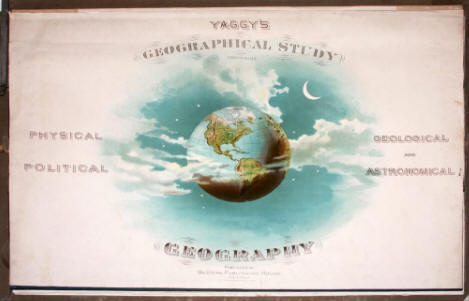 https://bostonraremaps.com/inventory/yaggys-geographical-study/
Levi Yaggy, Yaggy's Geographical Study Comprising Physical Political Geological and Astronomical Geography Published by Western Publishing House. Chicago: Western Publishing House, 1887.
Large portfolio of brown cloth over wood, closed by means of a flap with leather straps and metal clasps. Containing 15 chromolithograph plates and maps (one with five tissue underlays and moveable volvelles), as well as a relief map of North America. Various metal clamps and props to enable display.
Description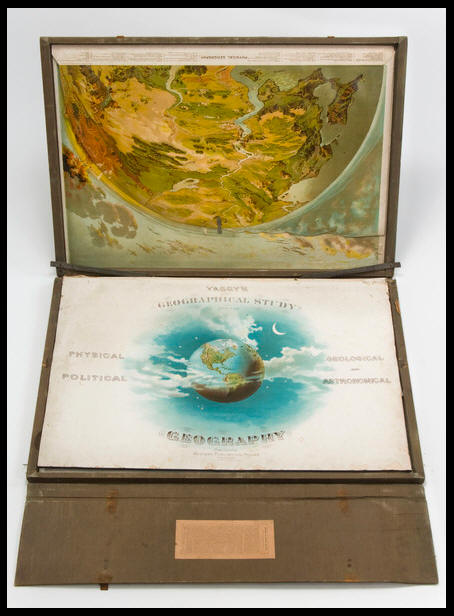 The Geographical Study consists of a very large (and heavy!) portfolio
LOWER PORTFOLIO CASE CONTAINS:
1- Chromolithograph title page, 23.5"h x 35.5"w, bearing an attractive illustration of the earth, moon and stars.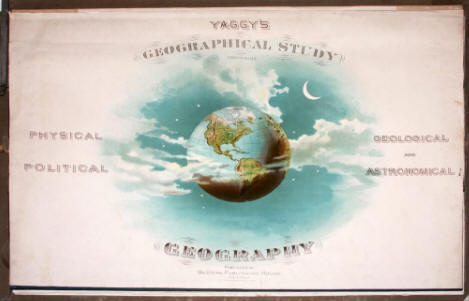 2- Planetary System, a chromolithograph chart, 22.75"h x 35"w, bearing a central image of a star chart on a north polar projection, with cut outs for the planets and their major moons, each filled with colored linen and designed to be viewed with a light shining through the verso. The corners are adorned with images of the Moon, a solar eclipse, a meteor shower and the Milky Way. The chart also has five hinged panels, each of which may be lifted to reveal another astronomical image. By far the most dramatic of these is Chart of the Heavens Showing the Stars Visible at any Moment through the Entire Year, consisting of a chromolithograph volvelle of a constellation chart that may be rotated to indicate the appearance of the night sky at any day and time of the year.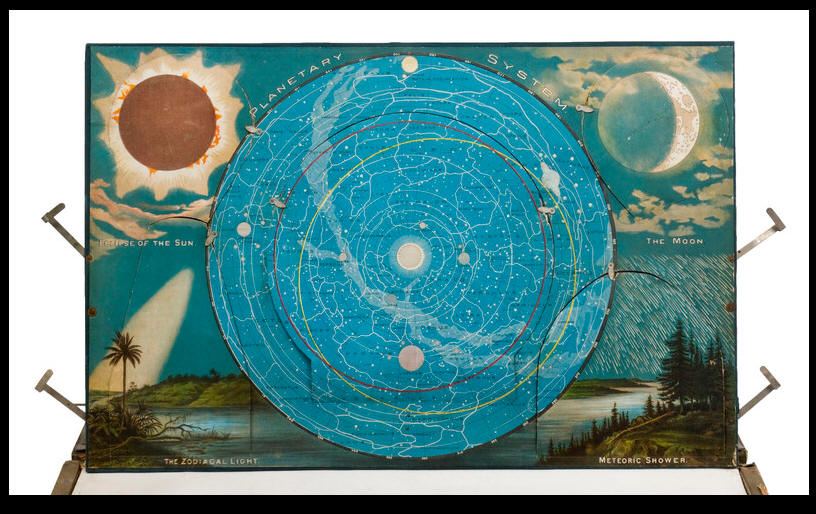 3- Seven double-page maps, each ca. 45.5"h x 33.75"w and printed in colors, including Map of the Eastern Hemisphere and Map of Western Hemisphere, both comprising a central hemispheric map surrounded by four smaller hemispheric thematic maps, as well as Map of Europe, Map of Asia, Map of Africa, Map of South America and Map of North America. Each continental map depicts major topographic features, political boundaries and cities.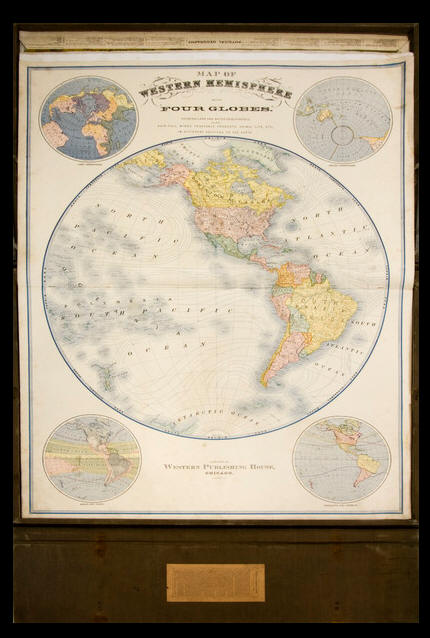 4- The Five Zones Showing in a Graphic Manner the Climates, Peoples, Industries & Productions of the Earth, a chromolithograph chart, 44"h x 32.25"w, bearing a central image of a schematic map of the earth's five "zones," with each zone bearing illustrations reflecting its characteristic climate, population, and economic activities. The corners bear 20 illustrations of people from various races and nationalities.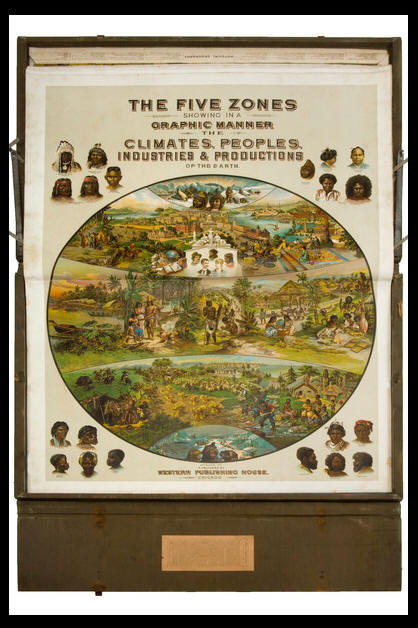 5- Relief Map of the United States Constructed under the Supervision of Henry Gannet Chief Geographer U.S. Hand-painted relief map, 23.75"h x 35.75"w, depicting the states, state capitols, major rivers and mountain ranges.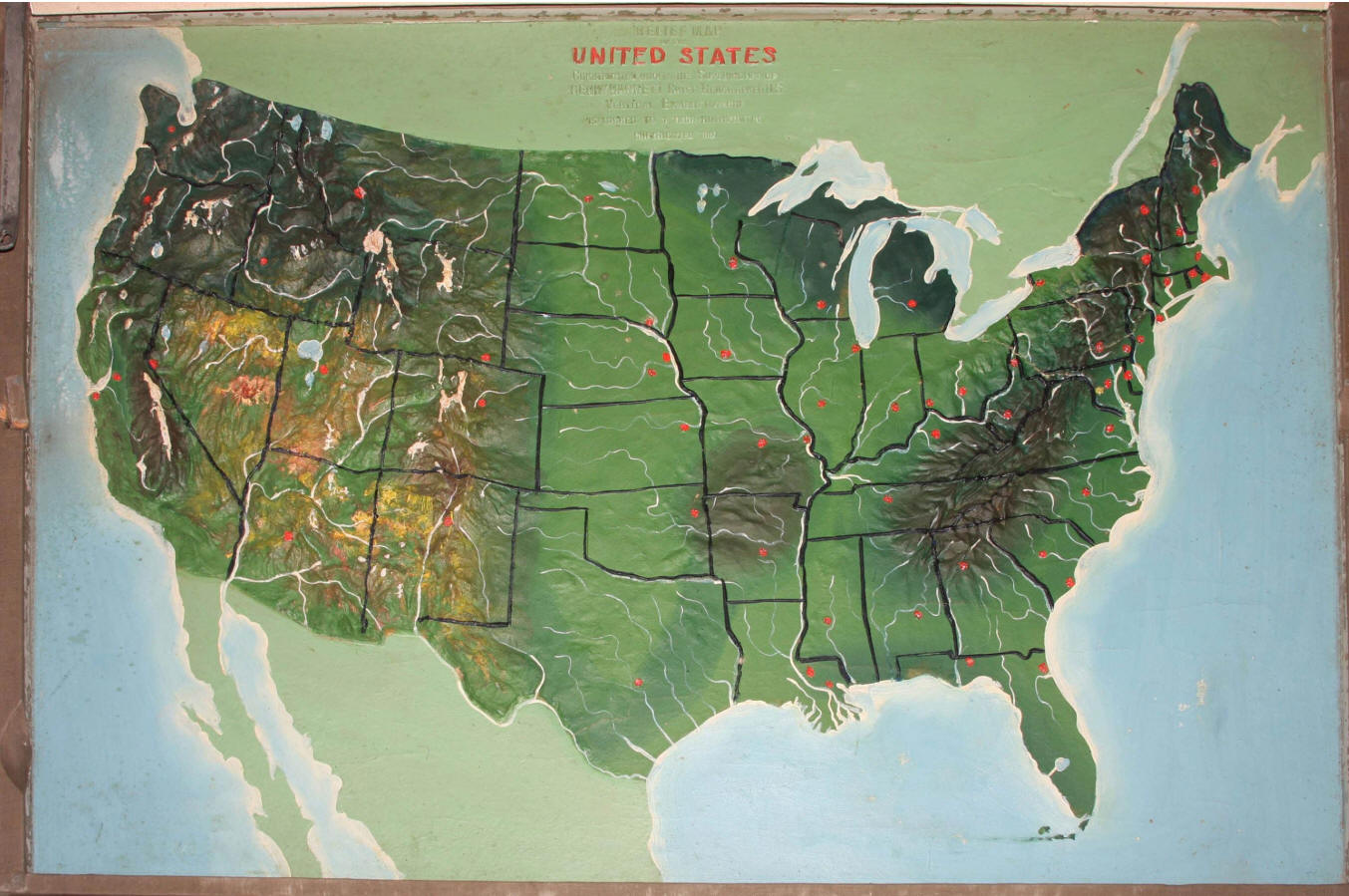 UPPER PORTFOLIO CASE CONTAINS:
6- Physical Geography, a chromolithograph chart, 22.75"h x 35.75"w, depicting a cross-section of the earth's geological strata, along with a chart depicting geological and zoological aspects of "The Pre-Adamite Earth." The chart is accompanied by three large, irregularly-shaped overlays, each also titled Physical Geography, and depicting respectively marine life, subterranean marvels and mining activities, and representations and definitions of terrestrial features.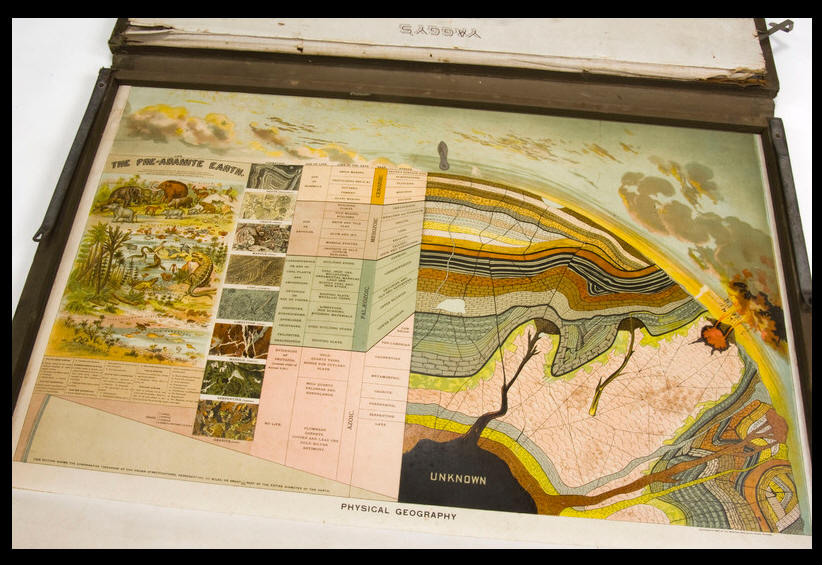 The flap used to close the portfolio has pasted-on "Directions for Opening the Study," which this writer has found to be confusing in the extreme, even after several readings. A Teacher's Handbook to the Studywas also issued (whether separately or packaged with the Study is unclear), but it is now very rare and is not present here.
Though the Geographical Study clearly achieved some commercial success, it seems that the complexity—and presumably the associated expense—led to demand for a simplified version. In the early 1890s Yaggy's Western Publishing House accordingly offered the Study in a la carte fashion, with the individual components for sale separately.
Levi Walter Yaggy

Yaggy published and wrote on many topics, apparently always with a focus on educational topics for a popular market. Among others, his publications included Museum of Antiquity; A Description of Ancient Life…(1880); The Royal Path of Life; Or, Aims and Aids to Success and Happiness(1881); The Standard History of All Nations and Races… (1899); How to Do a Consulting Library for Every Want (1902); and The Royal Scroll; A Complete Panorama and Unfolding of Sacred History (undated). Yaggy also produced another monumental educational package entitled Yaggy's Anatomical Study; Presenting the Skeleton, Muscles, Arteries, Veins and Nerves, also Four Life-Size Manikins of the Body, the Head, the Eye and the Ear (Chicago, ca. 1884-1885), which featured life-size illustrations and cutaways of the human body.
Many of Yaggy's works were published by the Chicago-based Western Publishing House, founded in 1874 by Yaggy himself. Yaggy seems to have viewed himself as an innovator and entrepreneur tapping into a transformational moment in American education:
"The Western Publishing House has set its face squarely against old educational methods and ideas. Instead of offering the public old things 'made over,' it has come to the help of teachers and schools with a series of appliances which in design, mechanism and manner of illustration, are new, elegant and practical.
"The enthusiasm which has been aroused in educational circles by this new departure, is proof of the fact that teachers are tired of stereotyped and worn- out means of school-room illustration, and that they desire and need helps and apparatus which measure up to the modern theory and practice of teaching.
"The popular approbation practically evidenced by the emmense [sic] sale of its publications has confirmed the purpose of this House in making a specialty of such school appliances as minister to the wants of progressive teachers, and to the spirit and methods of the "New Education." (Rebecca Pollard, Pollard's Synthetic Method of Reading and Spelling. Western Publishing House, 1897, ads at back)
It is not clear just how much "enthusiasm" really was "aroused" by Yaggys Geographical Study but it did appear to experience rather wide sales. This writer has found reference to large numbers purchased for schools in Nevada[1] and Pennsylvania[2]. The Study must have seen very hard use, however, as complete examples are now hard to find, particularly in such fresh condition, and even the individual components are relatively scarce.
References
OCLC # 431347062 (Boston Public, DePaul, and Osher Map Library) and #58941371 (California State Library).
United States. Bureau of Education, Report of the Commissioner of Education made to the Secretary of the Interior for the year 1887-1888. Washington [D.C.], 1889. Pg. 124.
Pennsylvania Dept. of Public Instruction, Report of the Superintendent of Public Instruction of the Commonwealth of Pennsylvania, for the year ending June 5, 1894. [Philadelphia?], 1893.
Pp. 16, 17 et al.
Planetary System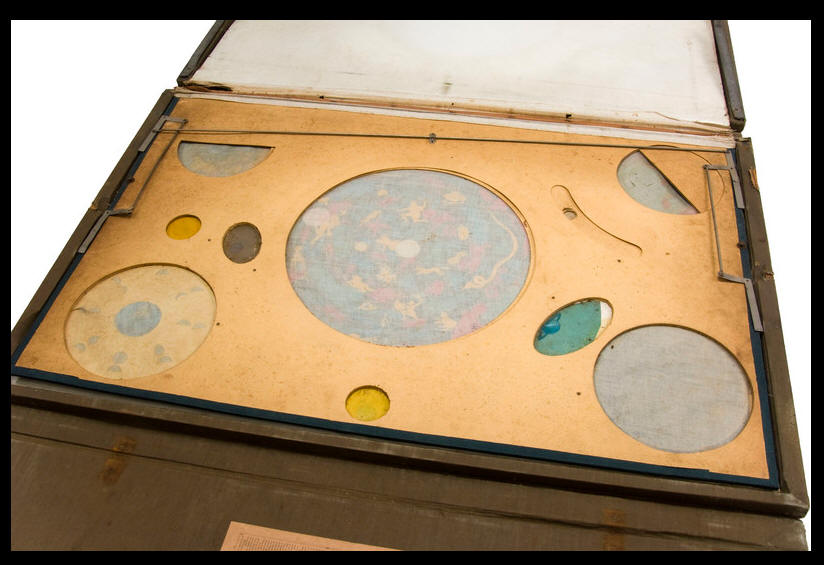 Retro della tavola
La tavola che presenta contenuti astronomici, Planetary System, è una cromolitografia stampata su doppio cartoncino, incollati al bordo, che illustra cinque argomenti. Ognuna delle relative immagini è provvista di alette-finestre fissate da linguette metalliche che una volta aperte permettono di accedere ad un secondo livello sottostante dove l'argomento trattato è approfondito da una ulteriore stampa prodotta sopra un tessuto traslucido che può essere illuminato.
I cinque argomenti approfonditi nella tavola sono descritti nella seguente pagina di Dorothy Sloan-Books che in un'asta del 2007 proponeva in vendita una rara copia del lavoro di L. W. Yaggi: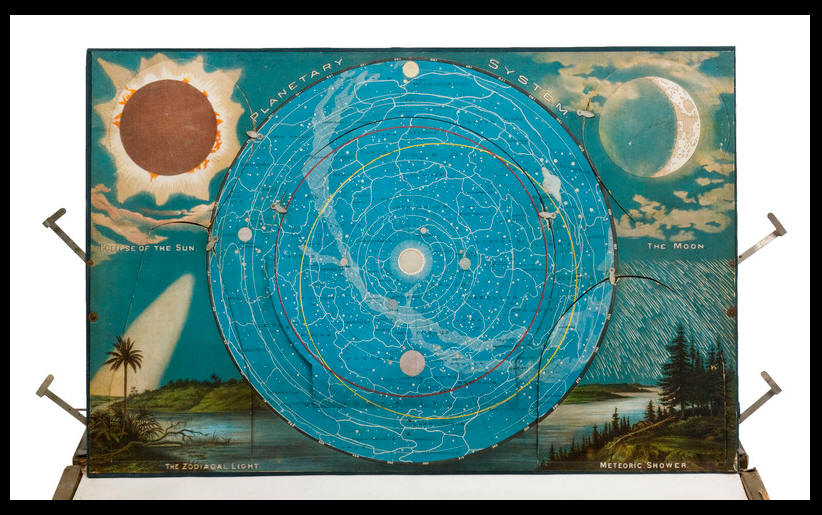 Tavola con alette chiuse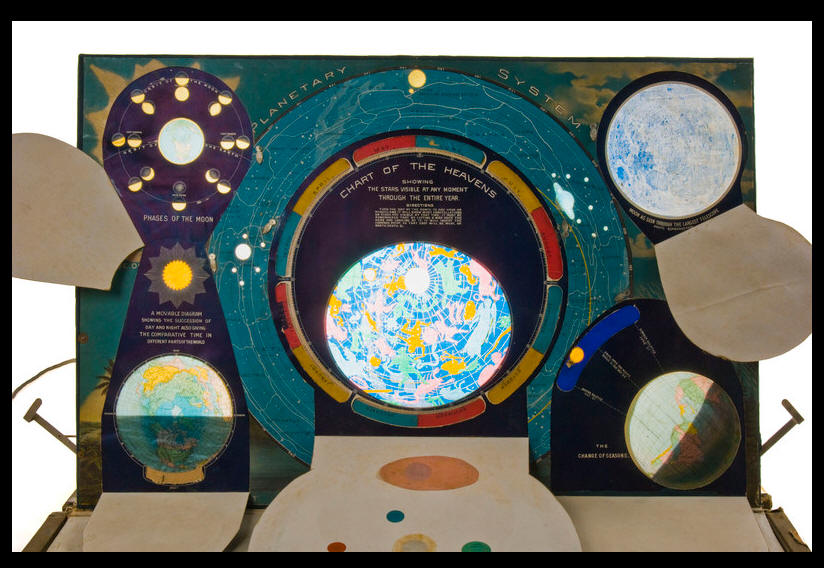 Tavola con alette aperte
https://www.dsloan.com/Auctions/A21/item-atlas-yaggy.html
[i] Planetary System (central section). At the center of the chart is a North Sky circumpolar celestial hemisphere and North Sky planisphere, the night sky shown in light blue, the constellations shown as regions rather than as figures, the stars white in various sizes and forms to represent magnitude, with cut out tissue-backed figures of the sun, planets, and their moons. Below flap: Chart of the Heavens Showing the Stars Visible at Any Moment through the Entire Year. Chromolithograph on translucent tissue. This northern circumpolar planisphere is comprised of an opening revealing brightly colored constellation figures, with an outer dial of the months and days of the year. This latter element was intended to be rotated as a volvelle but no longer turns.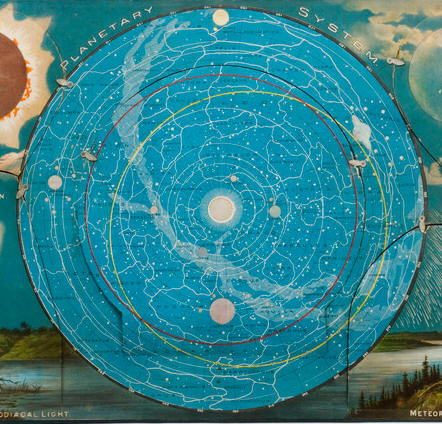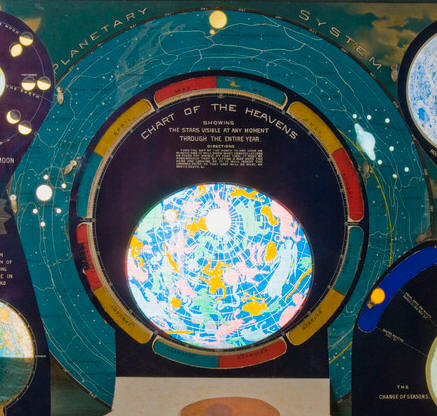 [ii] The Moon (top right). Image of a crescent moon. Below flap: Moon as Seen through the Largest Telescope Photo Reproduction. Chromolithograph on translucent tissue. Image of the surface of the moon.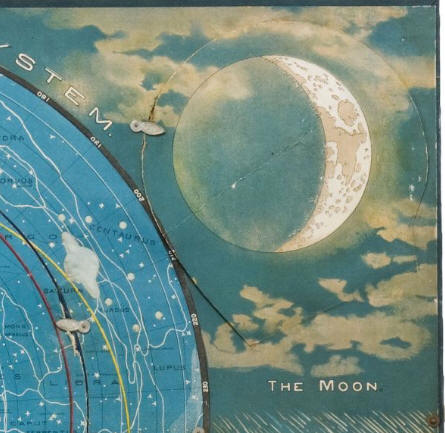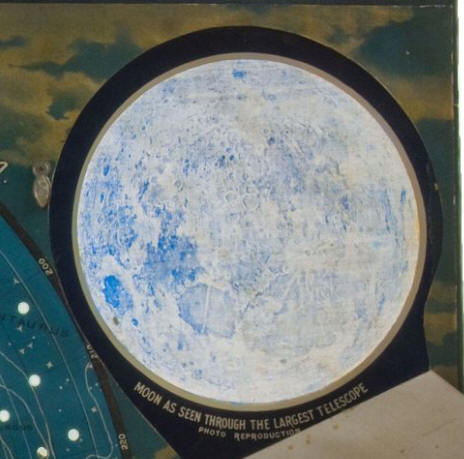 [iii] Eclipse of the Sun (top left). Image of a full eclipse of the sun. Below flap: Phases of the Moon. Chromolithograph on translucent tissue. Diagram of moon phases with central circumpolar map of the earth, and images of orbiting moons showing various phases.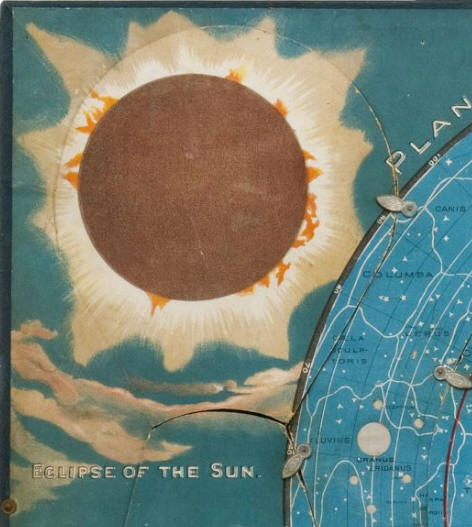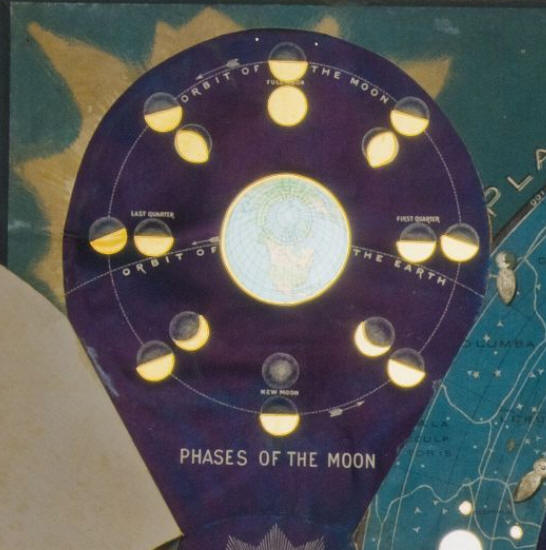 [iv] Meteoric Shower (lower right). Image of meteor shower in woodland setting. Below flap: The Change of Seasons. Chromolithograph on translucent tissue. Hemispheric map of the earth showing change of seasons relating to relative position to the sun. Lower portion rotates as a volvelle (still operative). Beneath the flap is a small tear with no loss to the tissue.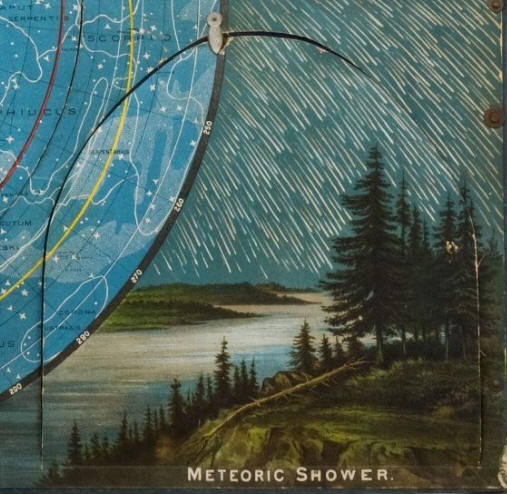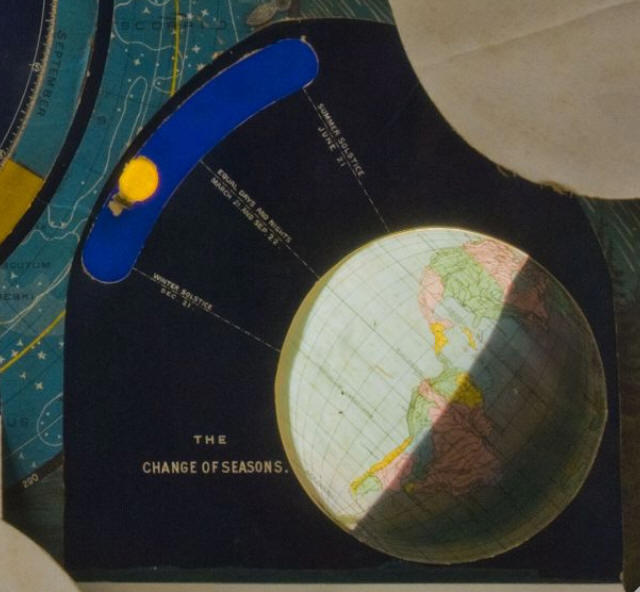 [v] The Zodiacal Light (lower left). Zodiacal light in tropical setting. Below flap: A Movable Diagram Showing the Succession of Day and Night also Giving the Comparative Time in Different Parts of the World. Chromolithograph on translucent tissue. Circumpolar map of the earth, with outer time dial and figure of the sun. Intended to be rotated as a volvelle but no longer turns. Lower portion of dial damaged with some loss.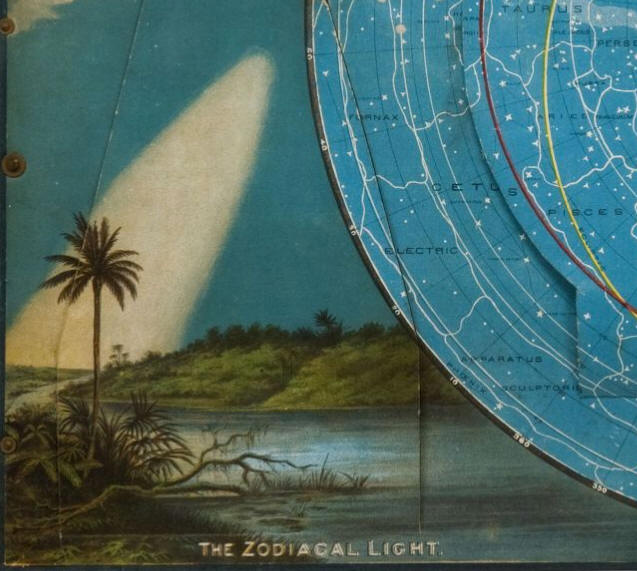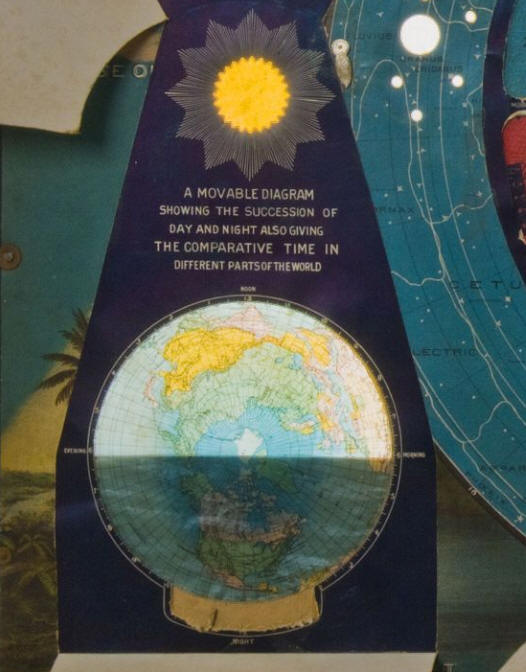 Scheda di presentazione del portfolio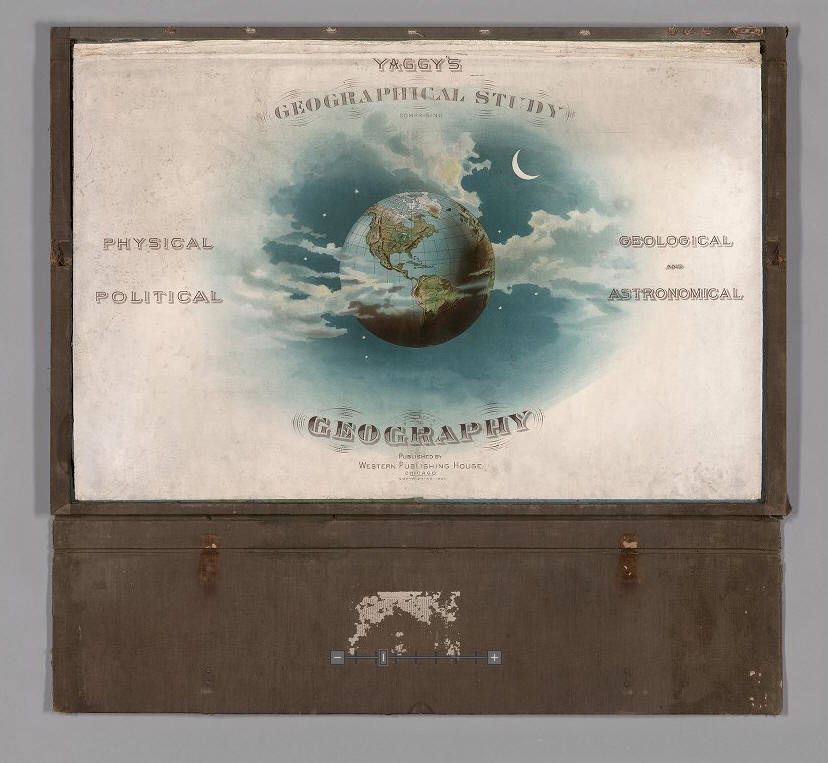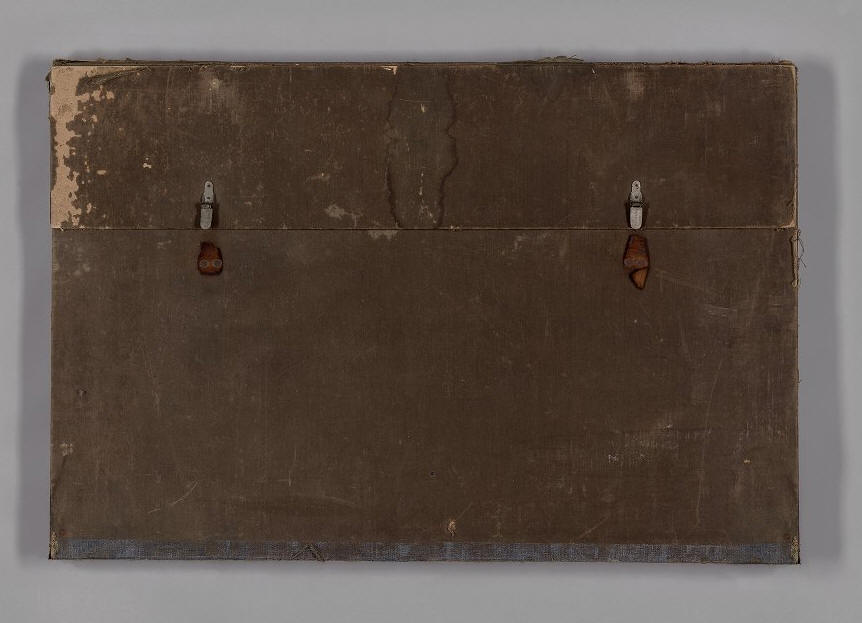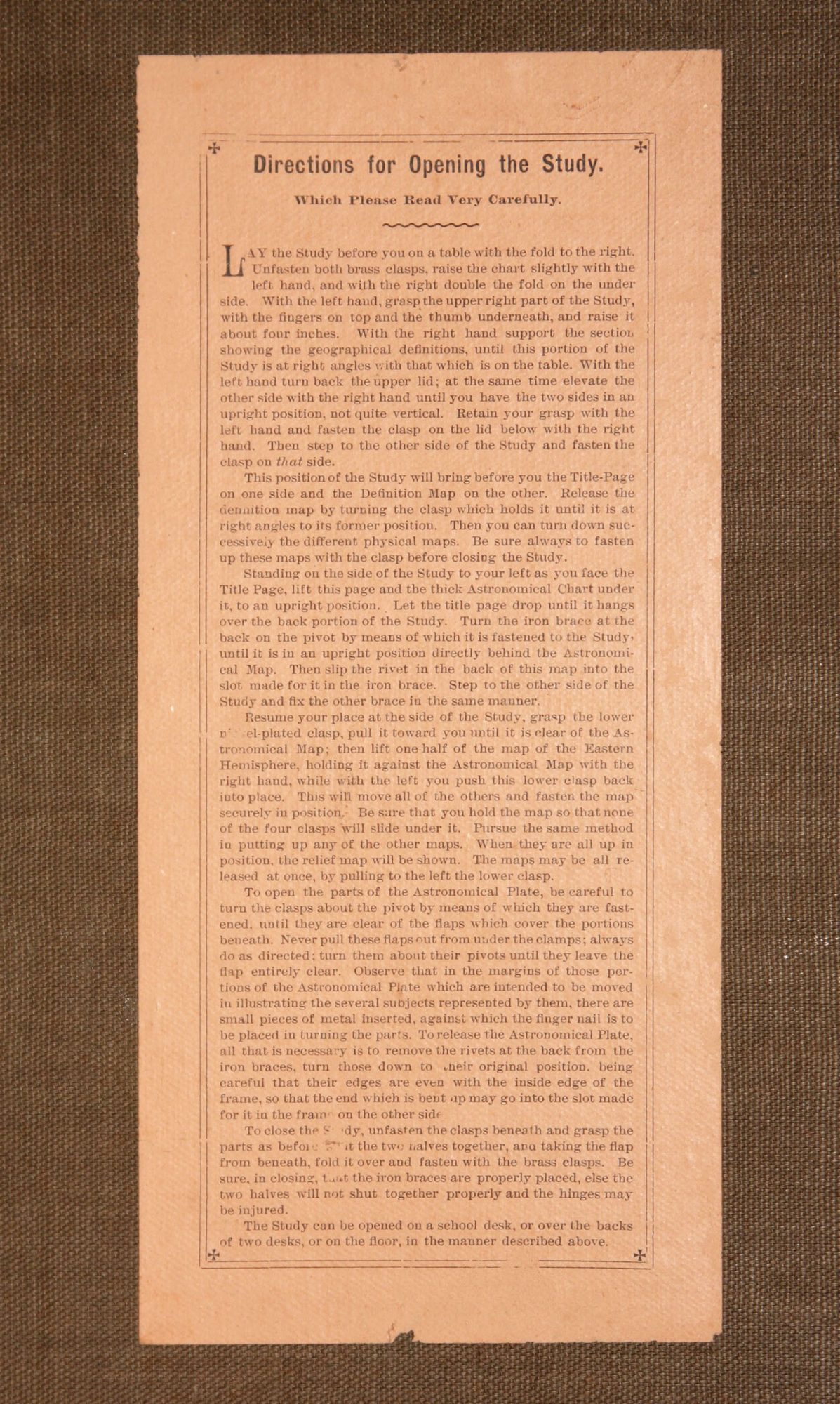 Planetary System. Eclipse of the Sun. The Moon. The Zodiacal Light. Meteoric Shower
Tavola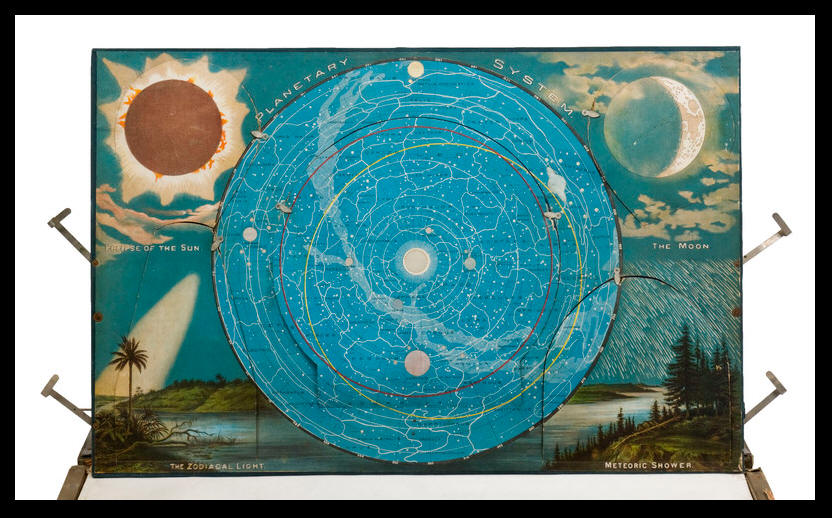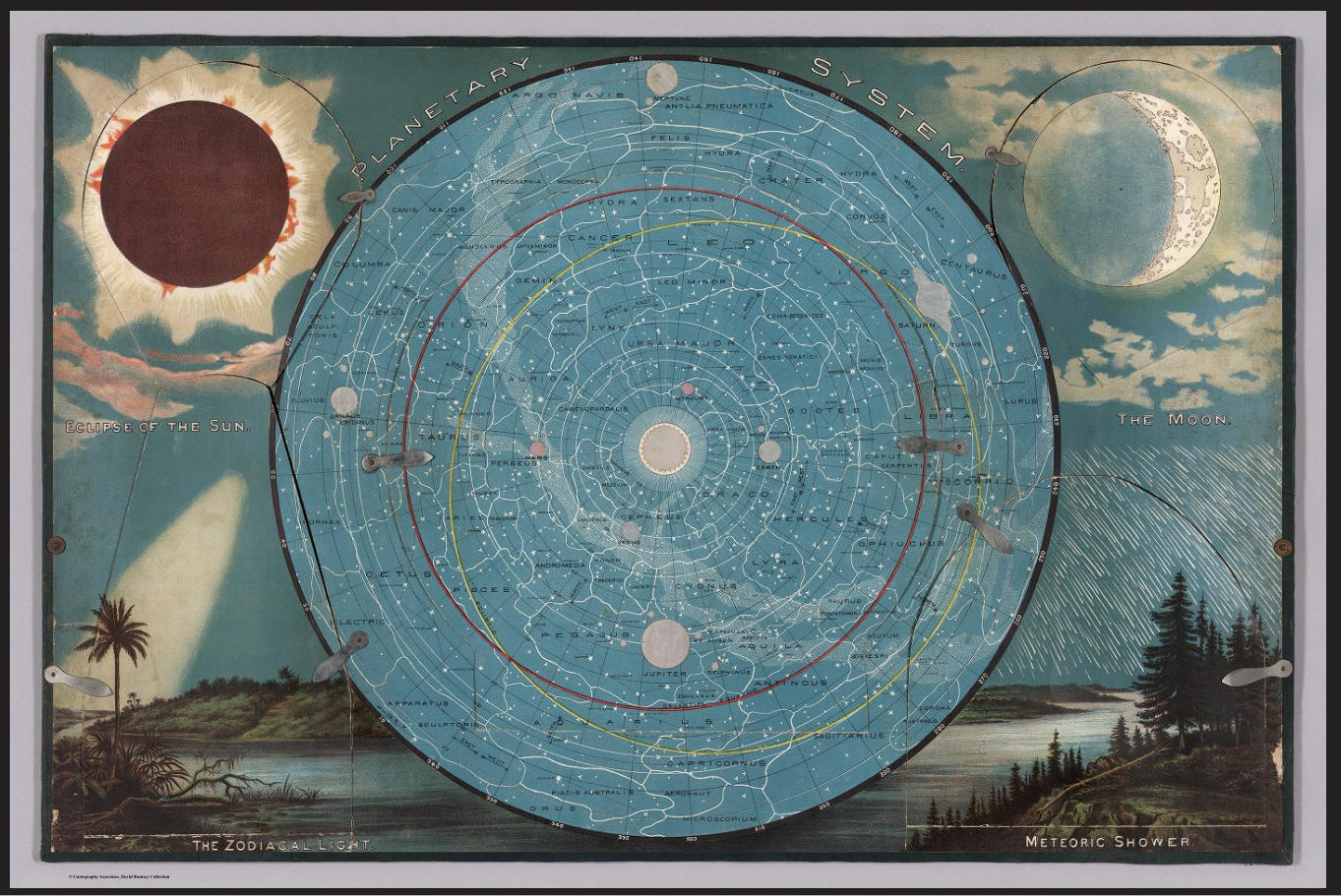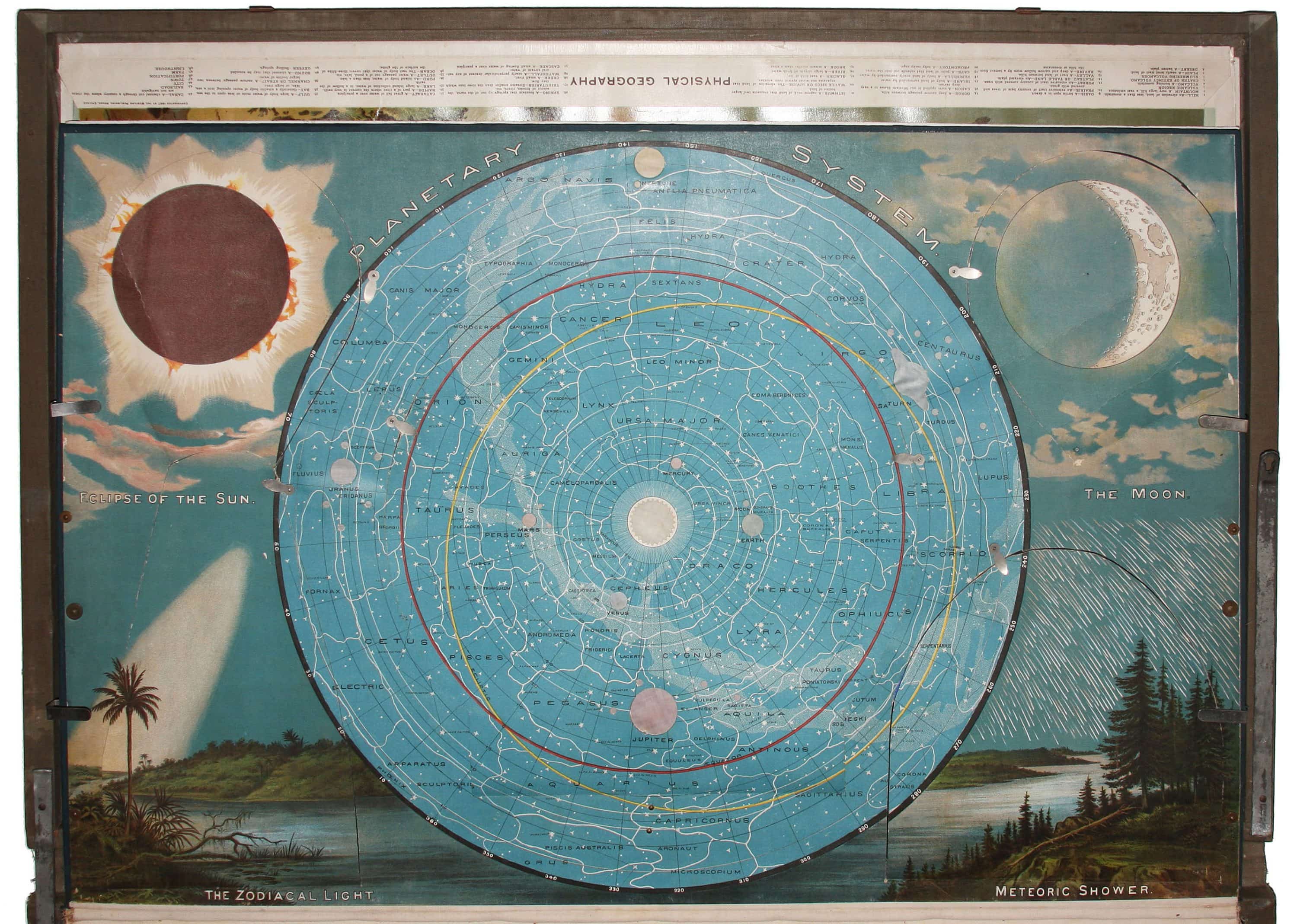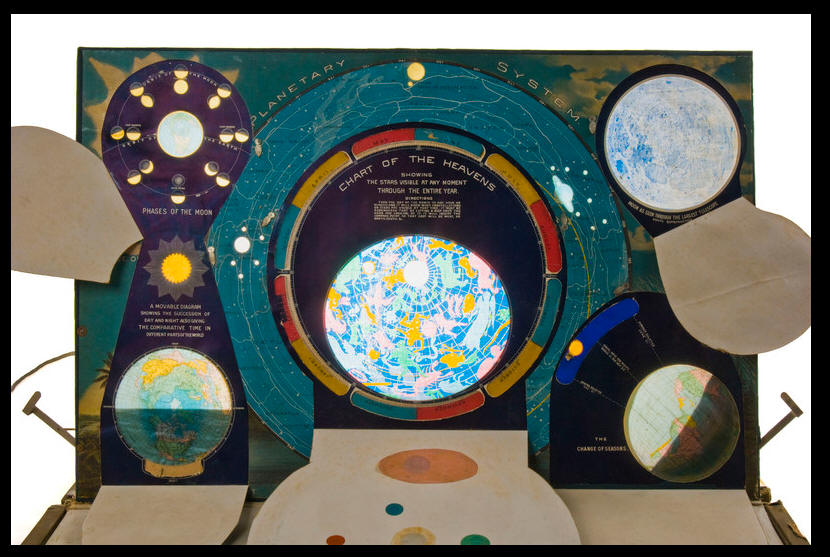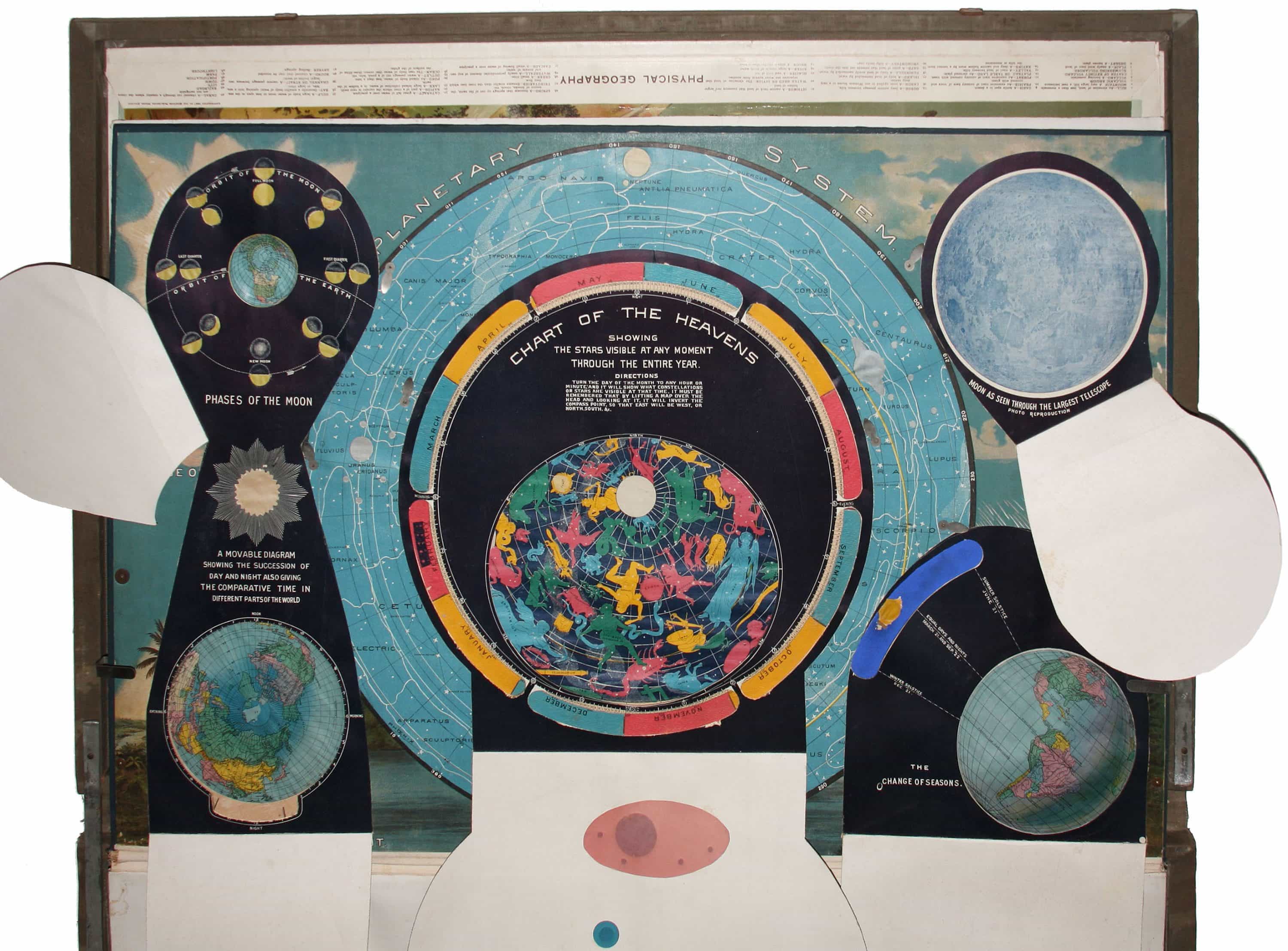 La tavola diversamente illuminata dal retro
con alette chiuse ed aperte
per cortesia di
https://www.davidrumsey.com/luna/servlet/view/search;JSESSIONID=dac04d18-80cc-4077-9aa2-625507fcc14b?q=pub_list_no%3d%2210200.000%22&sort=pub_list_no_initialsort%2cpub_date%2cpub_list_no%2cseries_no&qvq=q:celestial;sort:pub_list_no_initialsort%2Cpub_date%2Cpub_list_no%2Cseries_no;lc:RUMSEY~8~1&mi=8&trs=1355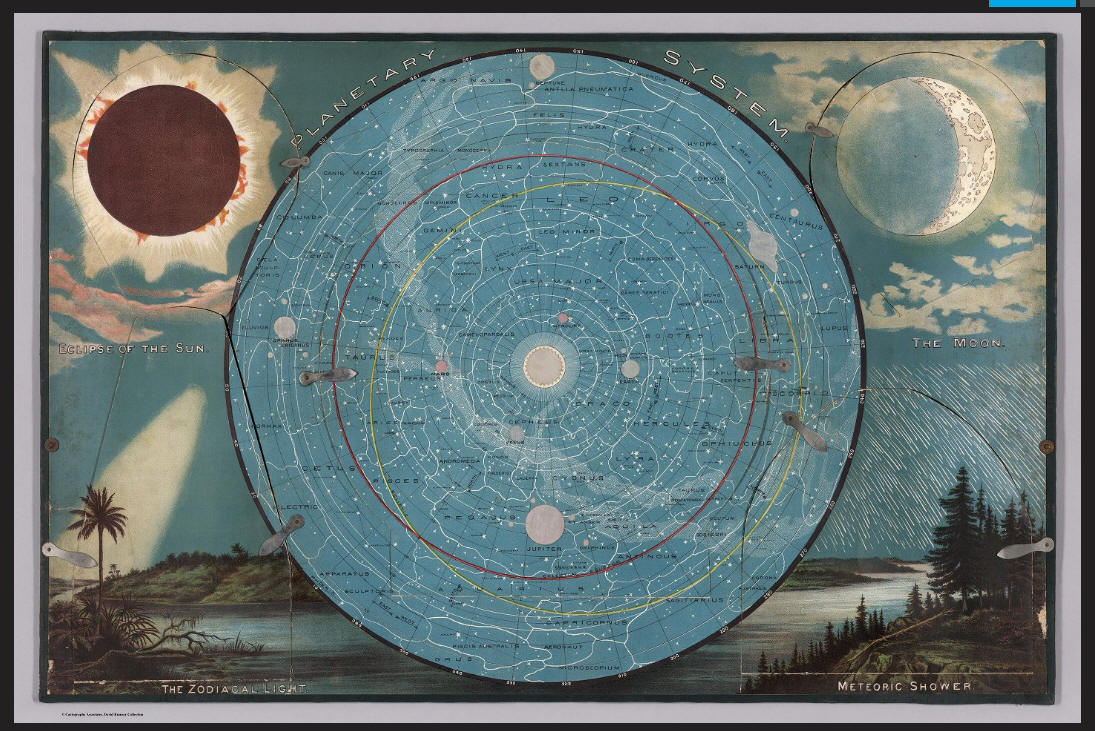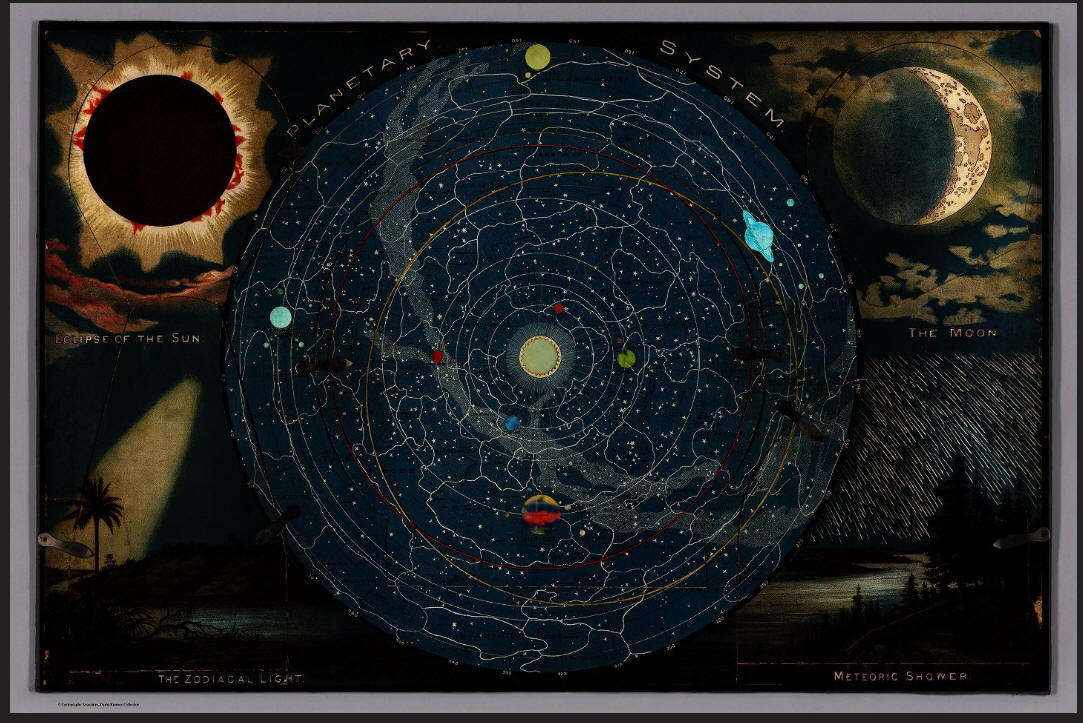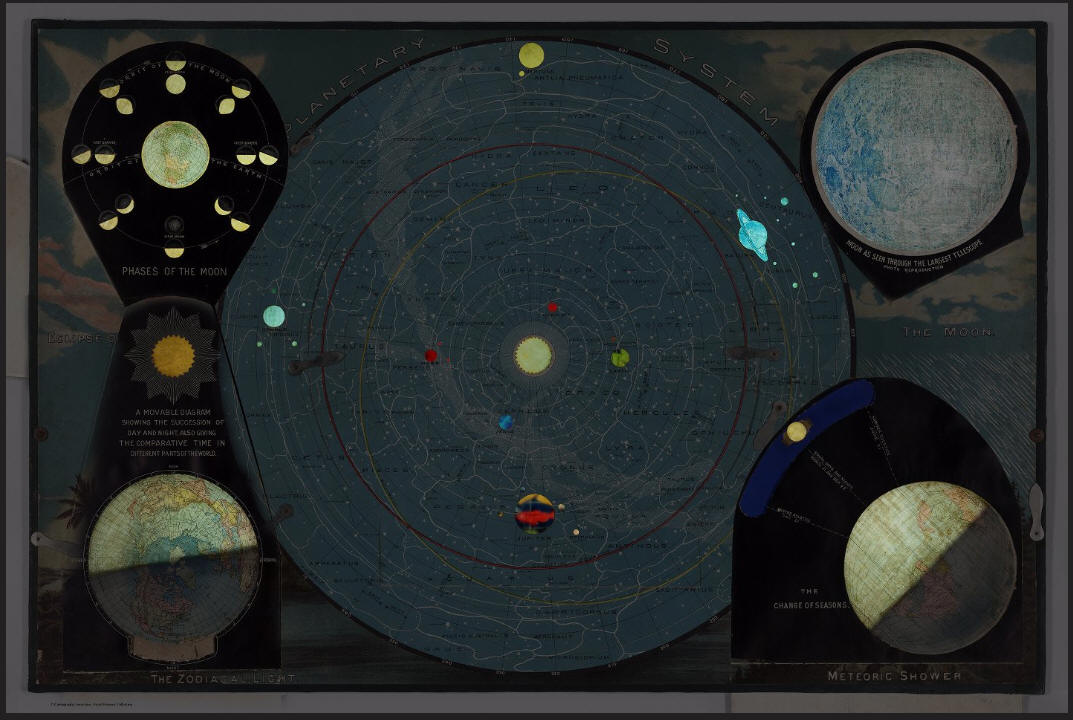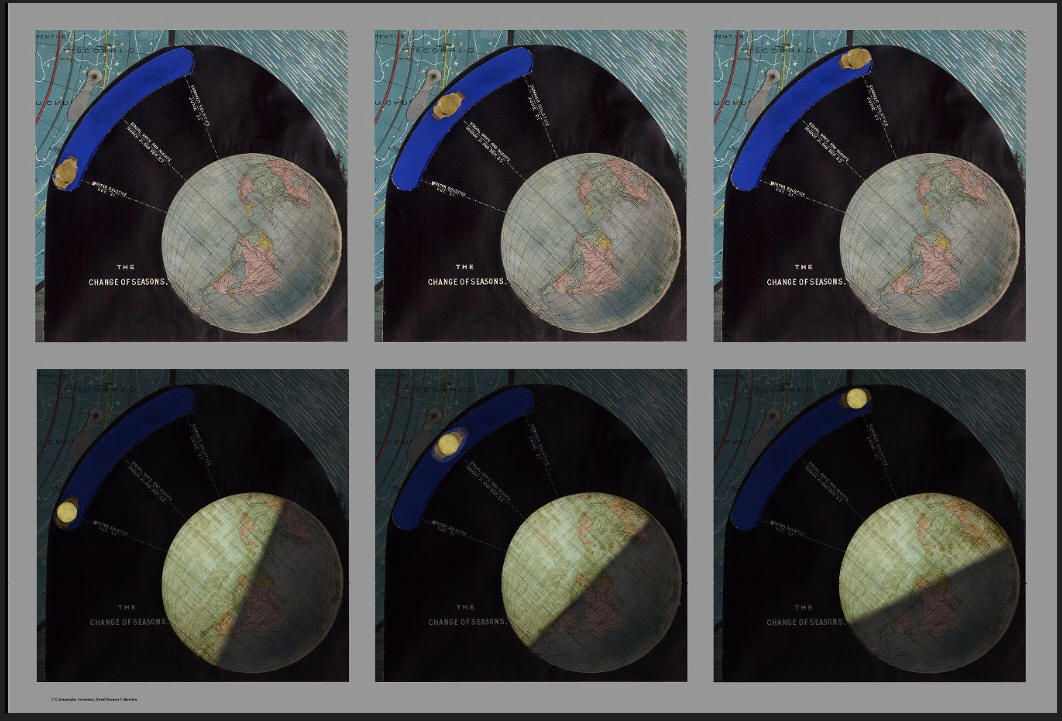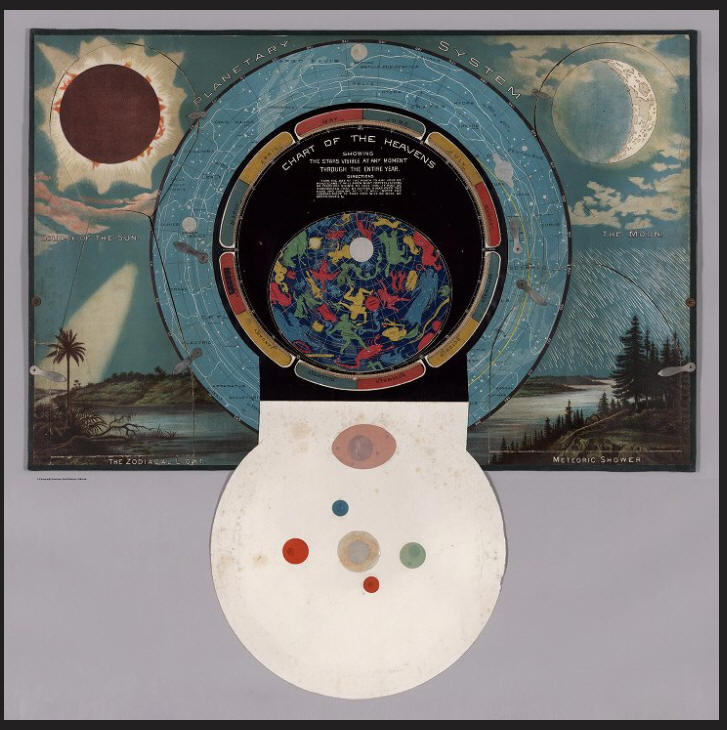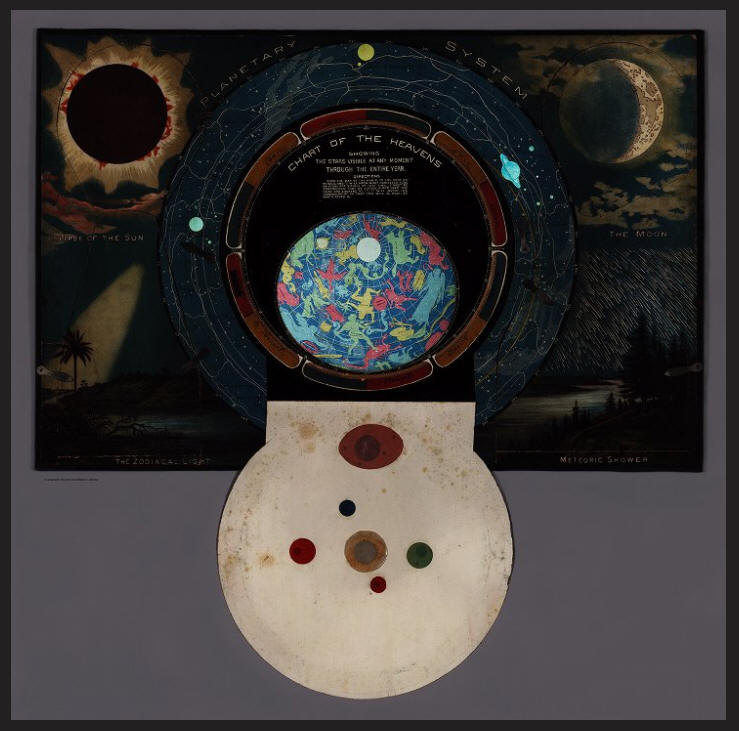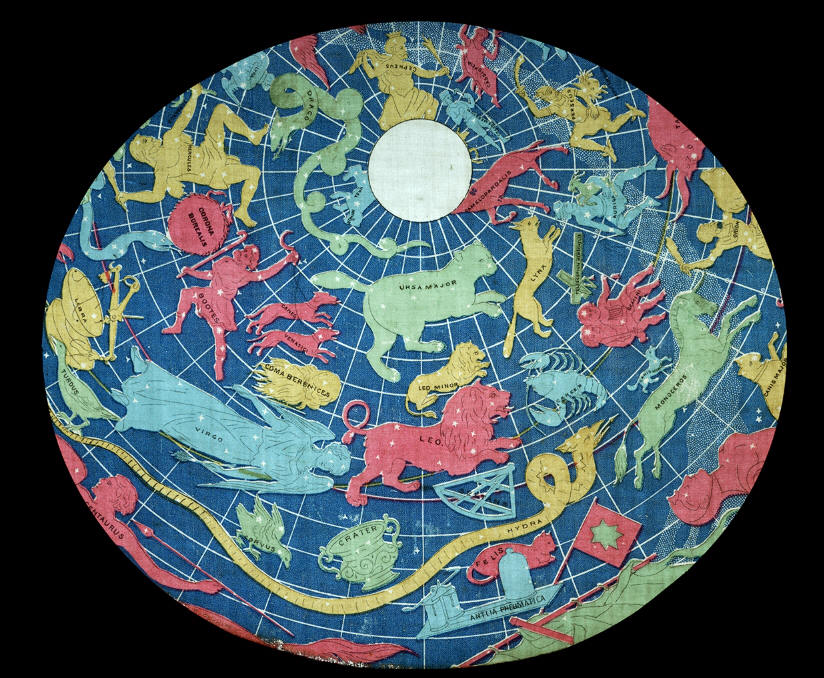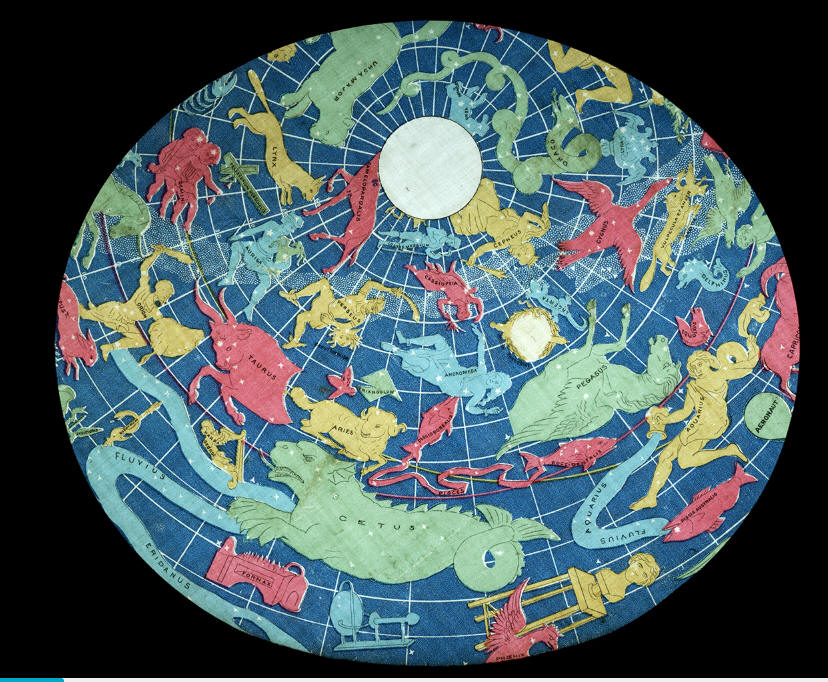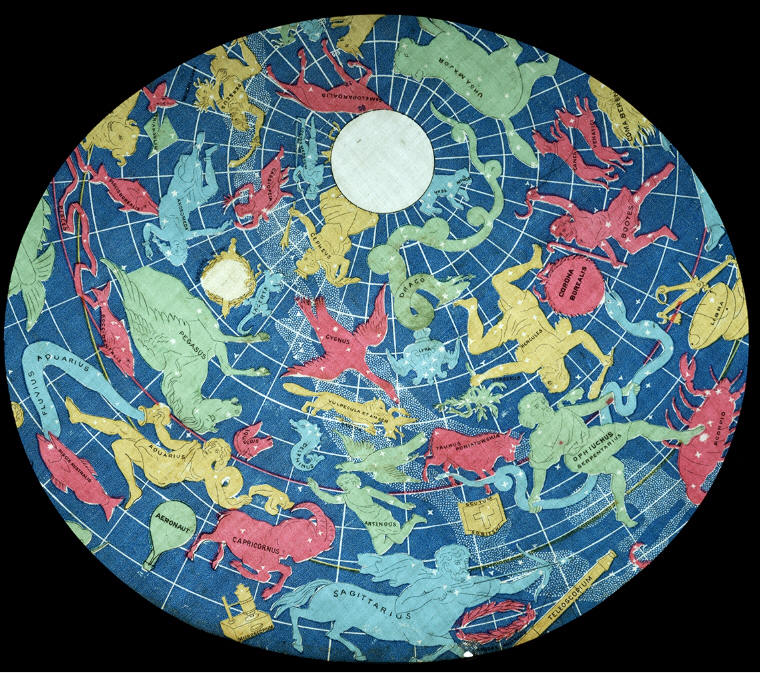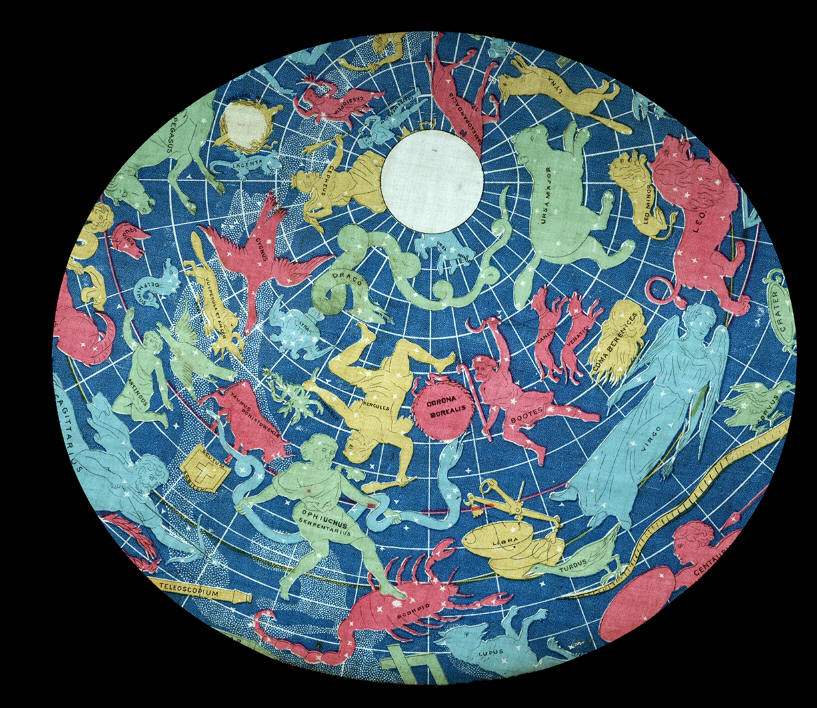 https://www.davidrumsey.com/luna/servlet/detail/RUMSEY~8~1~308971~90078906:Video-showing-progression-of-the-ni?sort=pub_list_no_initialsort%2Cpub_date%2Cpub_list_no%2Cseries_no&qvq=q:pub_list_no%3D%2210200.000%22;sort:pub_list_no_initialsort%2Cpub_date%2Cpub_list_no%2Cseries_no;lc:RUMSEY~8~1&mi=9&trs=24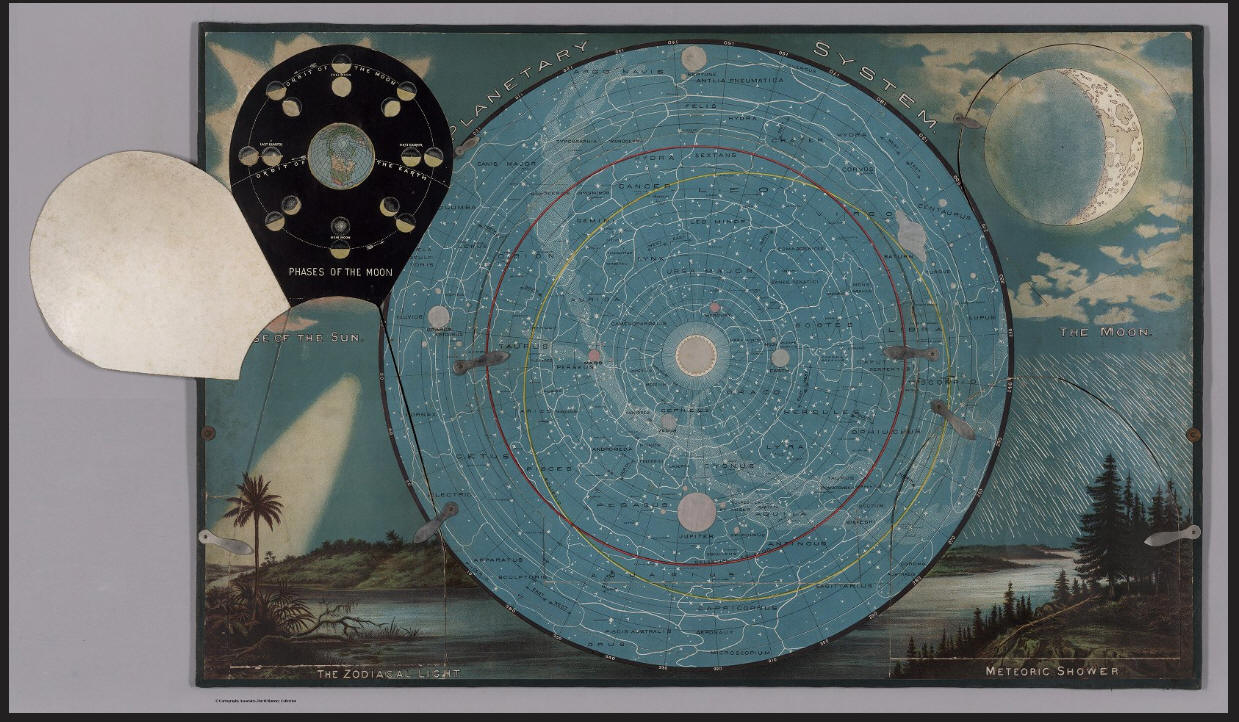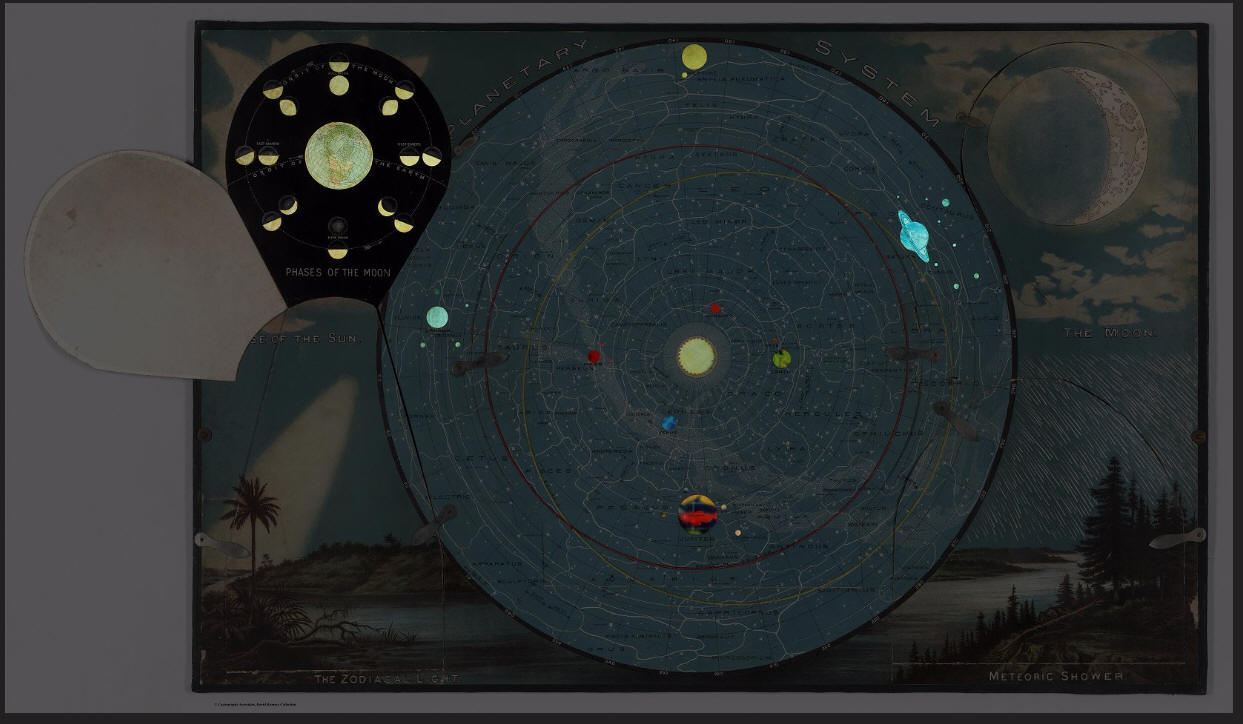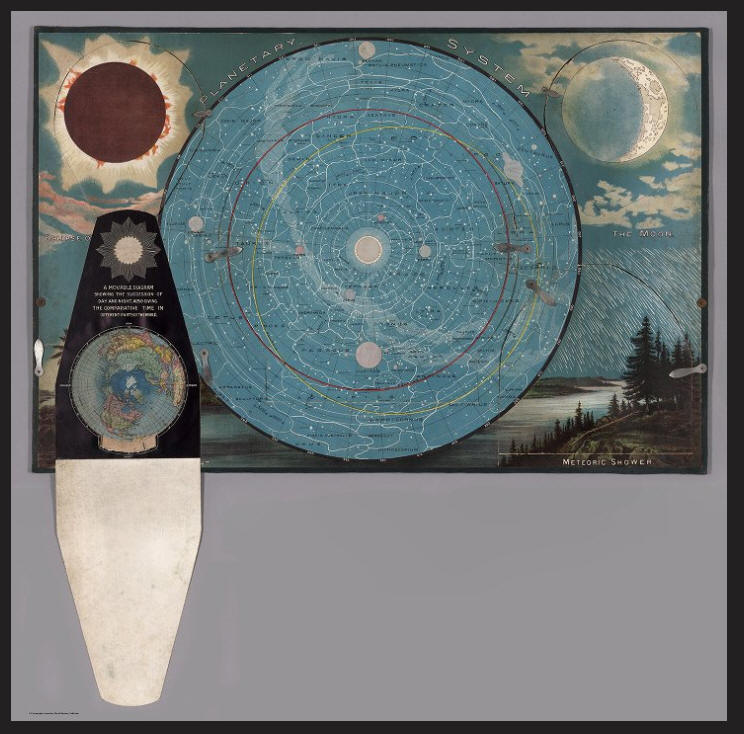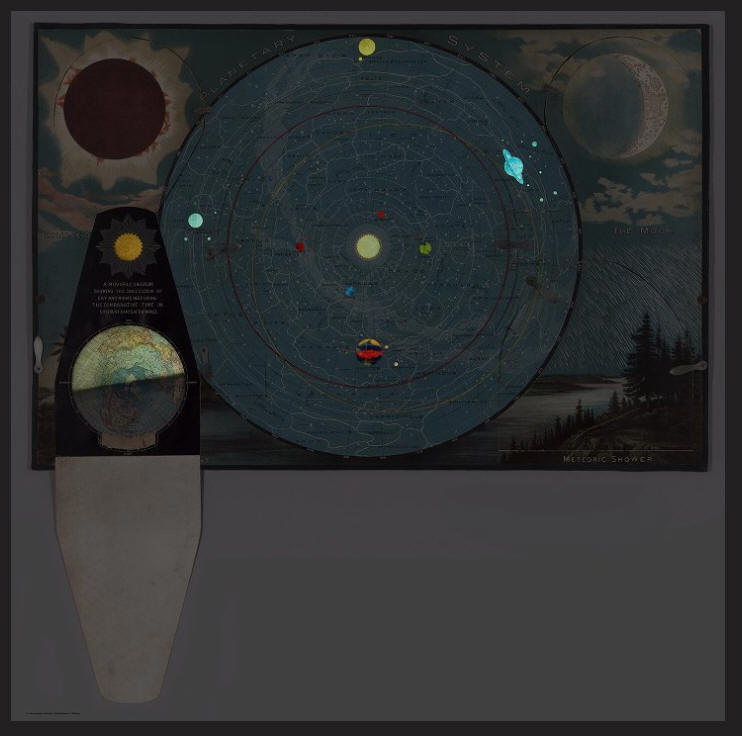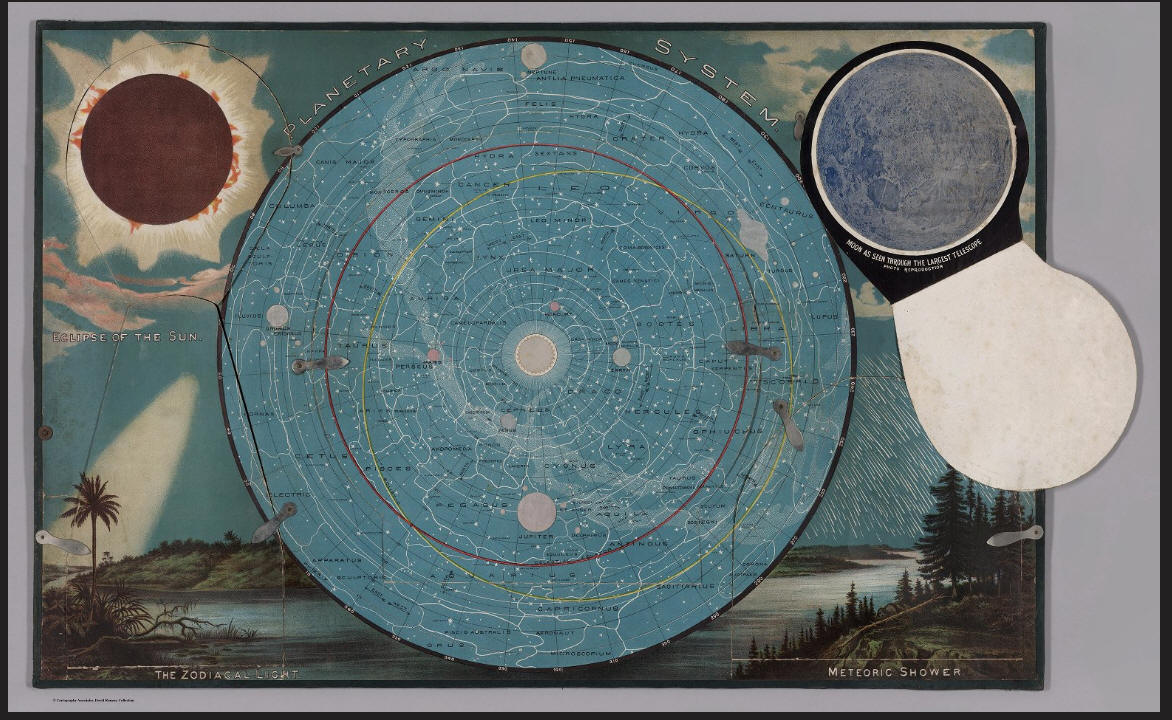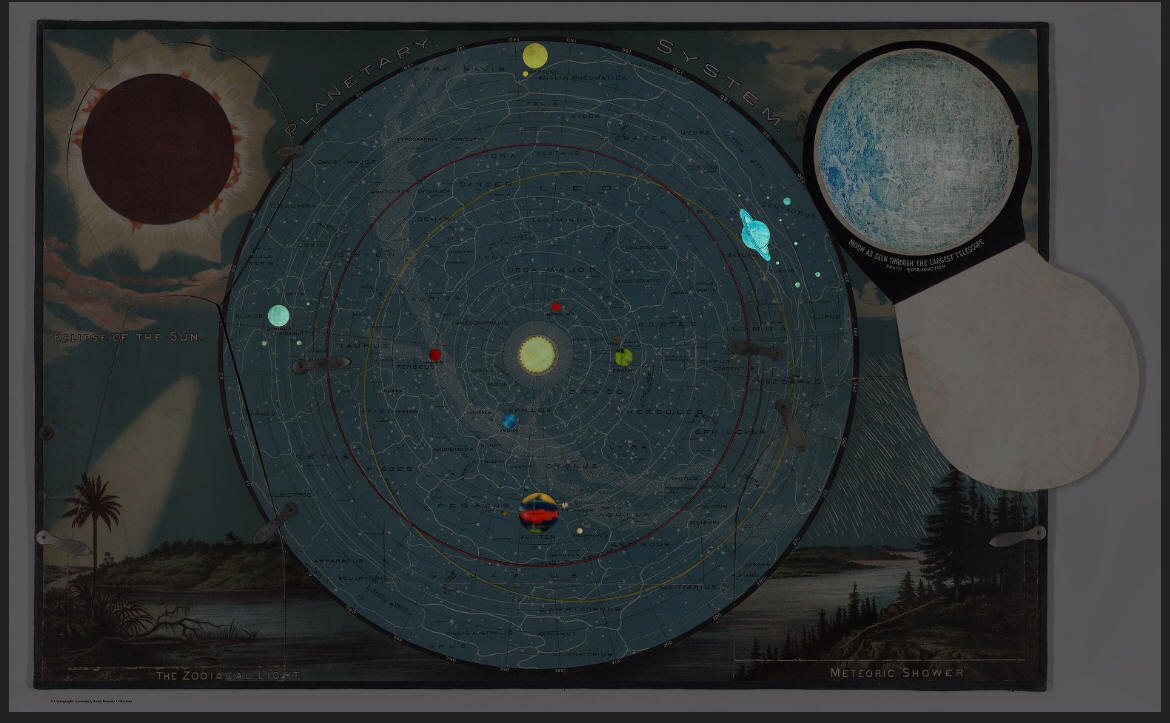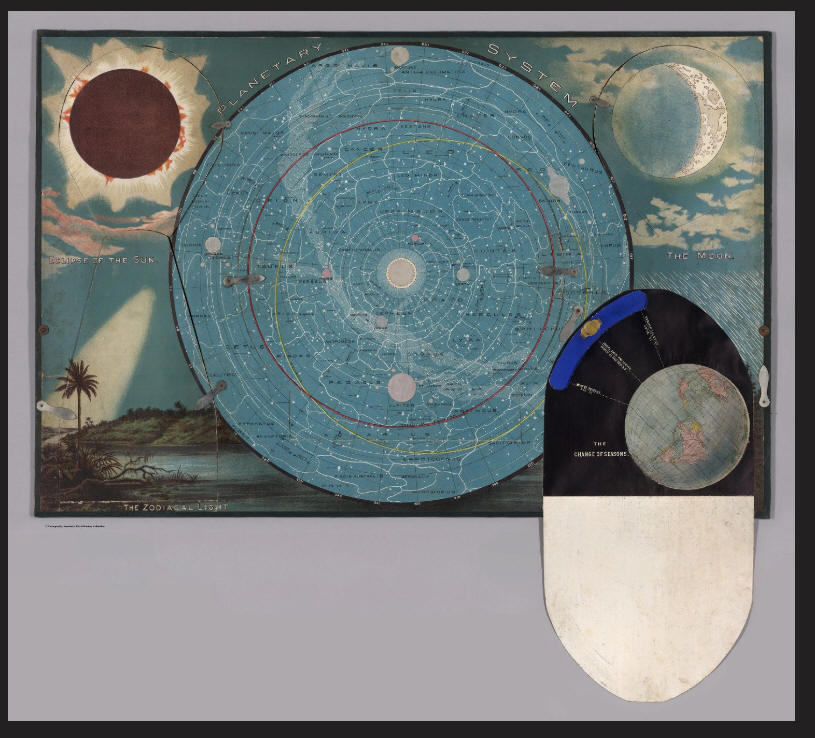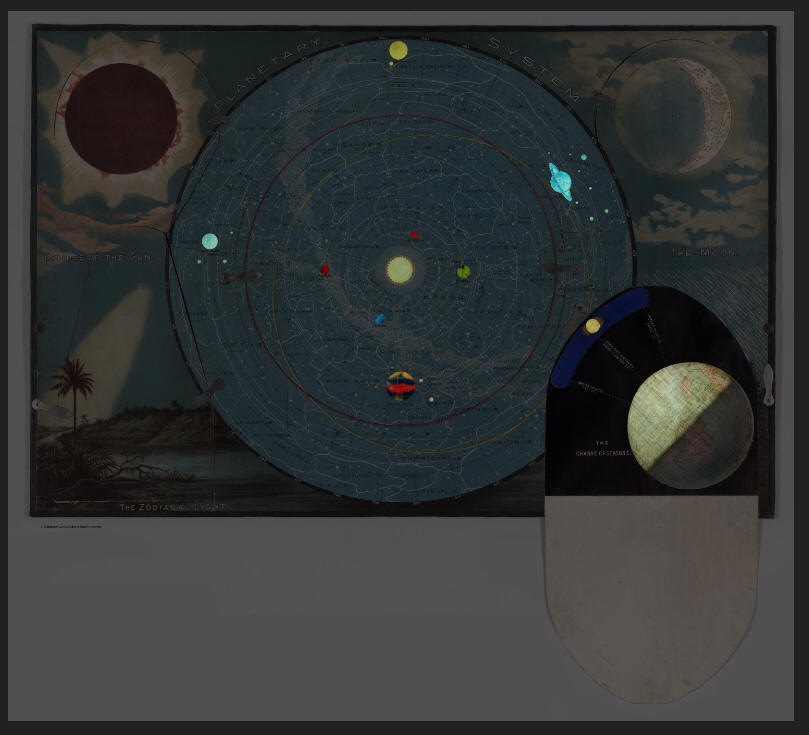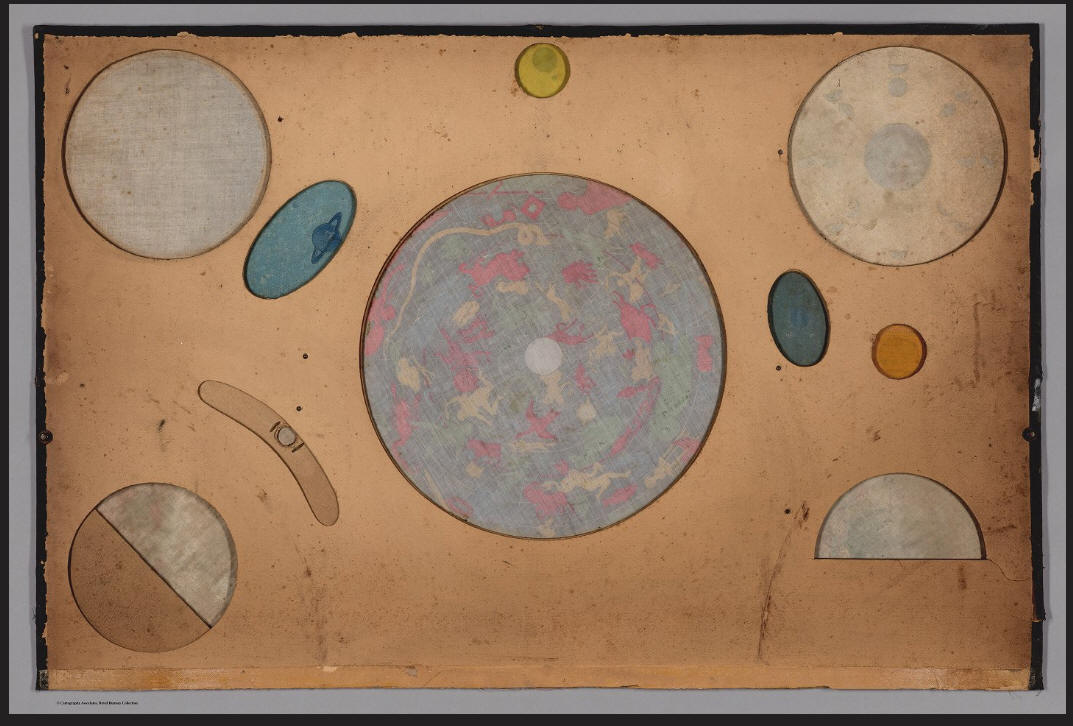 Altre tavole del portfolio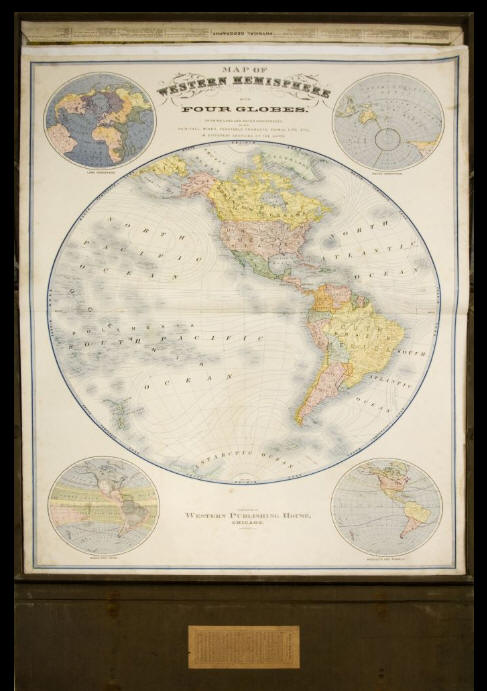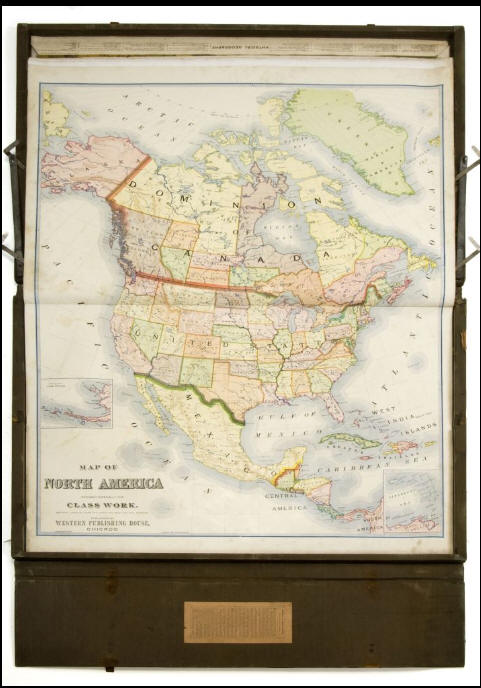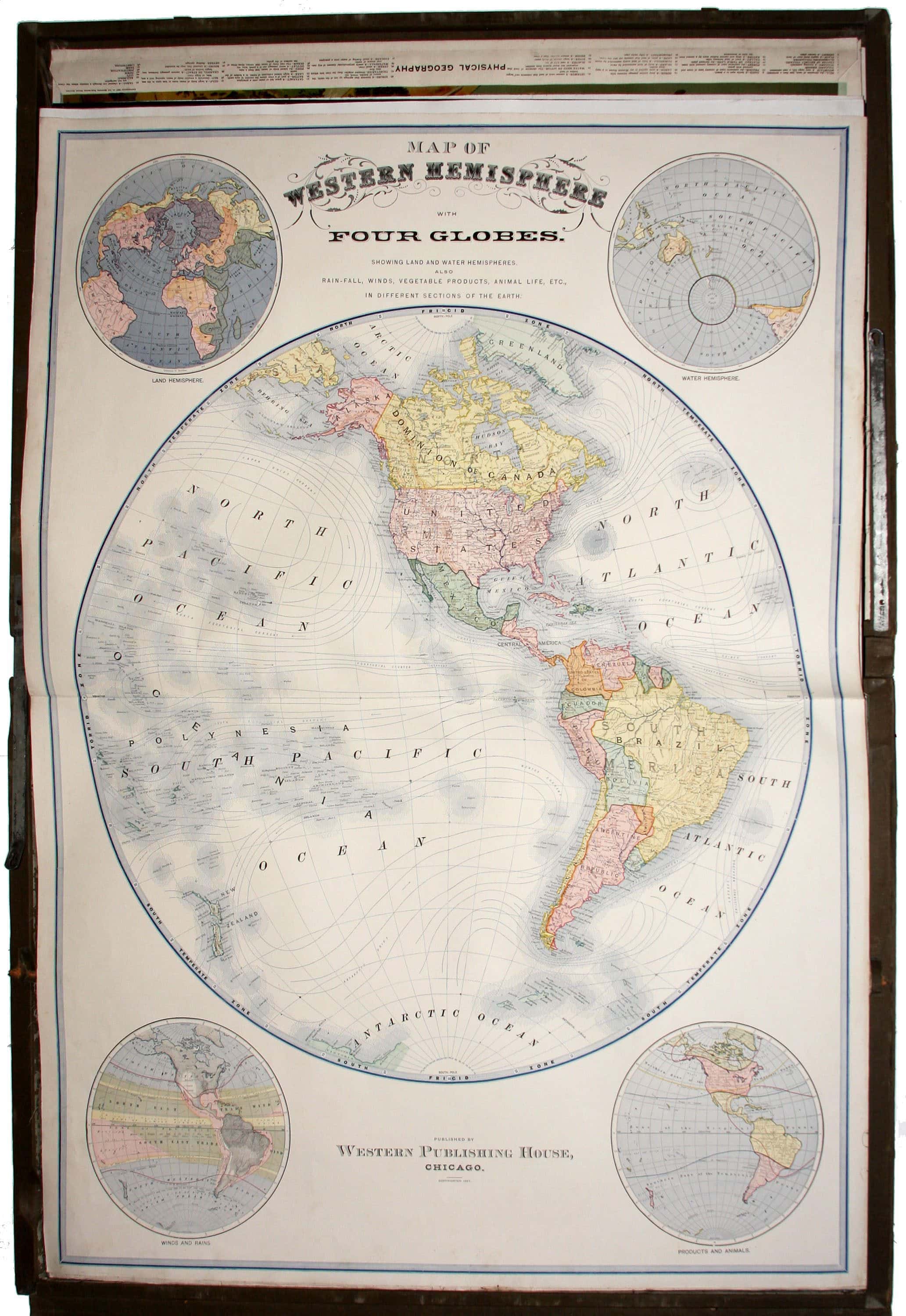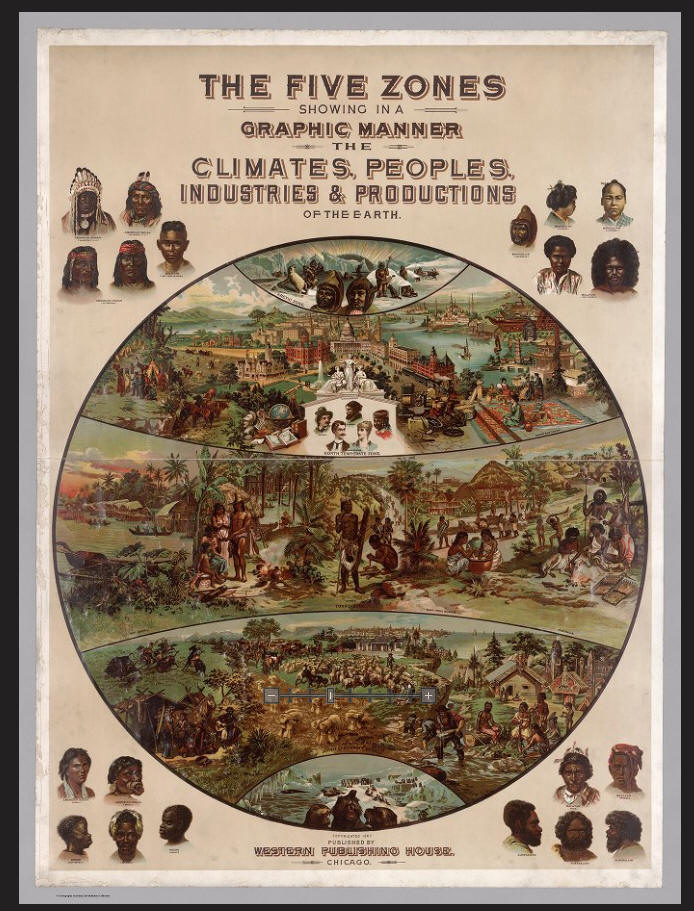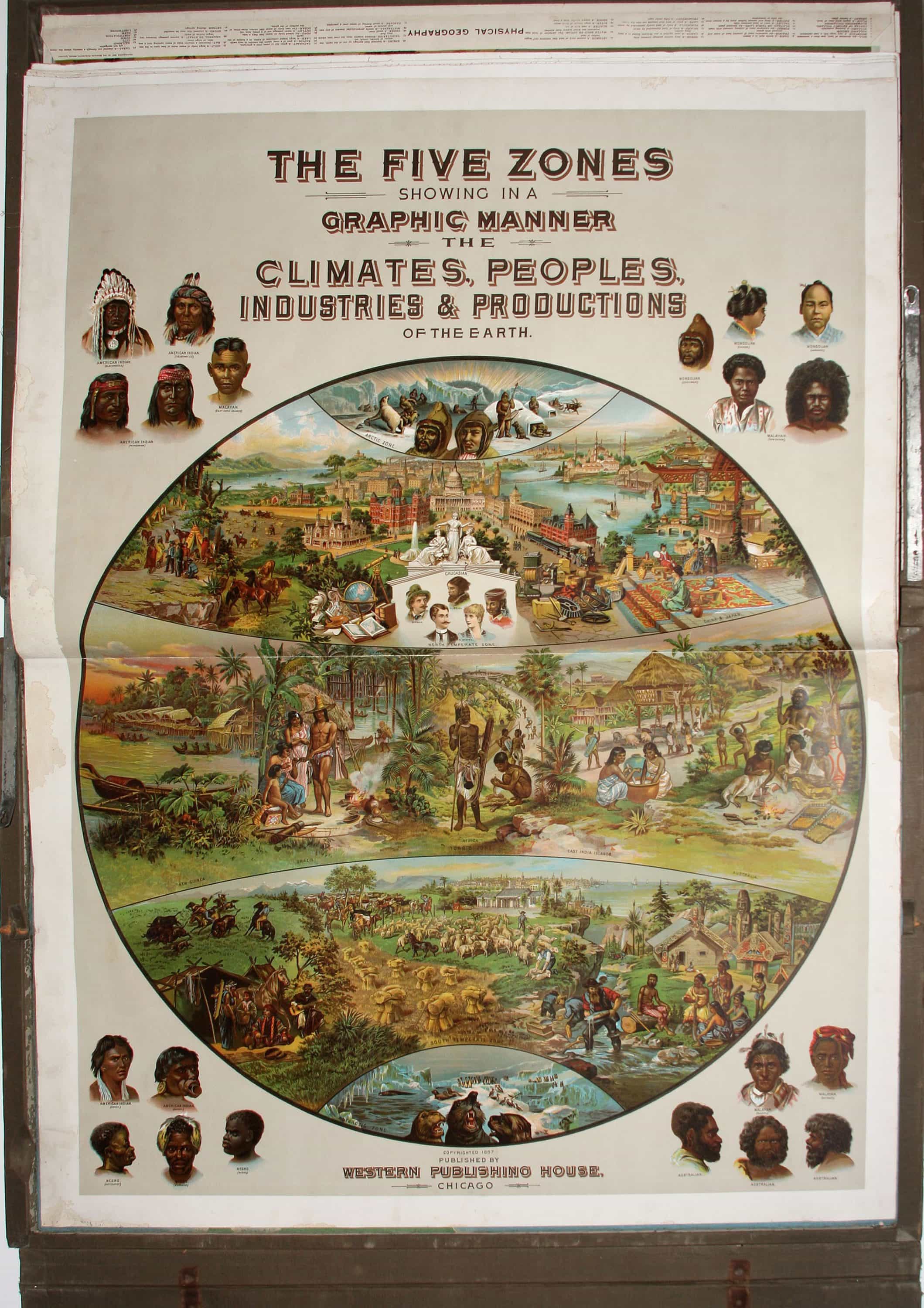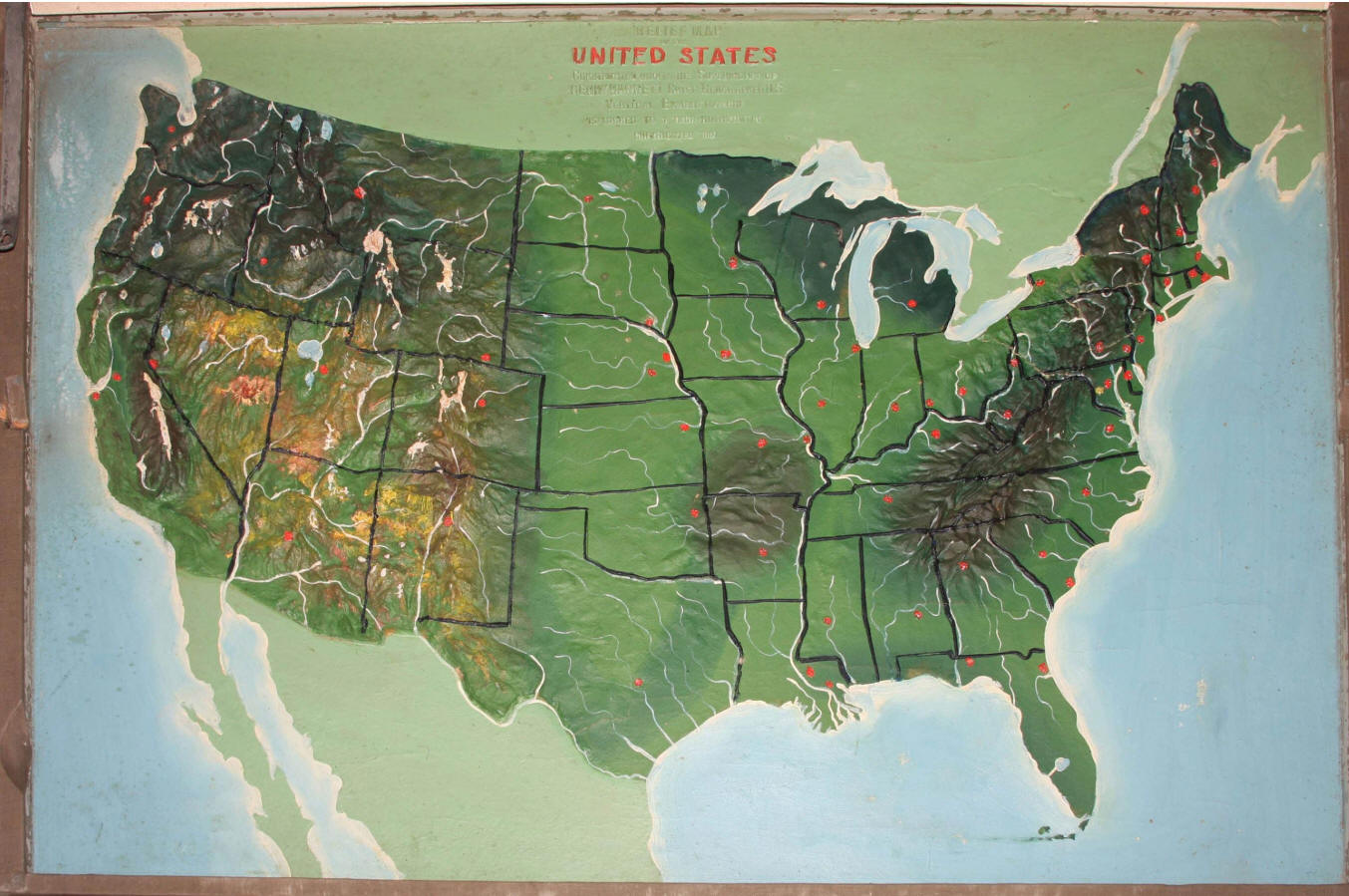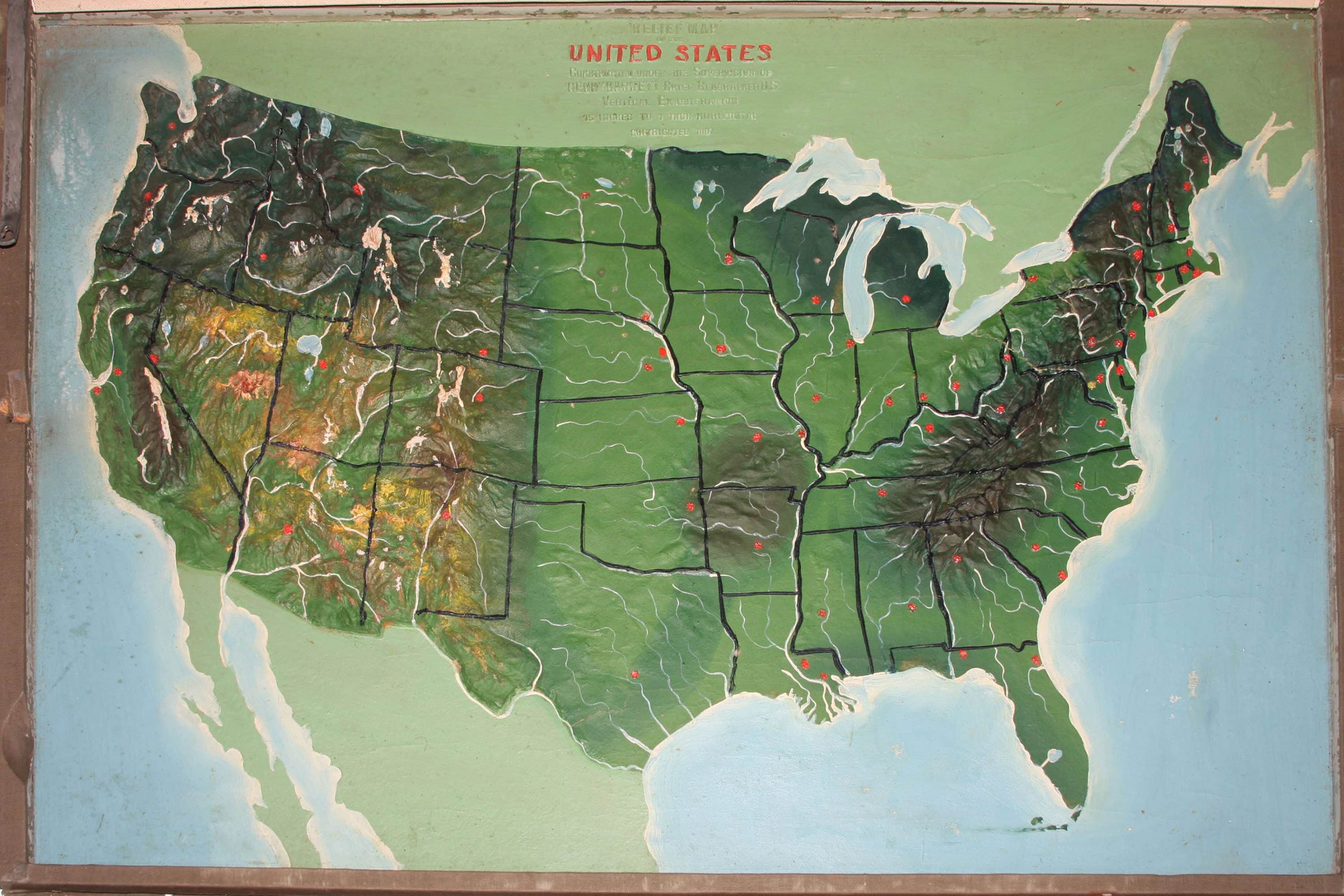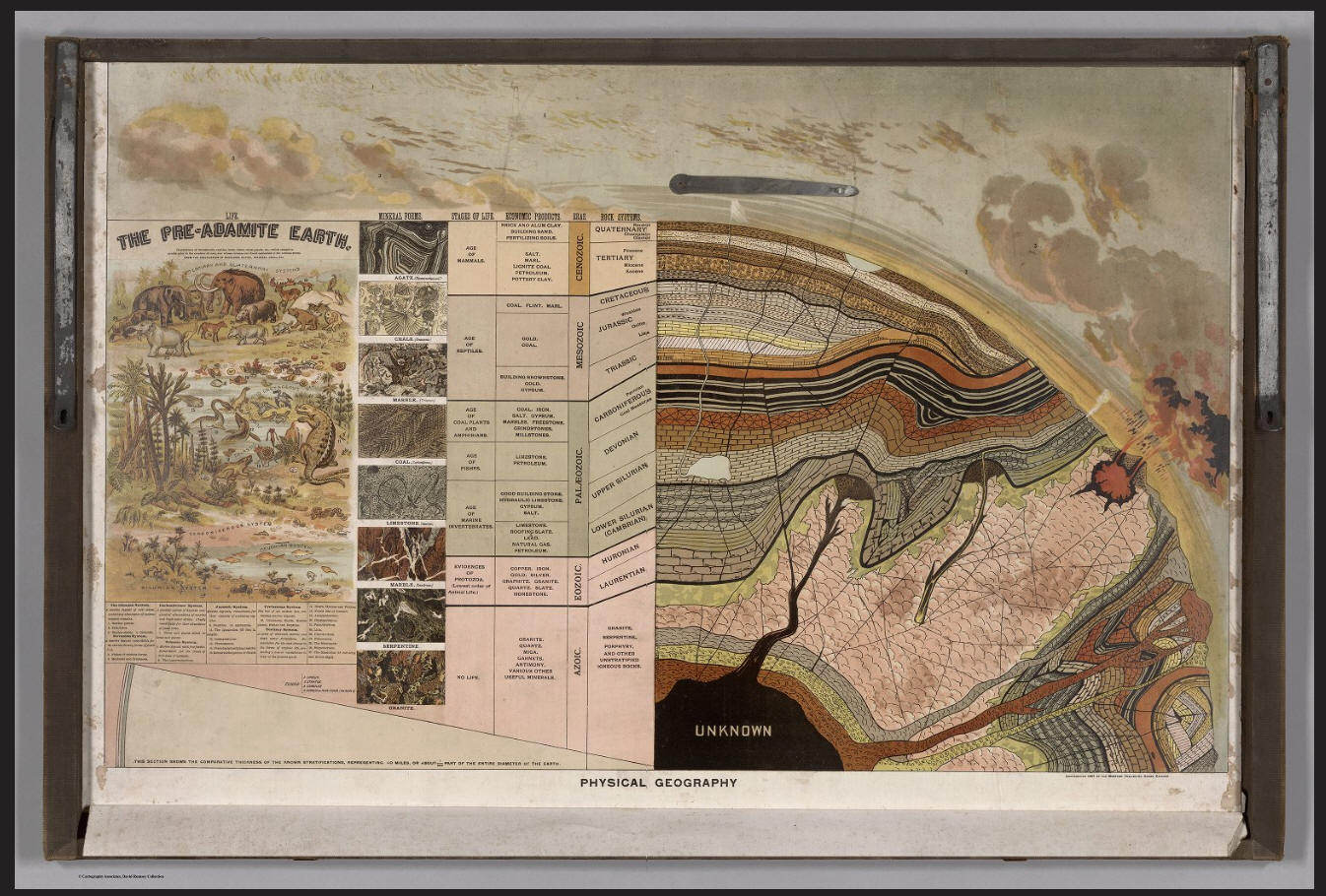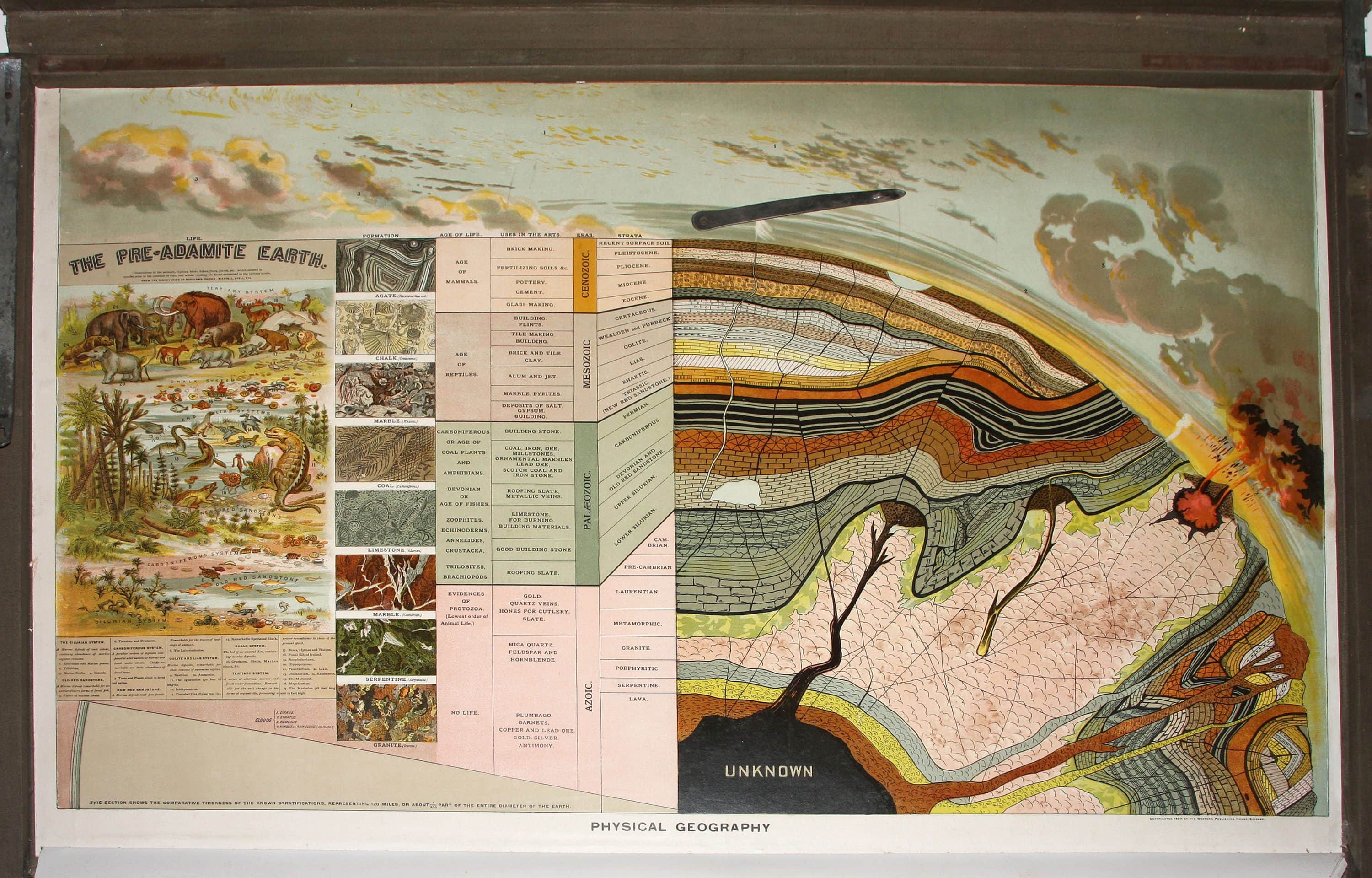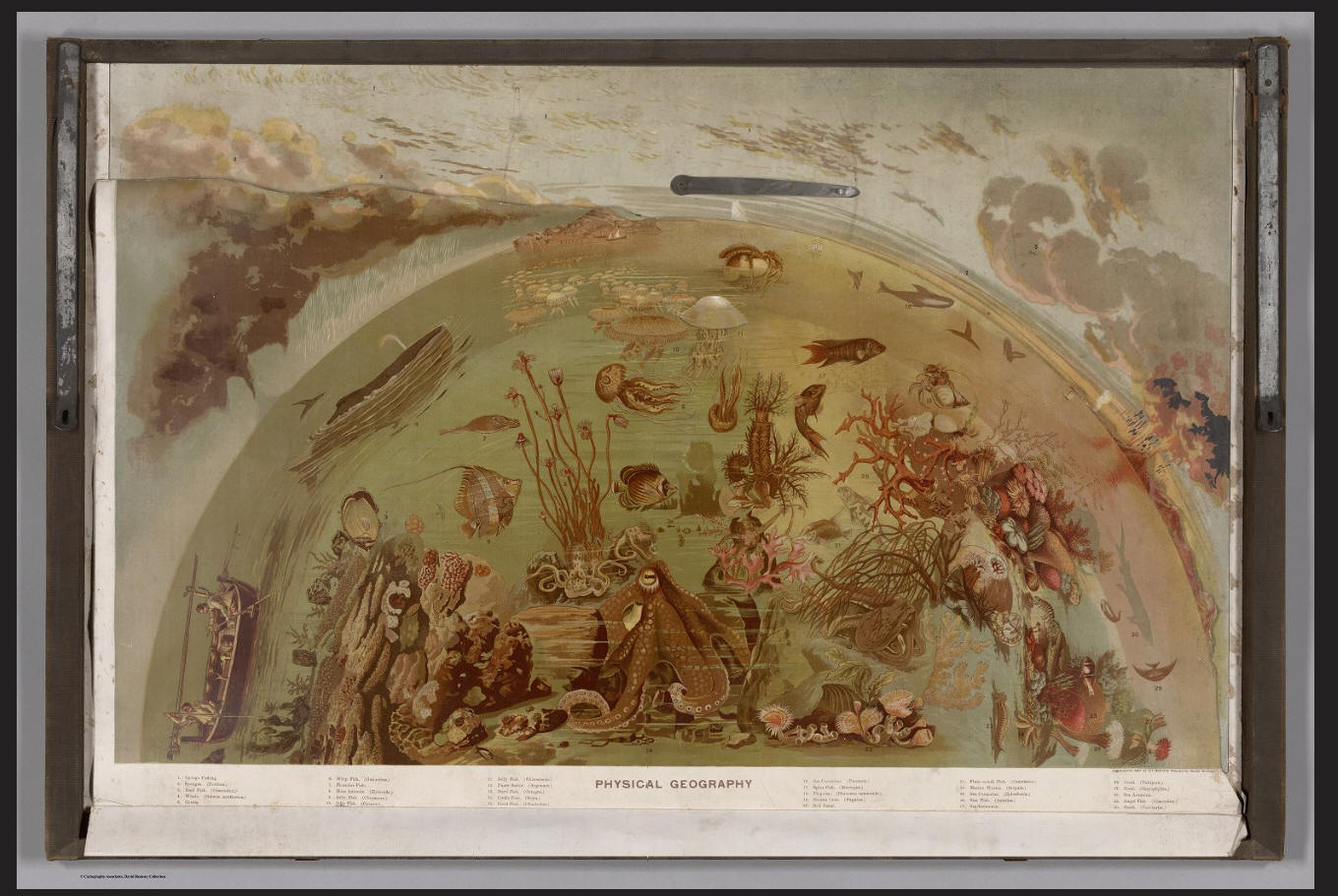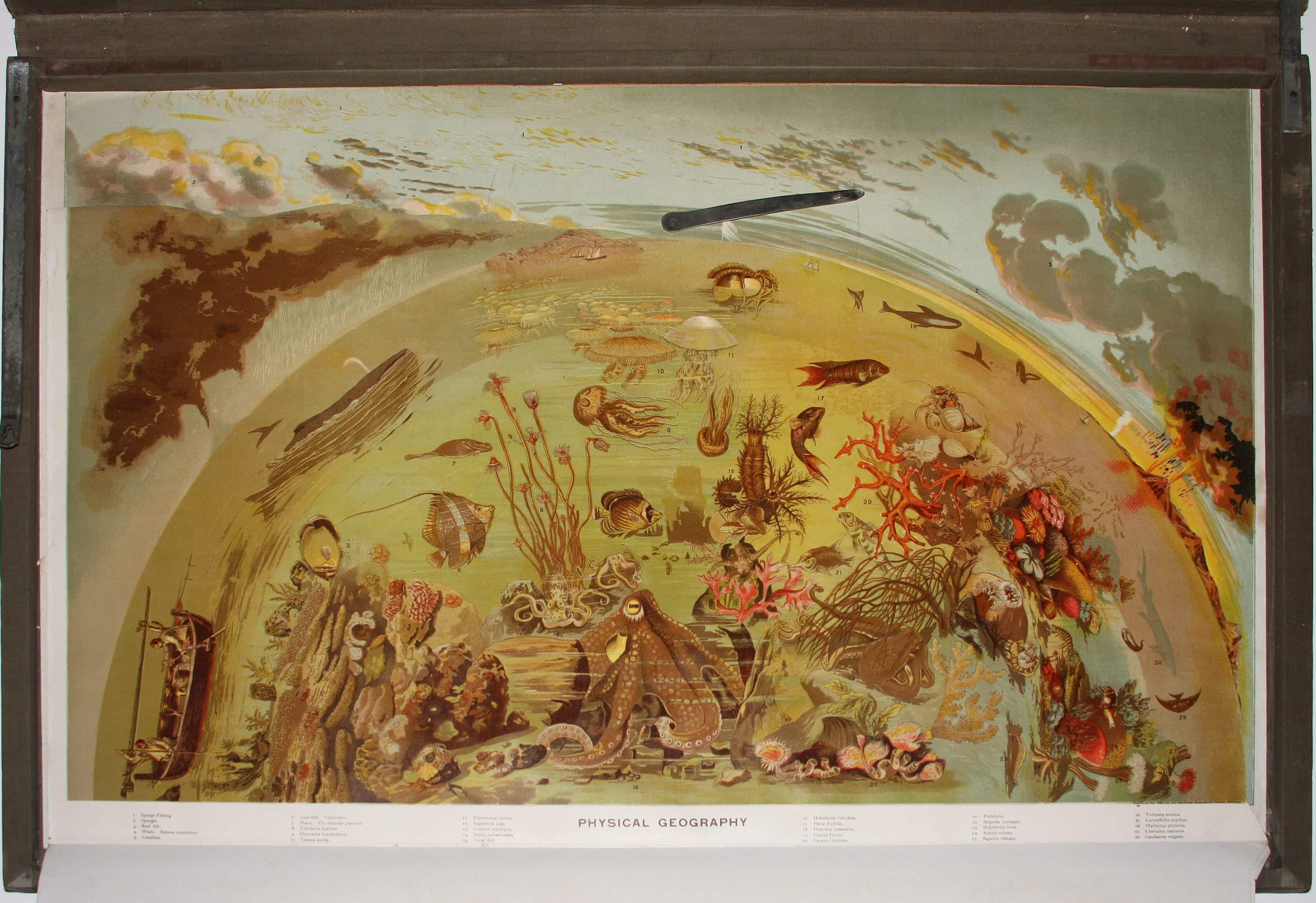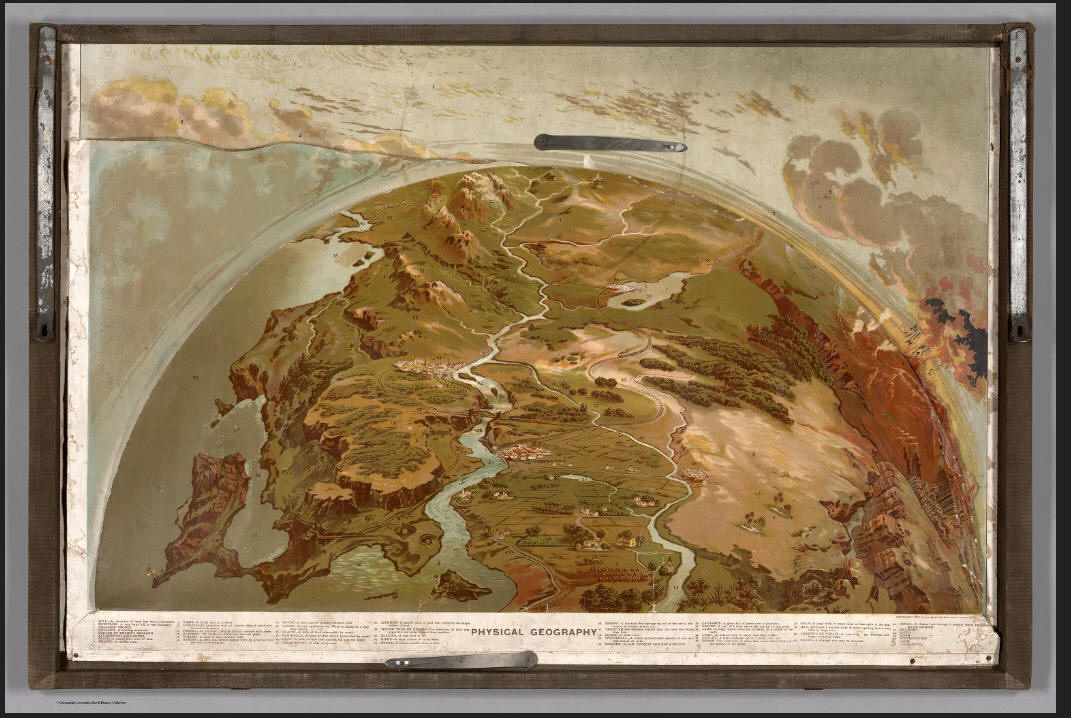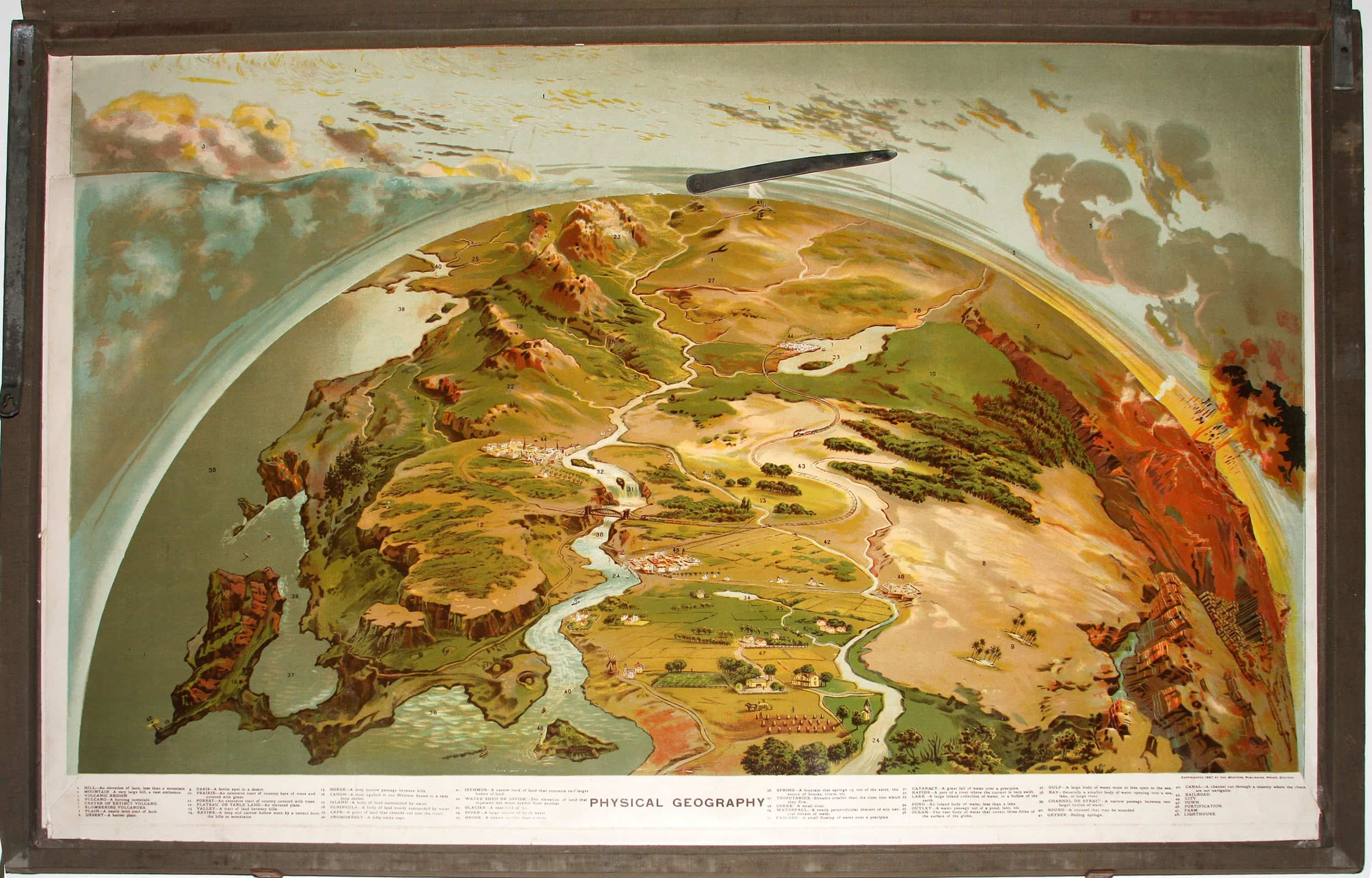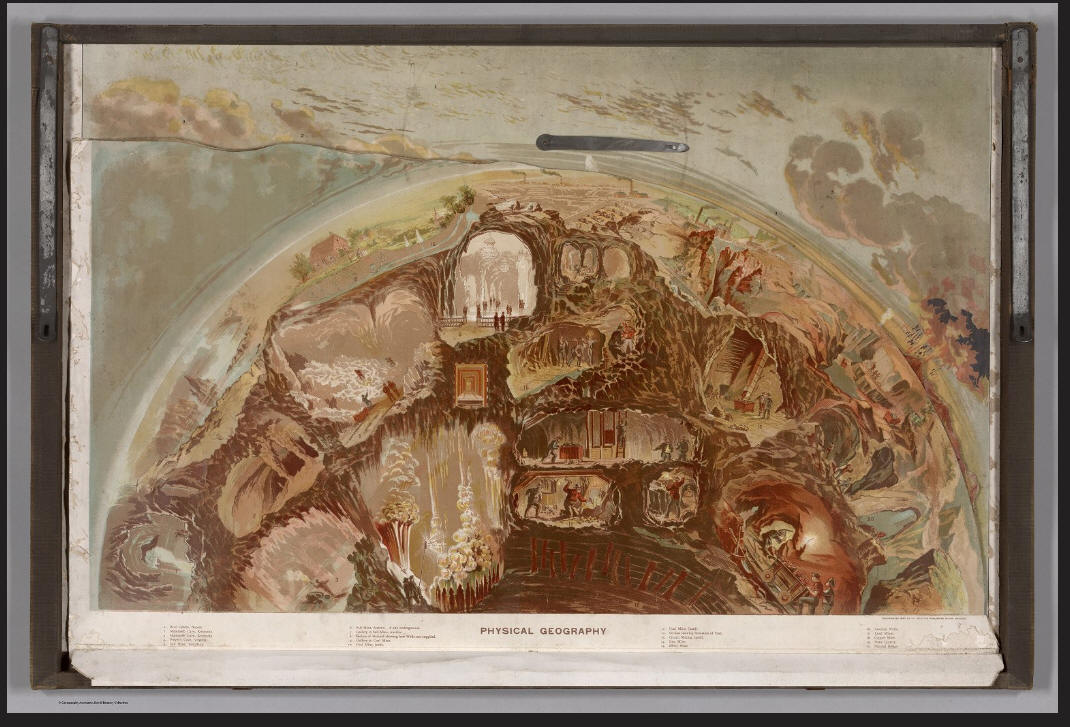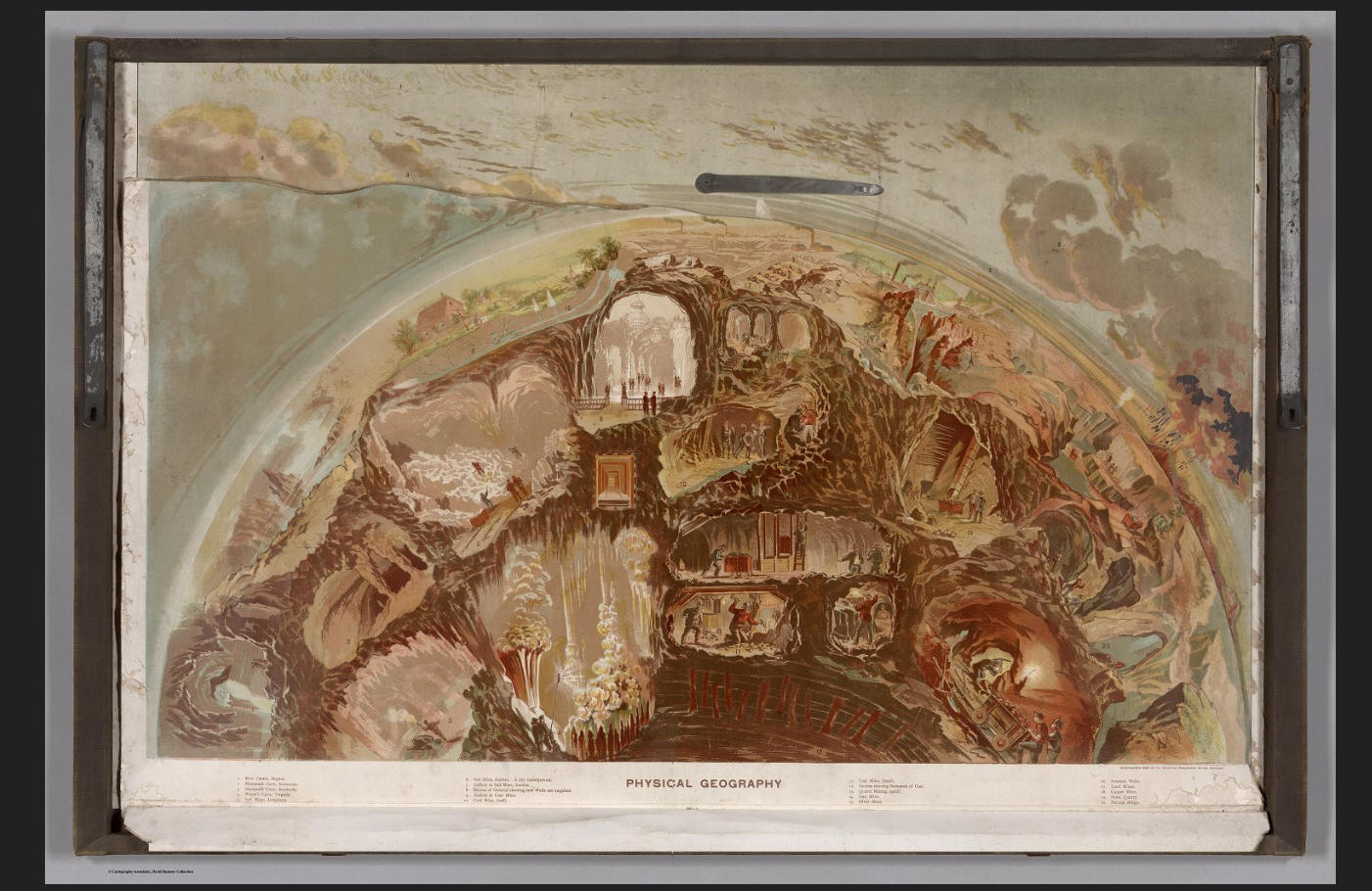 di FELICE STOPPA
APRILE 2019