| | |
| --- | --- |
| Qazwīnī, Zakarīyā ibn Muḥammad | Kitāb-i ʻajā'ib al-makhlūqāt va gharā'ib al-mawjūdāt, India? 1537 |
Qazwīnī, Zakarīyā ibn Muḥammad
Kitāb-i ʻajā'ib al-makhlūqāt va gharā'ib al-mawjūdāt, India? 1537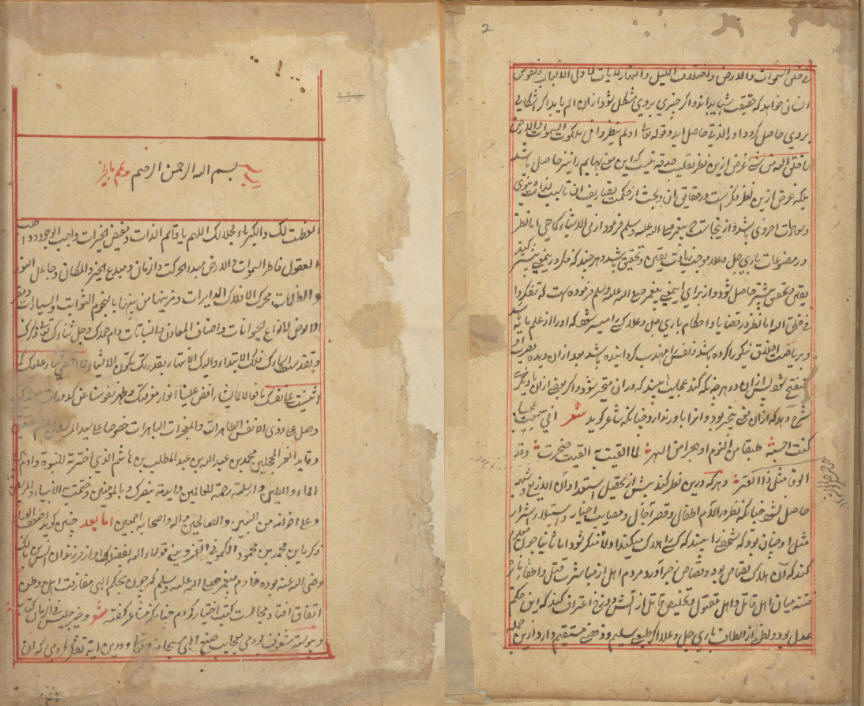 Per cortesia di
Internet Archive

https://archive.org/details/9409277.nlm.nih.gov/page/n11/mode/thumb
Riproduco il manoscritto persiano del 1537 che riproduce l'opera più importante di Zakarīyā ibn Muḥammad Qazwīnī da lui composta nel XIII secolo e riguardante l'intera cosmografia: celeste, terrestre e mitico-religiosa.
Kitāb-i ʻajā'ib al-makhlūqāt va gharā'ib al-mawjūdāt
by
Qazwīnī, Zakarīyā ibn Muḥammad, approximately 1203-1283
Publication date
Topics
Natural History, Astrology, Astronomy, Geography, Plants
Collection
usnationallibraryofmedicine; medicalheritagelibrary; americana
Digitizing sponsor
Open Knowledge Commons, U.S. National Library of Medicine
Contributor
U.S. National Library of Medicine
Language
335 leaves, bound, (19 lines; fol. 1a blank) : 24 cm
Manuscript
Persian

Title is given in the text (fol. 3a line 10)

Translation of: ʻAjā'ib al-makhlūqāt. Title is given in the text (fol. 3a line 10)

Author's name given on fol. 1b line 12

Copy dated in colophon (fol. 335b line 10); scribe not named


A nearly complete and highly illustrated copy, probably copied and illustrated in western India, of the cosmology composed in the thirteenth century by al-Qazwīnī; see NLM MSS P2, P3, and P29 for additional copies

The volume was at one time foliated from back of volume forwards as if it were a Western manuscript, using penciled Western numerals; these numerals have now been crossed out and the volume correctly foliated from the beginning of the text

A break occurs in the text between fol. 127/128, 181/182, 238/239, and 249/250; several folios are out of order, sequence should be: 102, 111, 103; 318, 322, 320, 323-334, 319, 321, 335

More than 150 illustrations, in opaque watercolors and ink, of constellations, mythical figures, and various plants and animals are found throughout the text; spaces for illustrations left blank on several folios

Catchwords; rubrications, red overlinings; a doubled red border encloses the text, with some rectangular areas framed in single red lines extending into the margins; considerable marginalia in several hands; has been collated against another copy; written in a fairly casual Eastern hand; fol. 102 written by a different hand; fol. 1a blank except for recent cataloguing note in pencil

Paper is thin, yellowed, with laid lines visible but no visible chain lines; waterdamaged, especially near edges; wormeaten; many folios have been repaired

Microfilm. Washington, D.C. : Army Medical Library, 1 microfilm reel ; 35 mm

In the collection of the Army Medical Library in 1946; provenance unknown

Bound in dark brown leather over pasteboard, with gold tooled decorative frames on each cover and gold tooled bands and floriated s-shaped design on spine; modern paper pastedowns and endpapers.
Altri riferimenti:
Zakarīyā ibn Muḥammad Qazwīnī
https://en.wikipedia.org/wiki/Zakariya_al-Qazwini
L'opera
https://en.wikipedia.org/wiki/Aja%27ib_al-Makhluqat
Altre copie ed edizioni
https://collections.nlm.nih.gov/catalog/nlm:nlmuid-9409277-bk
https://www.loc.gov/item/2021667318/
https://collections.nlm.nih.gov/bookviewer?PID=nlm:nlmuid-9409285-bk
https://collections.nlm.nih.gov/bookviewer?PID=nlm:nlmuid-9409286-bk
Alcune costellazioni zodiacali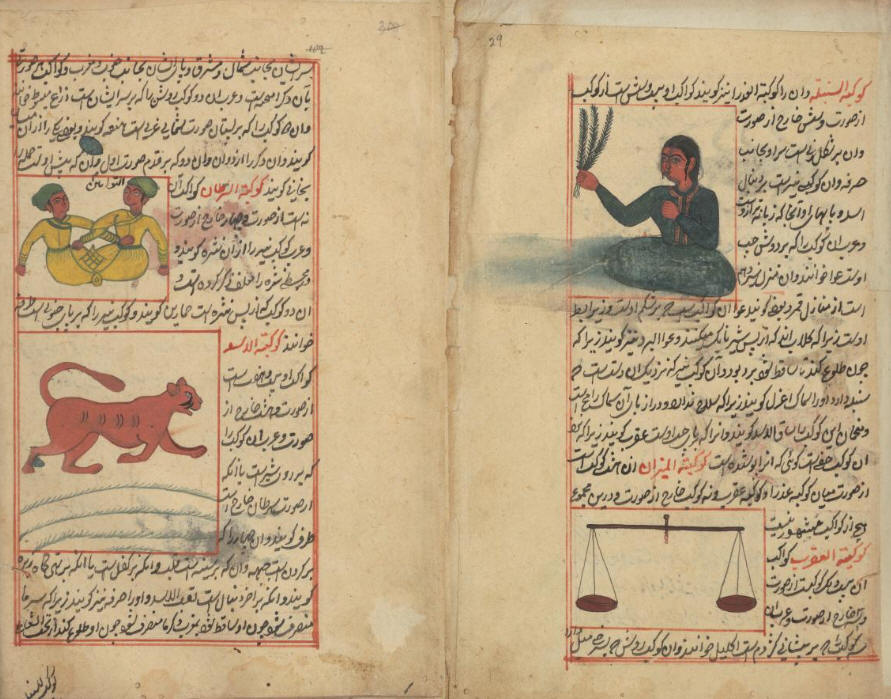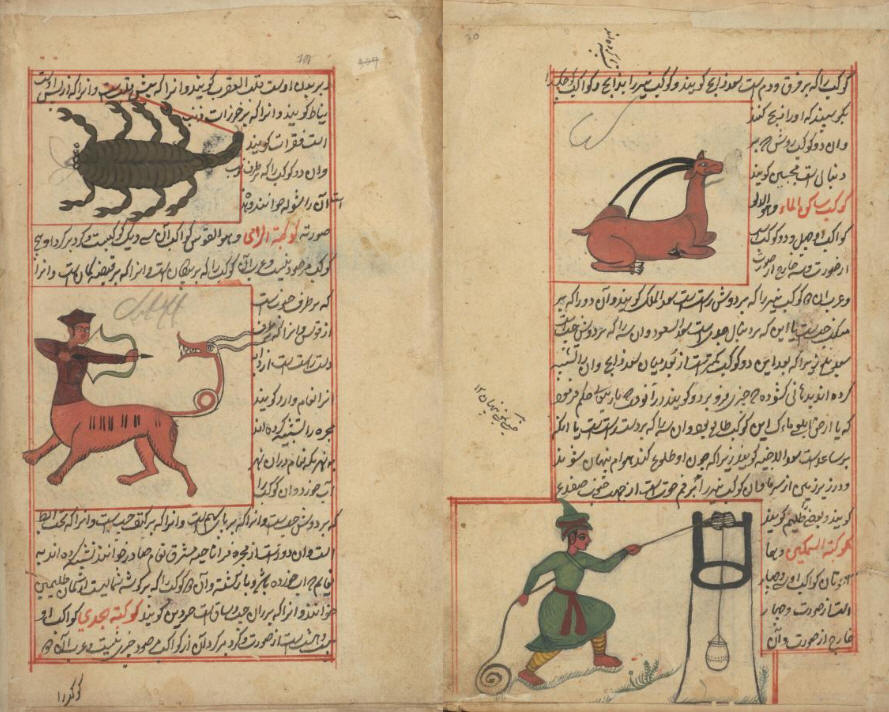 Carta della Terra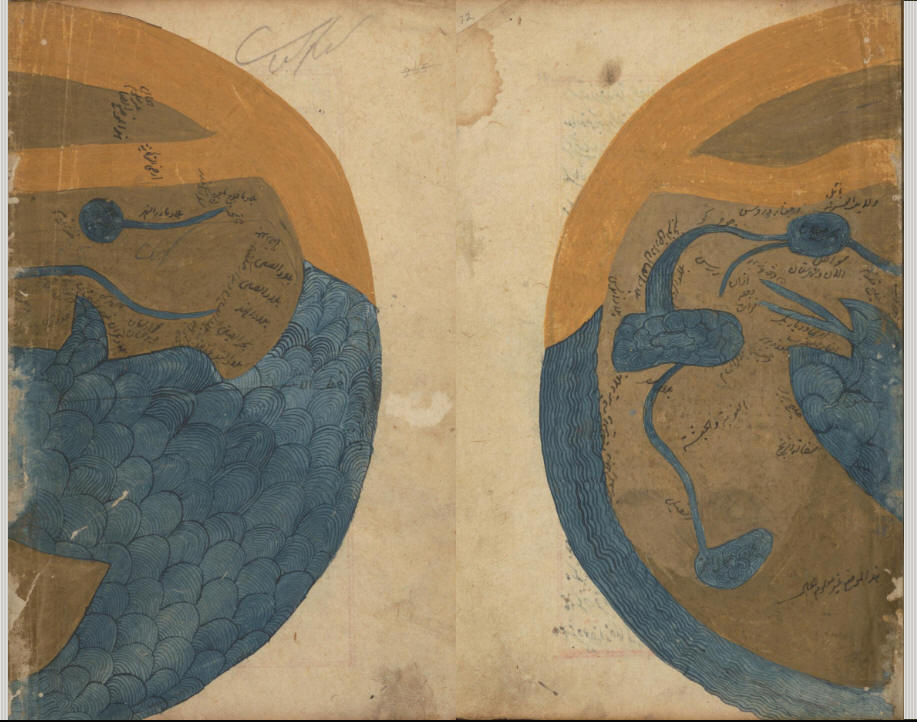 di FELICE STOPPA
NOVEMBRE 2022