| | |
| --- | --- |
| William Pinnock | The guide to knowledge, vol 1-2-3, London 1832-1839 |
William Pinnock
The guide to knowledge, vol 1-2-3, London 1832-1839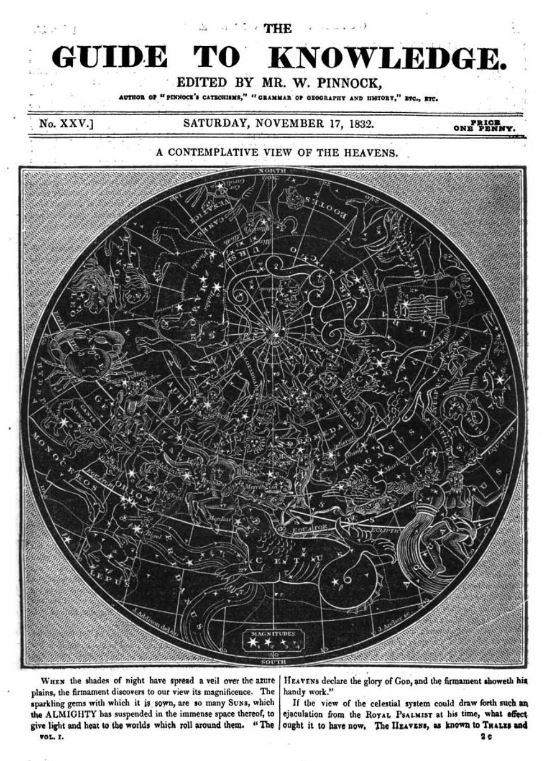 Articolo realizzato con il contributo di
Henk Bril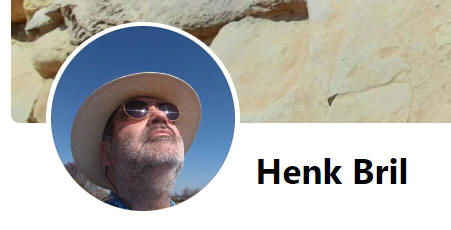 https://www.facebook.com/groups/824282784584495/user/100001013743953/
https://www.facebook.com/groups/vintageastronomy/?multi_permalinks=1864264757252954&notif_id=1666373318276837&notif_t=group_activity&ref=notif
The guide to knowledge fu un periodico divulgativo settimanale curato da William Pinnock ( maestro, divulgatore, editore, libraio).
Il periodico trattava settimanalmente argomenti tecnici e scientifici ed in particolare quelli riguardanti la geografia generale. I fascicoli furono raccolti in sei volumi tra il 1832 ed il 1839.
Nei primi due volumi che ho potuto consultare l'astronomia č ampiamente trattata ed illustrata da xilografie disegnate ed incise da specialisti quali John Addison e John Archer.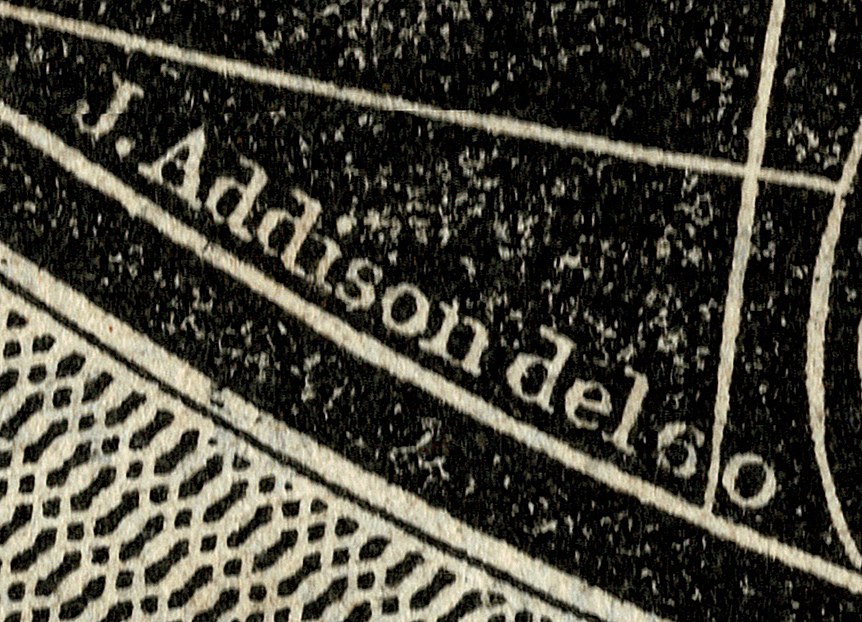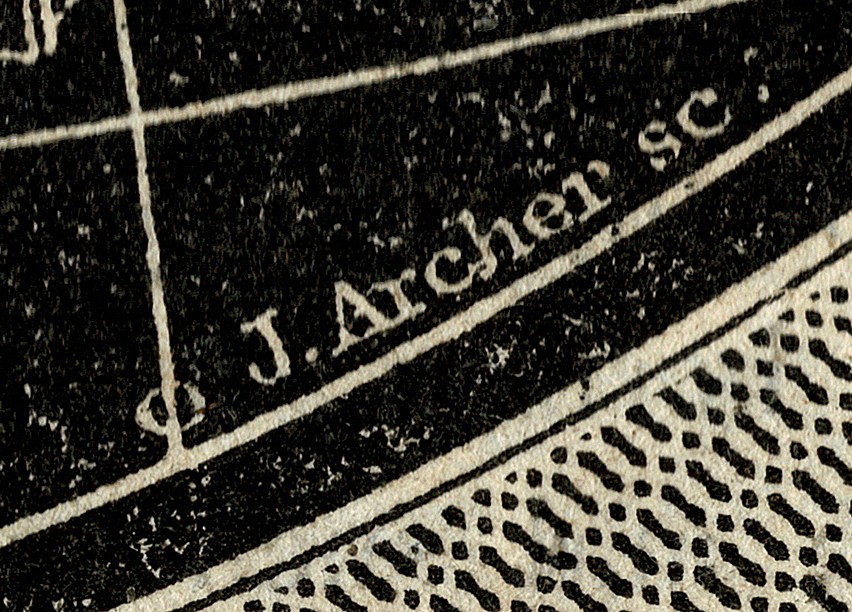 In particolare troviamo le seguenti tavole celesti seguite dal relativo articolo:
Nel primo volume:
N° XX del 20 October 1832: La posizione della Cometa periodica di Biela (https://it.wikipedia.org/wiki/3D/Biela) nella costellazione del Leone č segnalata per il 25 e il 29
ottobre e per il 2 novembre:
https://babel.hathitrust.org/cgi/pt?id=uiug.30112113988940&view=1up&seq=157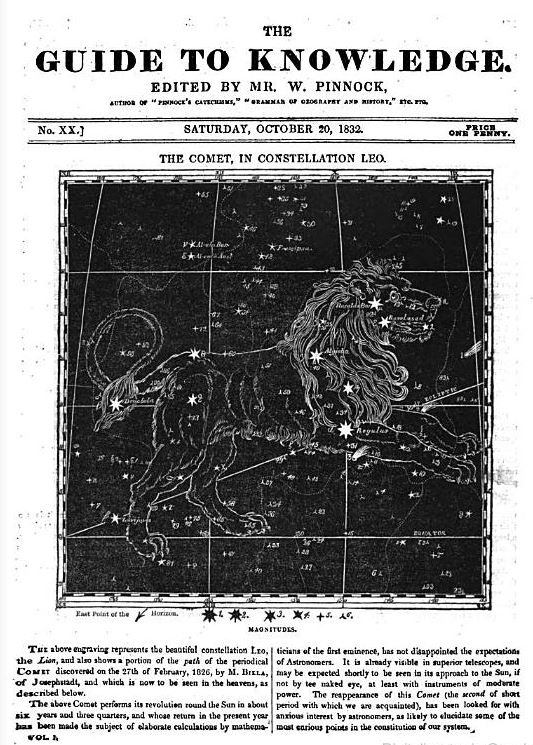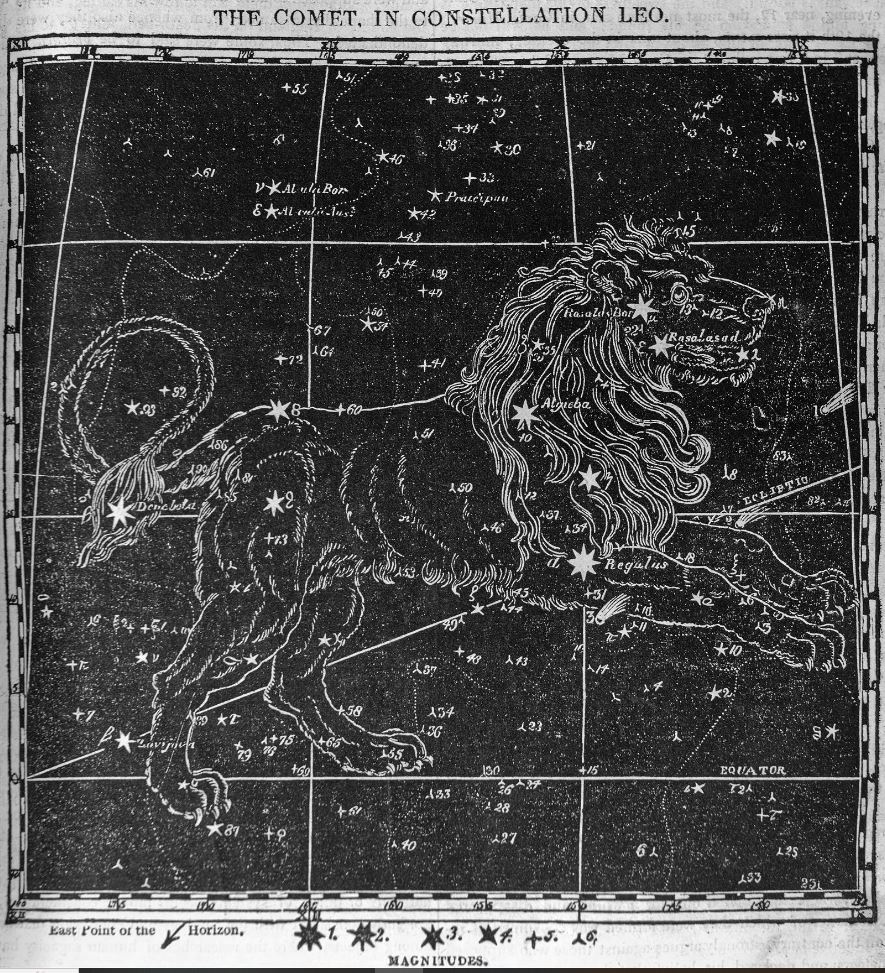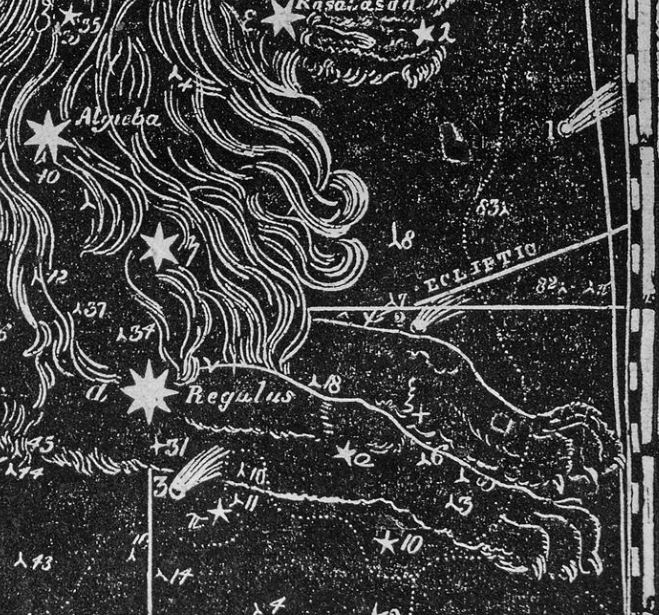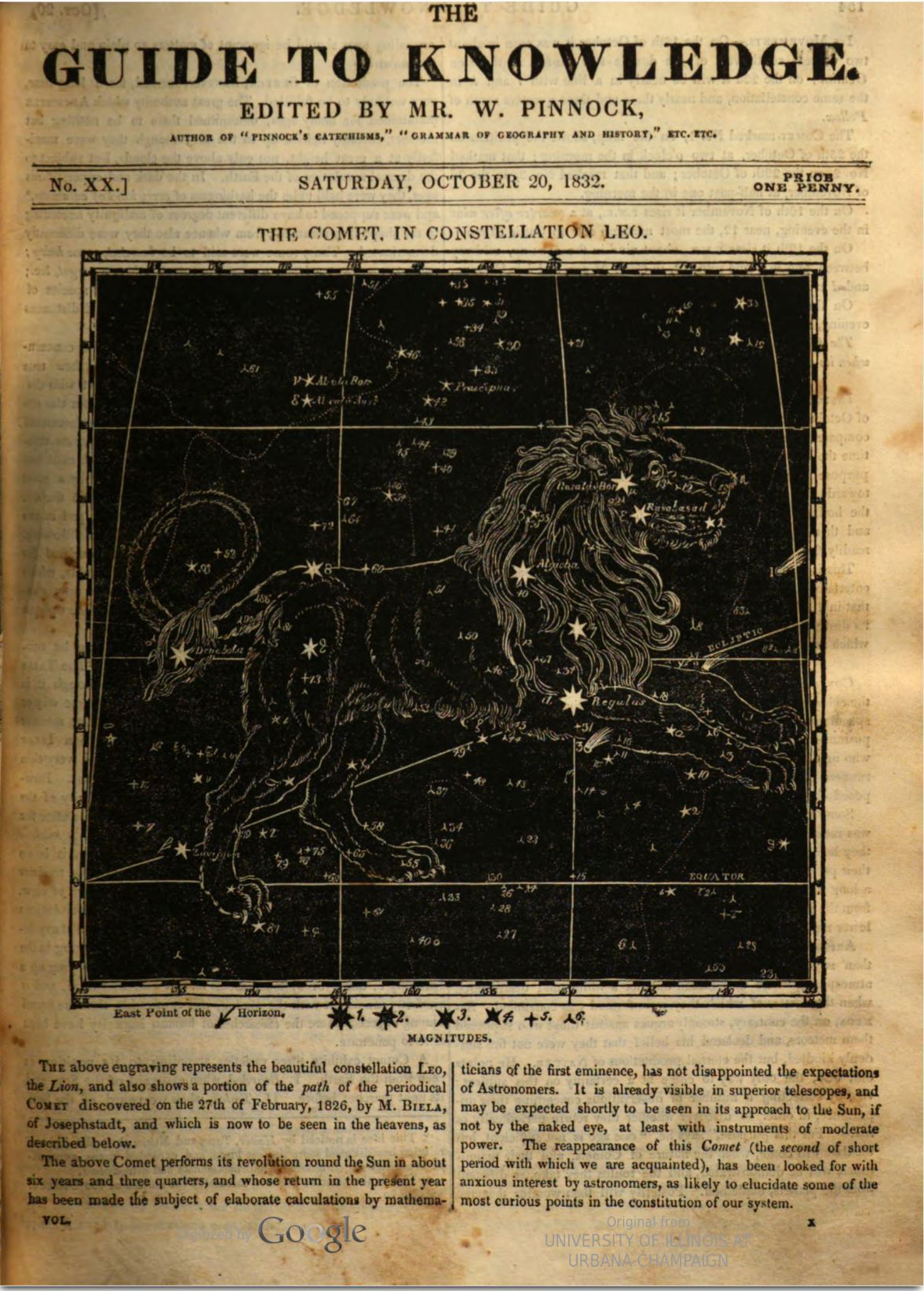 N° XXV del 17 November 1832: A contemplative view of the Heavens, un planisfero celeste settentrionale (dimensioni dell'immagine 27 x 26,8 cm)
https://babel.hathitrust.org/cgi/pt?id=uiug.30112113988940&view=1up&seq=197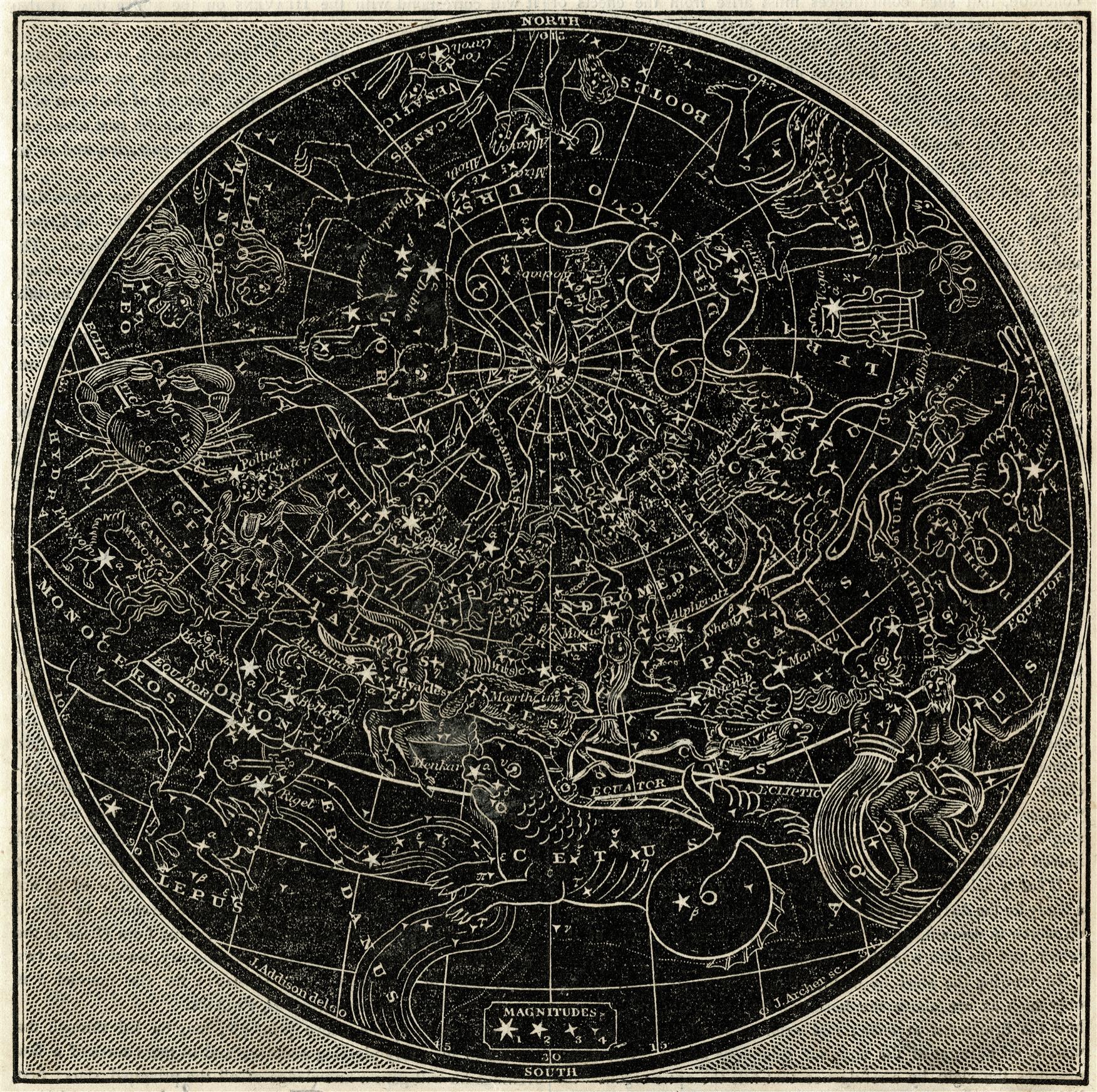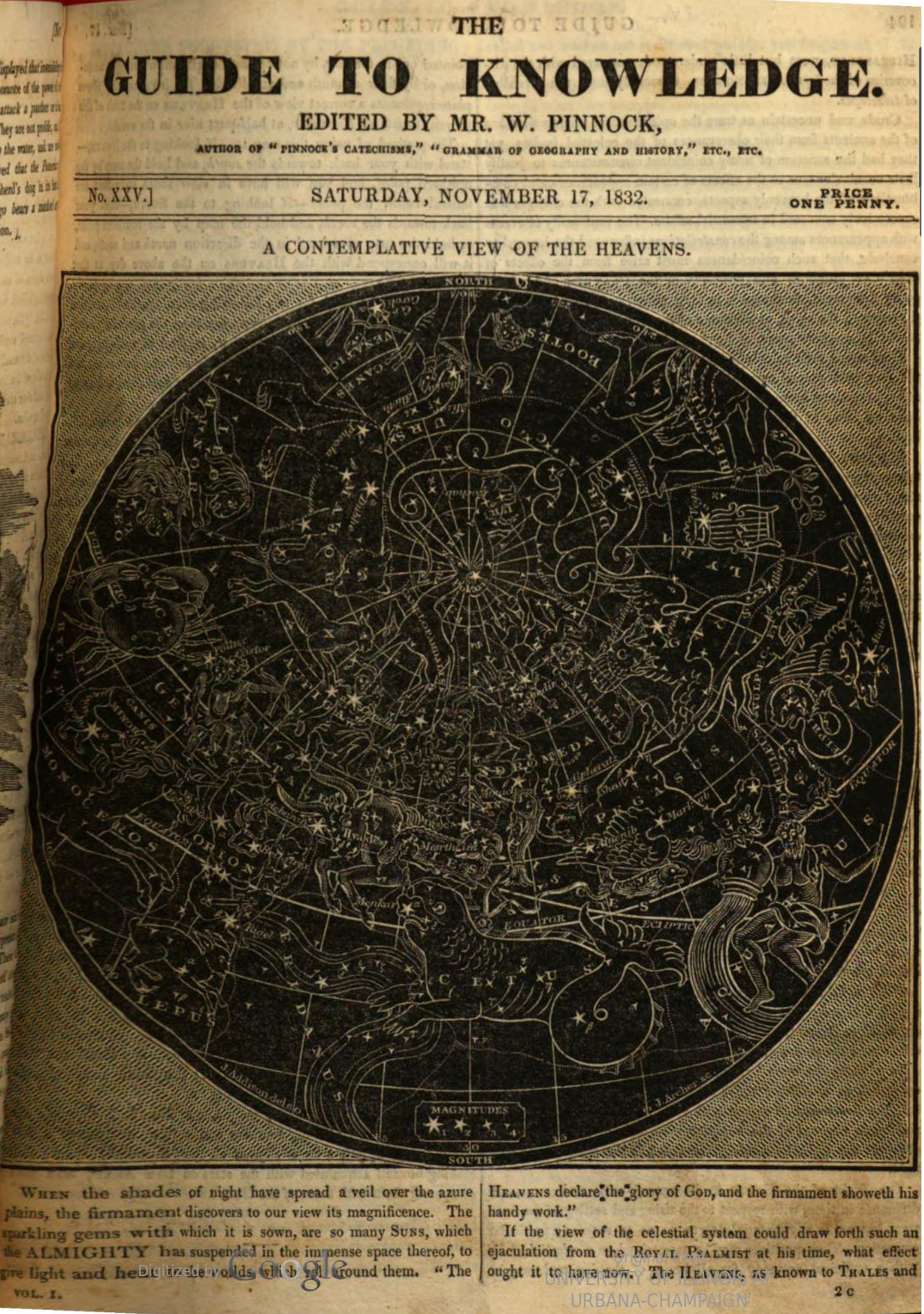 N° LXXII Supplemento al numero del 1 Oct. 1833: La costellazione zodiacale di Aries
https://babel.hathitrust.org/cgi/pt?id=uiug.30112113988940&view=1up&seq=611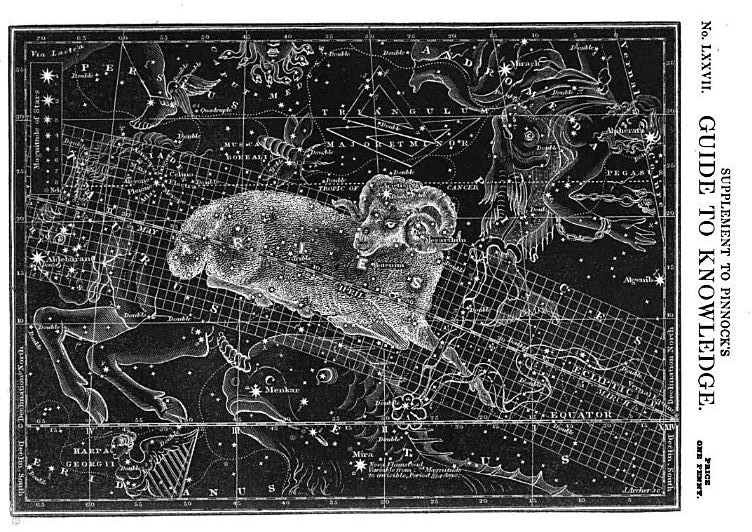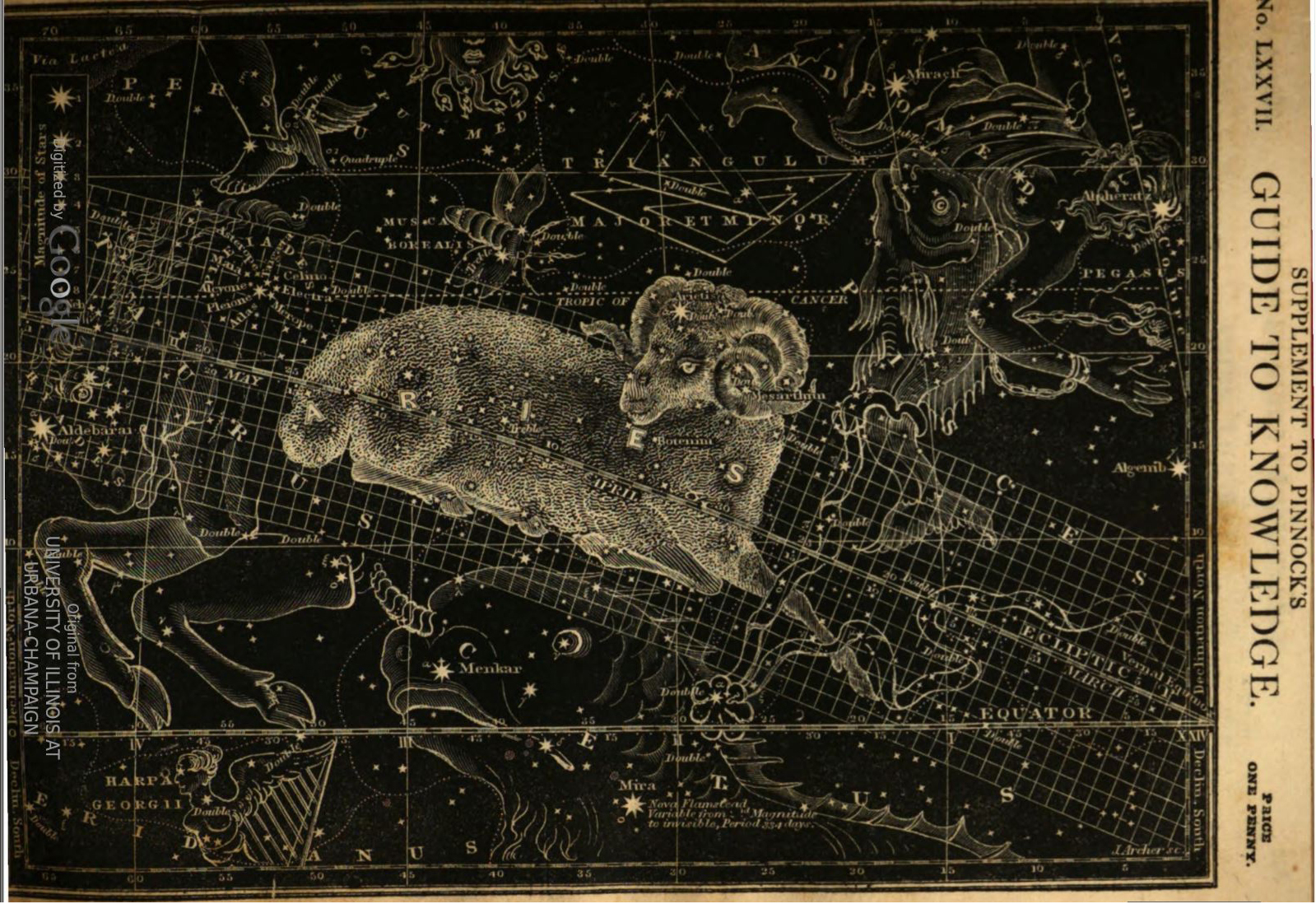 N° LXXXII Supplemento al numero del 1 Nov. 1833: La costellazione zodiacale di Taurus
https://babel.hathitrust.org/cgi/pt?id=uiug.30112113988940&view=1up&seq=651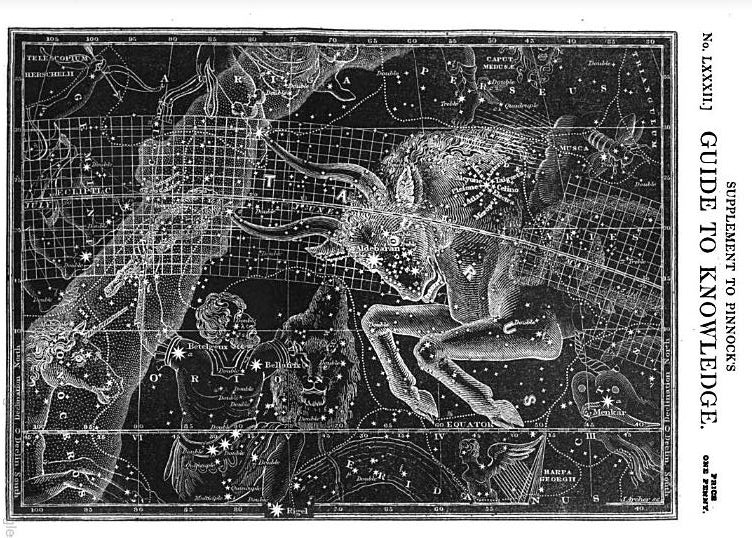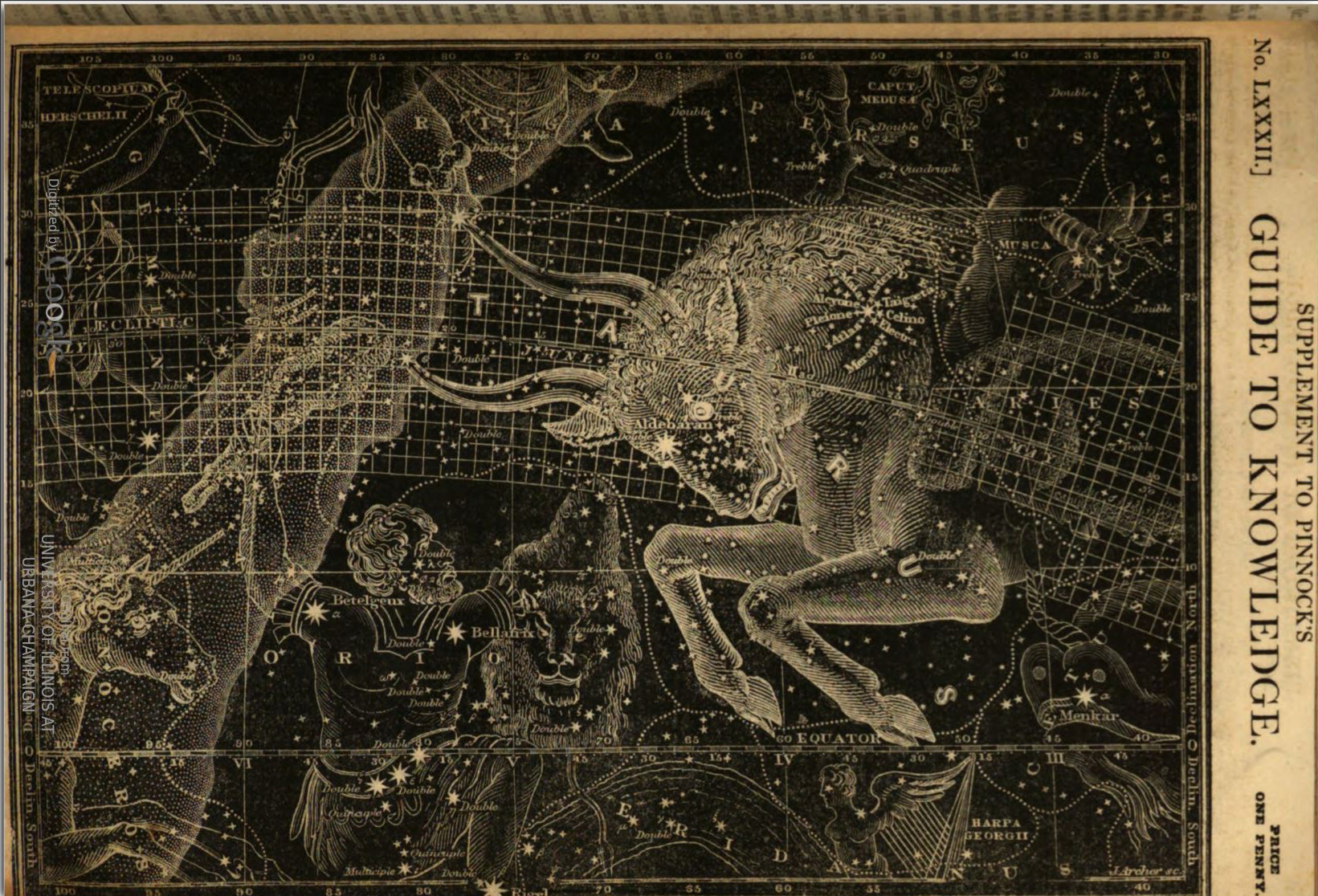 N° LXXXVII Supplemento al numero del 30 November 1833: La costellazione zodiacale di Gemini
https://babel.hathitrust.org/cgi/pt?id=uiug.30112113988940&view=1up&seq=691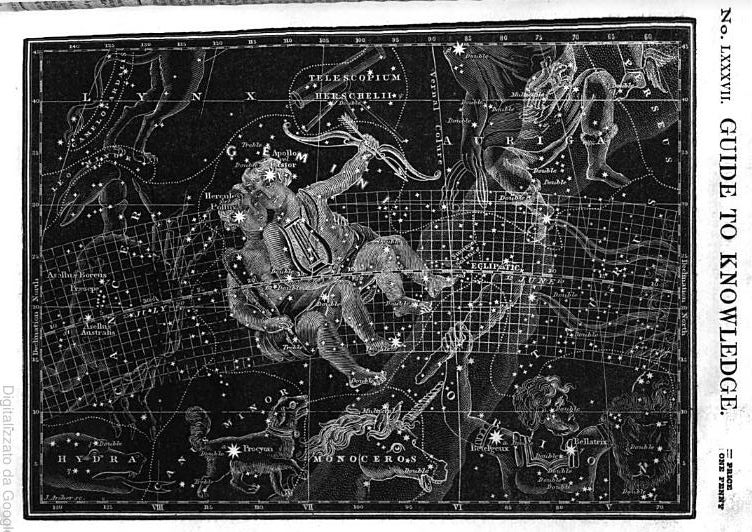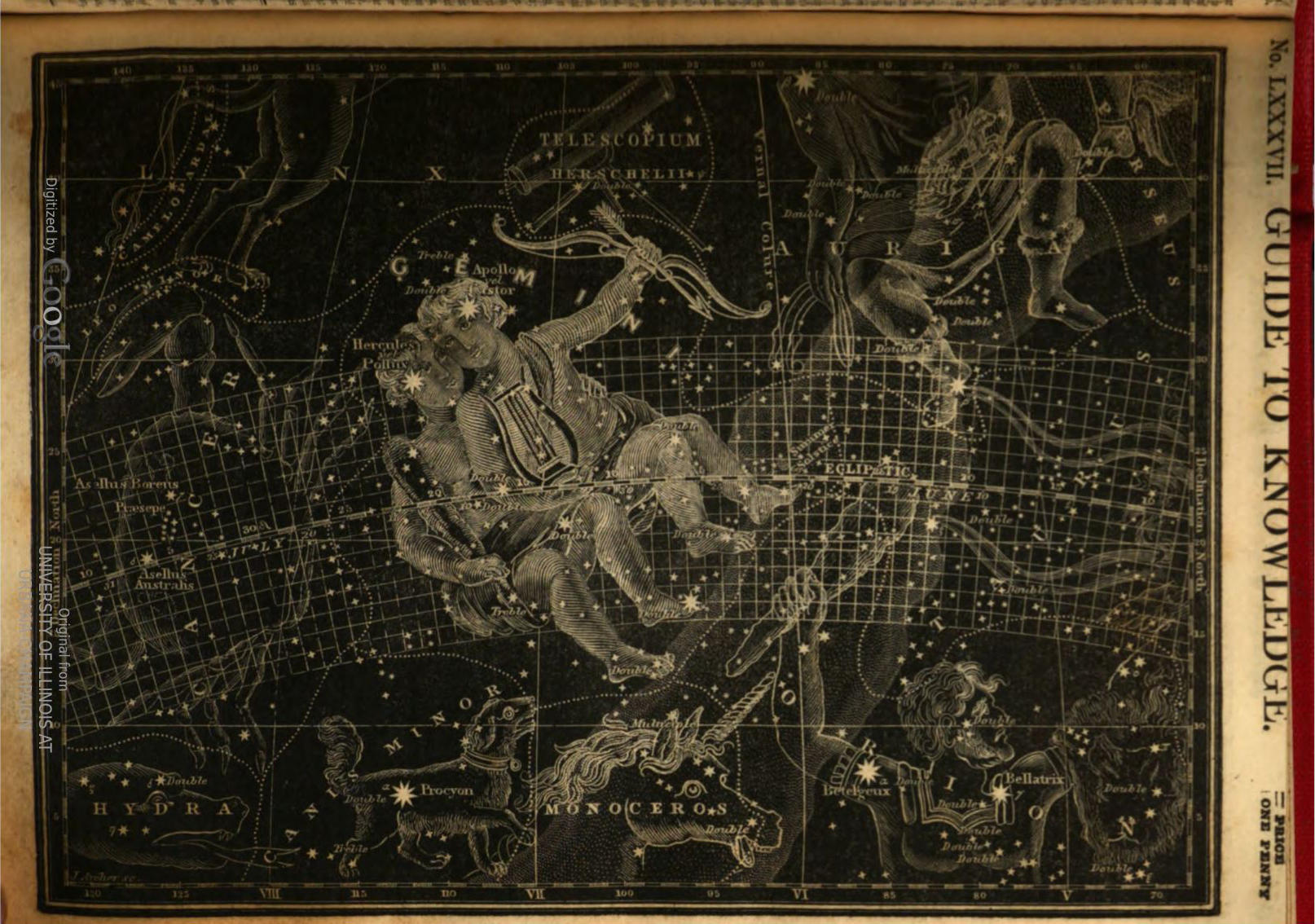 Nel secondo volume:
N° XCIII del 4 Jan.1834 : La costellazione zodiacale di Cancer
https://babel.hathitrust.org/cgi/pt?id=uiug.30112113988940&view=1up&seq=749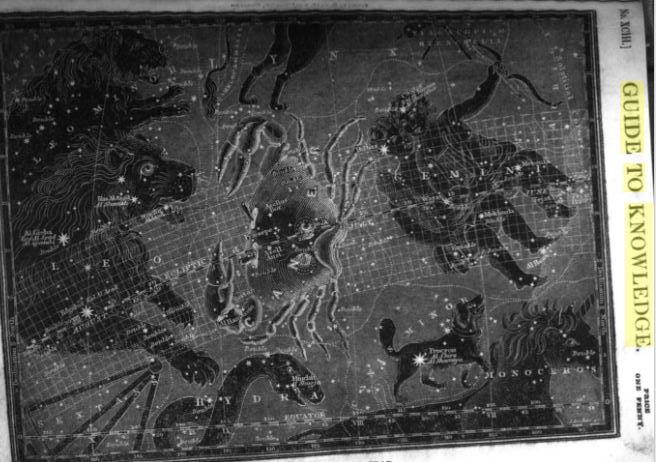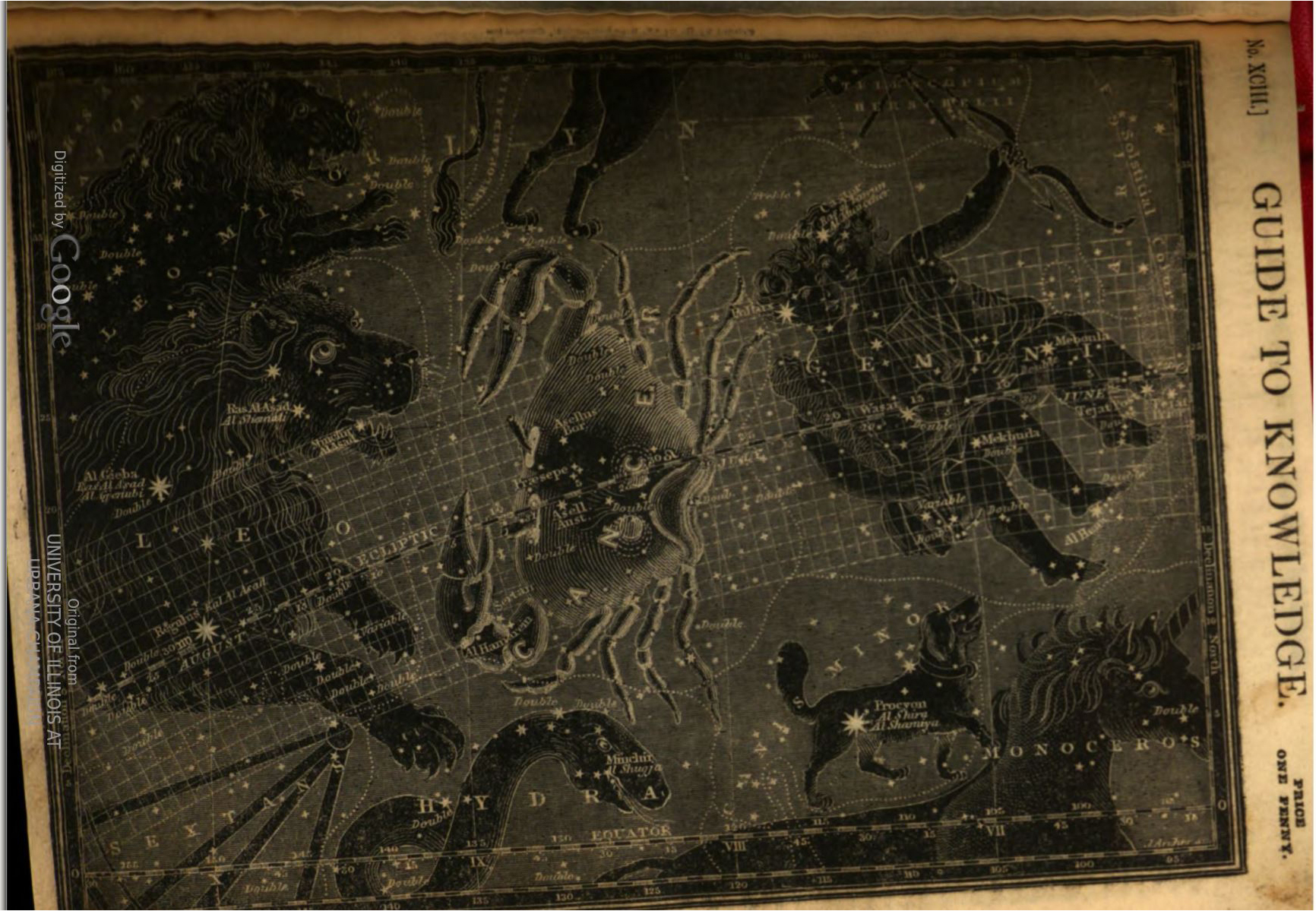 N° CI Supplemento al numero del 22 Feb 1834 : La costellazione zodiacale del Leo
https://babel.hathitrust.org/cgi/pt?id=uiug.30112113988940&view=1up&seq=813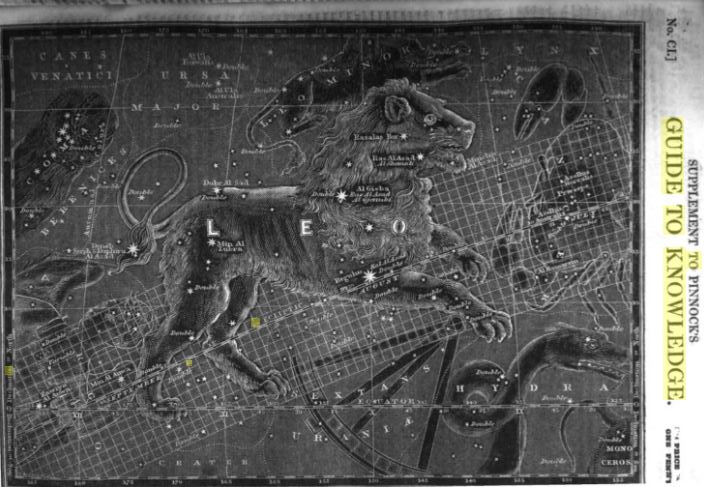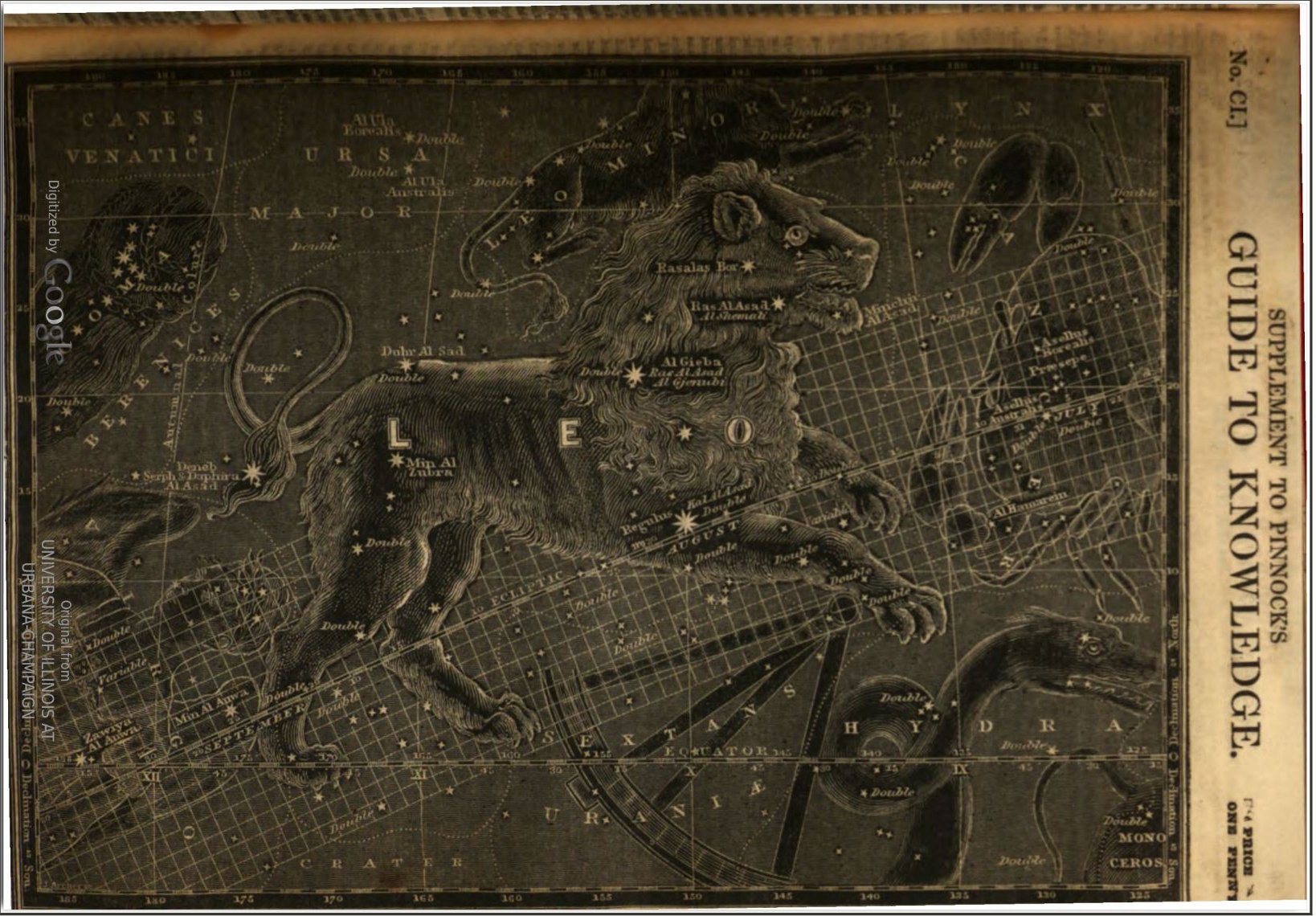 N° CIV Supplemento al numero del 15 March 1834 : La costellazione zodiacale della Virgo
https://babel.hathitrust.org/cgi/pt?id=uiug.30112113988940&view=1up&seq=837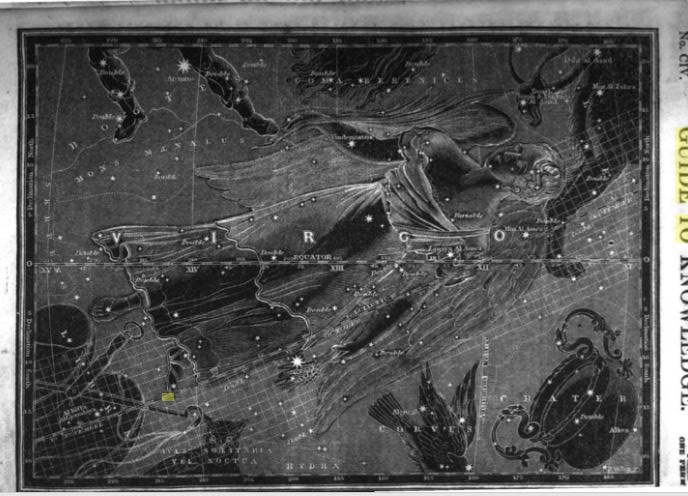 N° CVII Supplemento al numero del 5 April 1834 : La costellazione zodiacale della Libra
https://babel.hathitrust.org/cgi/pt?id=uiug.30112113988940&view=1up&seq=861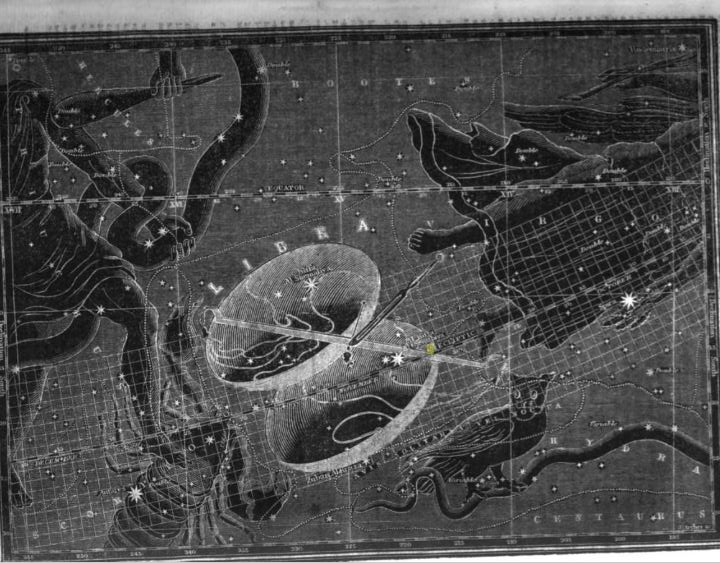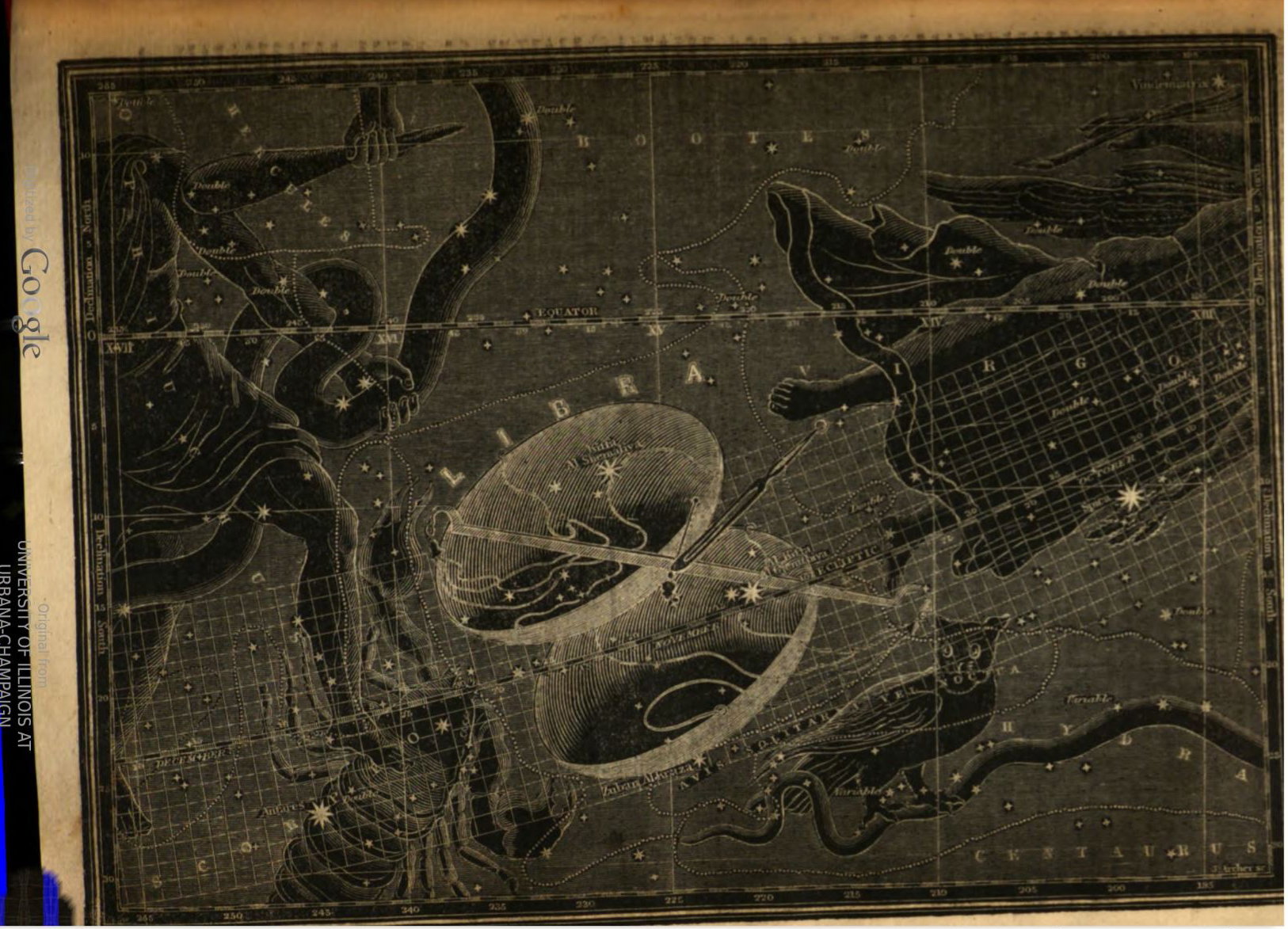 N° CXIII Supplemento al numero del 10 May 1834 : La costellazione zodiacale dello Scorpio
https://babel.hathitrust.org/cgi/pt?id=uiug.30112113988940&view=1up&seq=909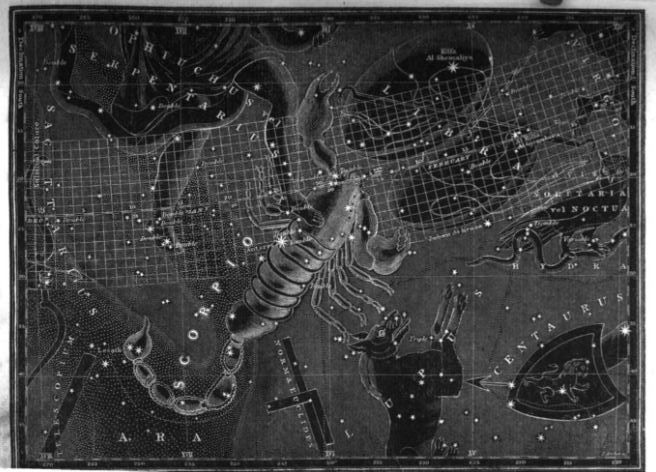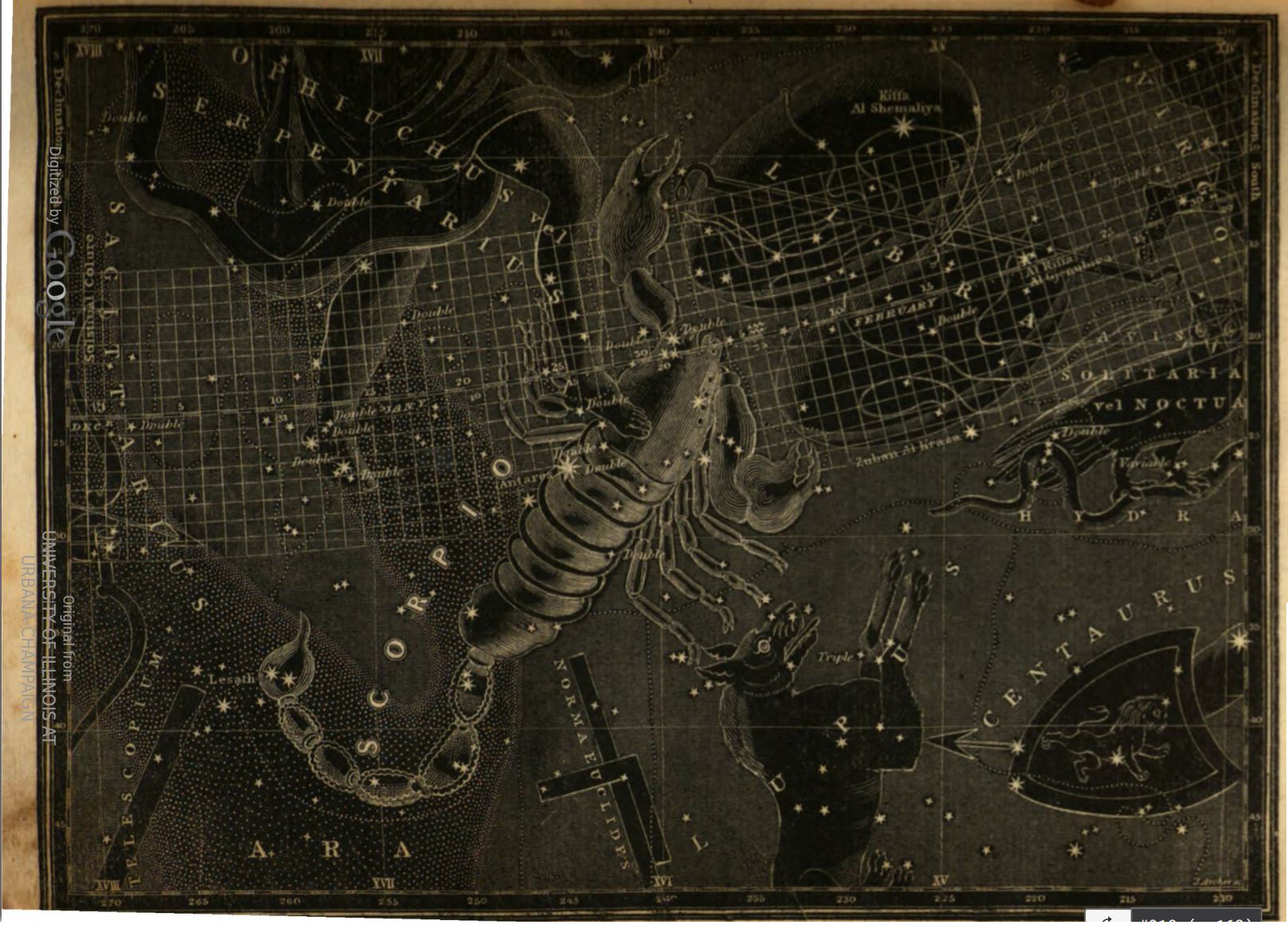 N° CXVI Supplemento al numero del 31 May 1834 : La costellazione zodiacale del Sagittarius
https://babel.hathitrust.org/cgi/pt?id=uiug.30112113988940&view=1up&seq=933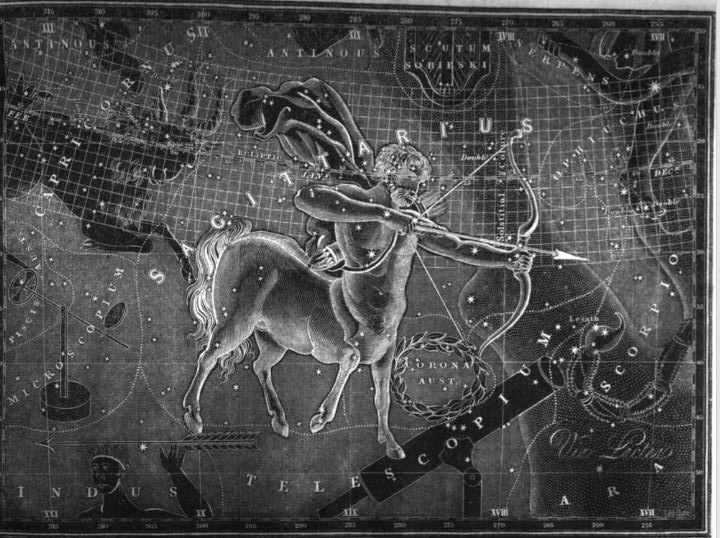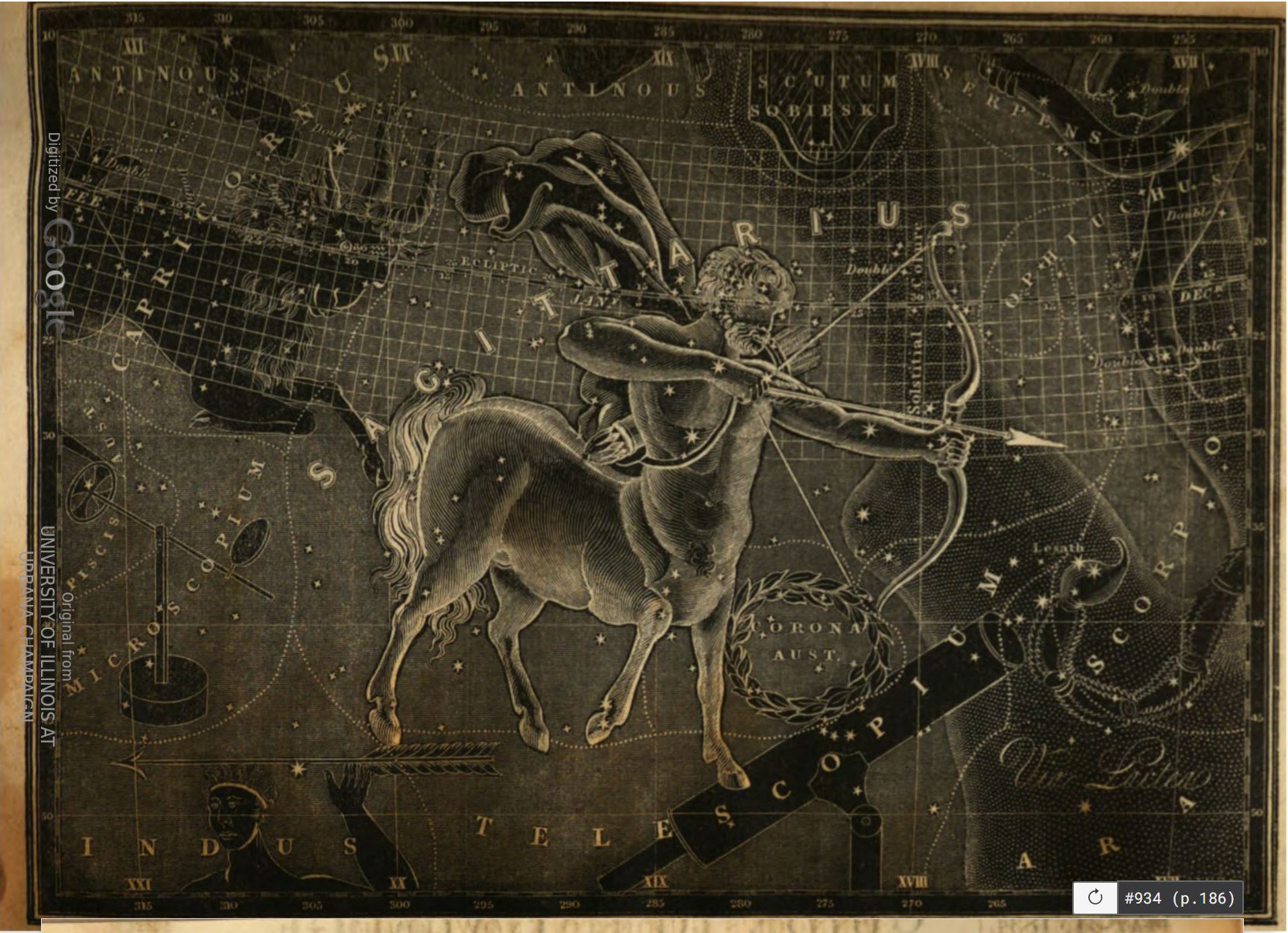 N° CXXVI Supplemento al numero del 31 July 1834 : La costellazione zodiacale del Capricornus
https://babel.hathitrust.org/cgi/pt?id=uiug.30112113988940&view=1up&seq=1013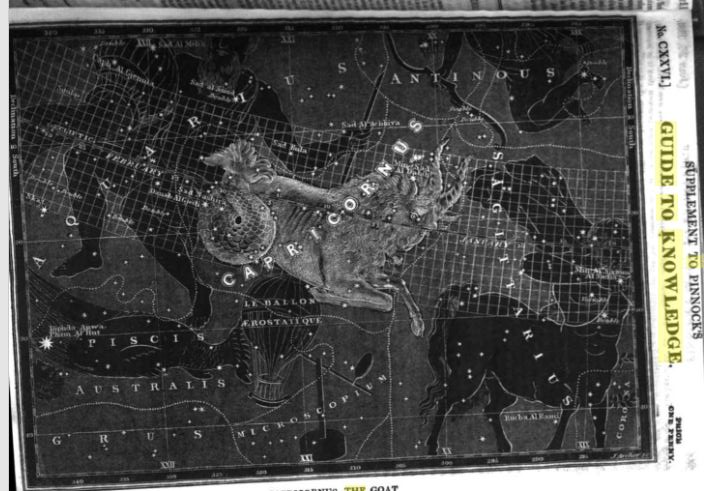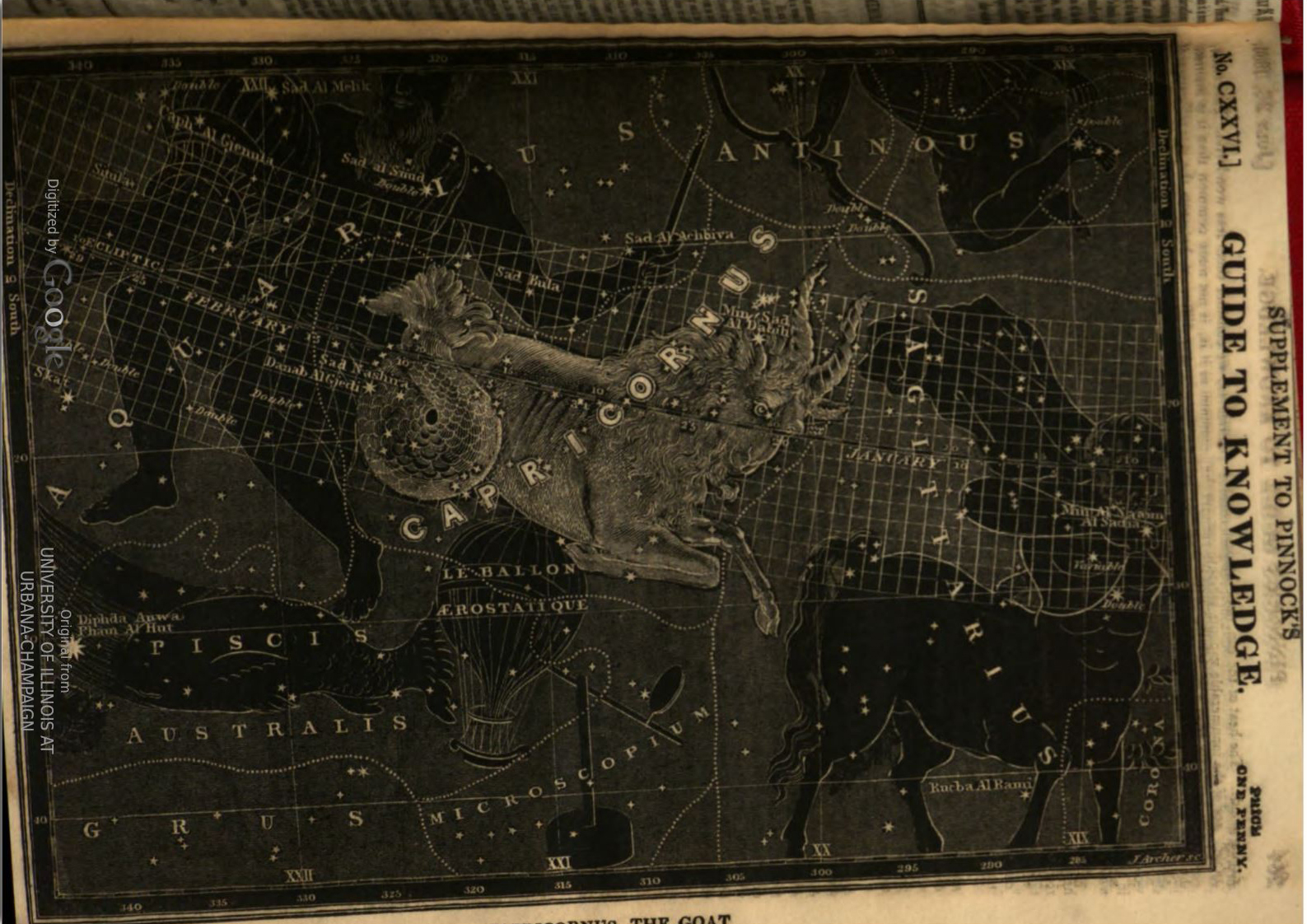 N° CXXVI Supplemento al numero del 30 August 1834 : La costellazione zodiacale dell' Aquarius
https://babel.hathitrust.org/cgi/pt?id=uiug.30112113988940&view=1up&seq=1057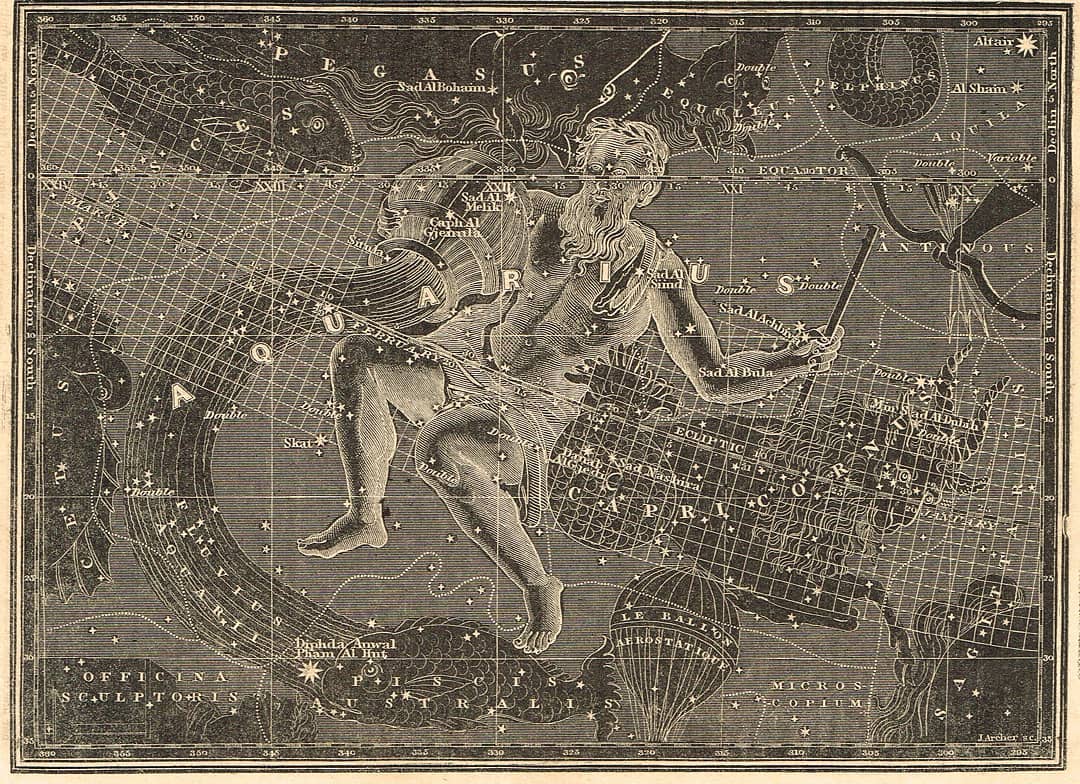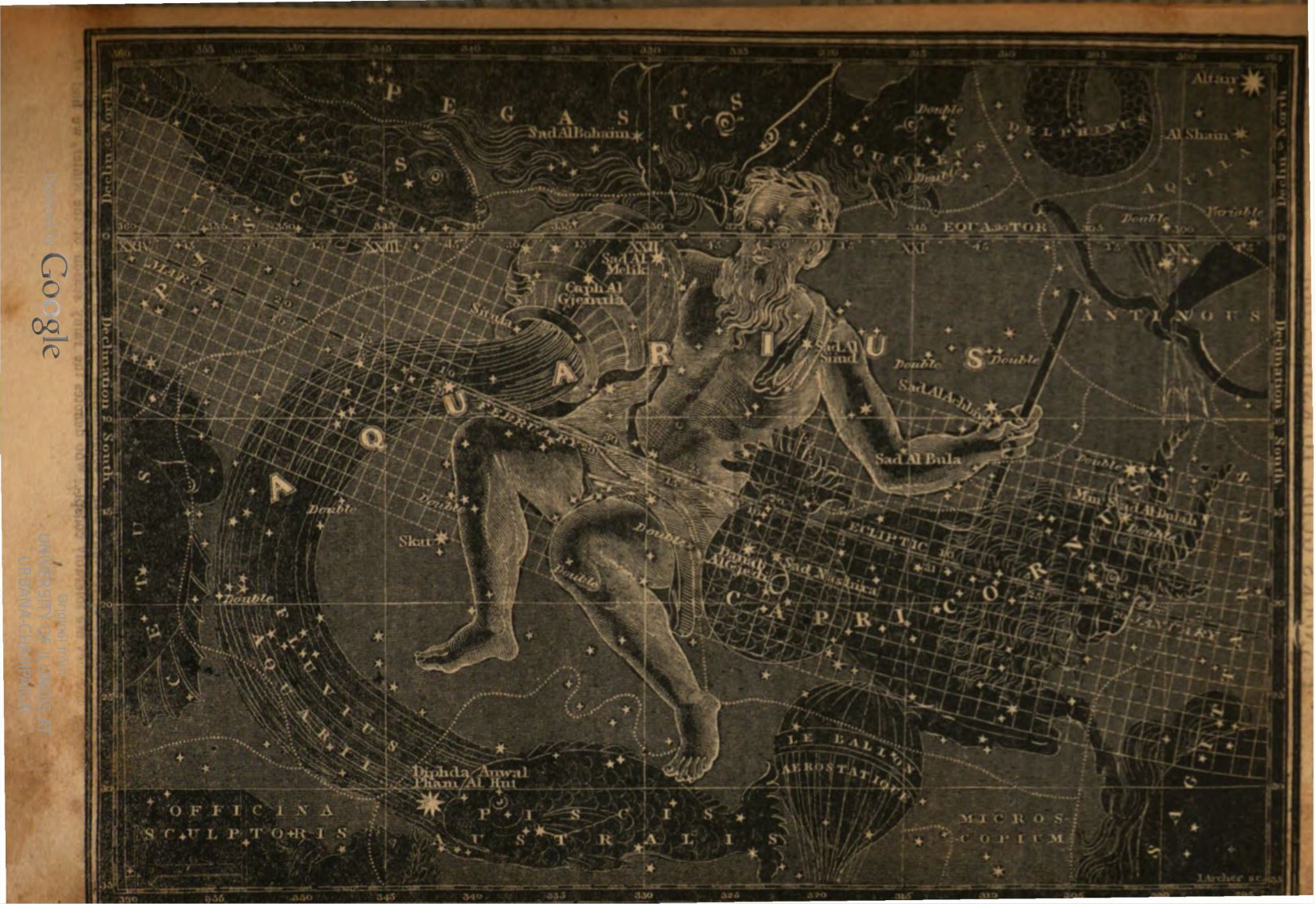 N° CXXVI Supplemento al numero del 4 October 1834 : La costellazione zodiacale dei Pisces
https://babel.hathitrust.org/cgi/pt?id=uiug.30112113988940&view=1up&seq=1105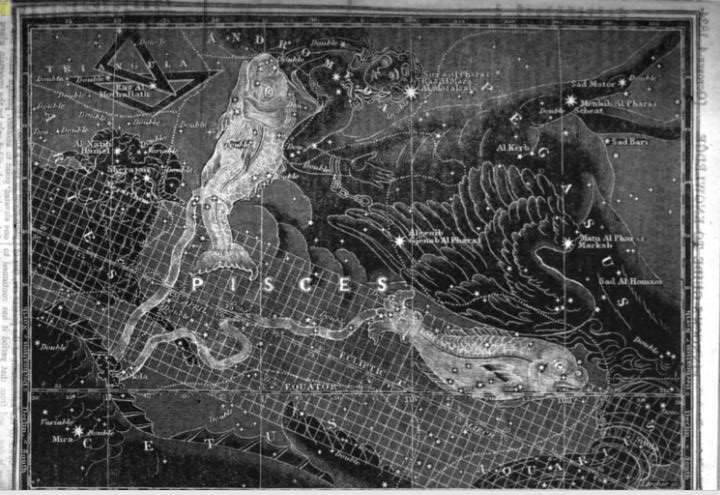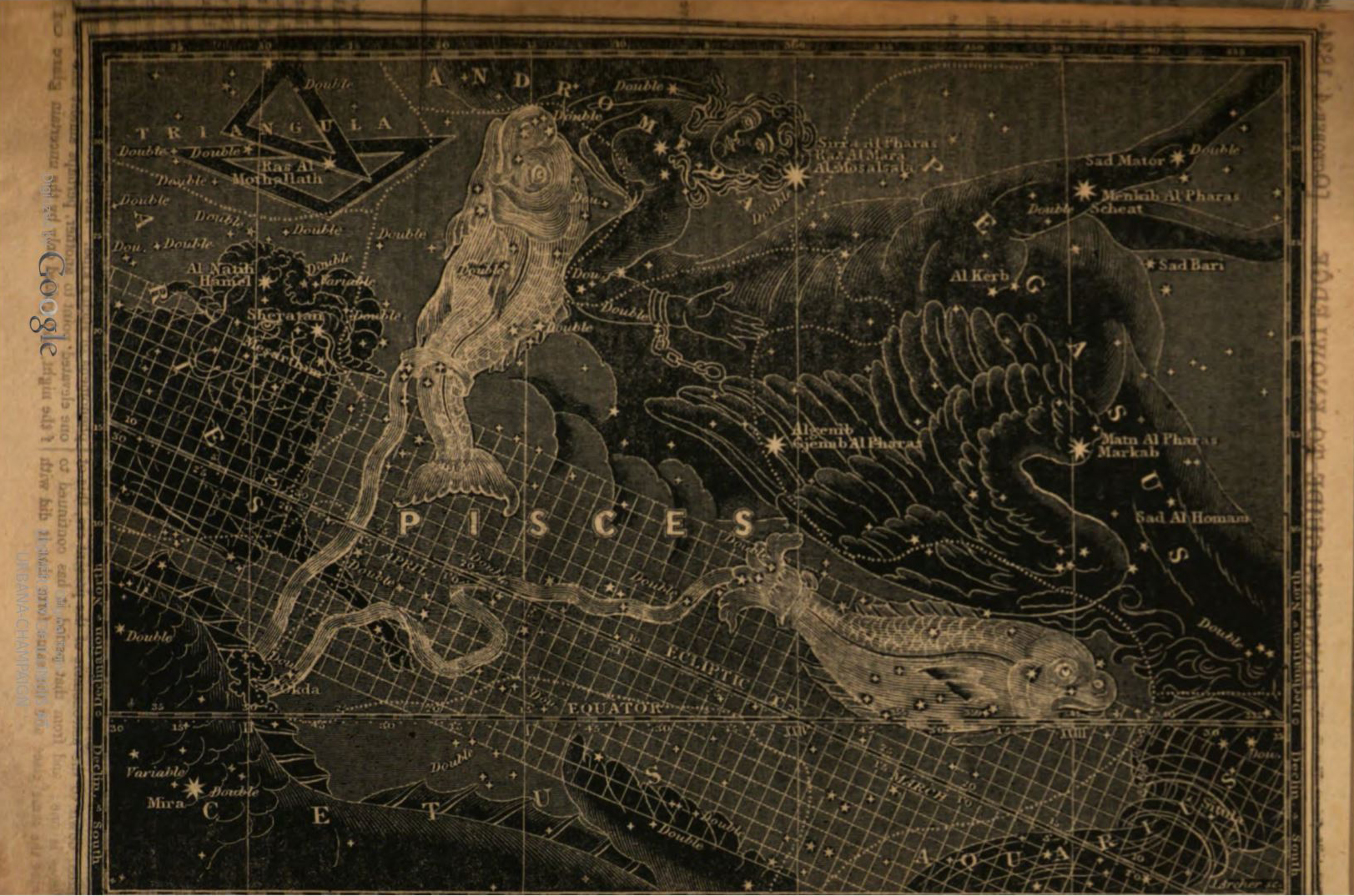 Decine di altre tavole non celesti ma riguardanti gli argomenti astronomici sono presenti e completano la pubblicazione periodica dell'autore: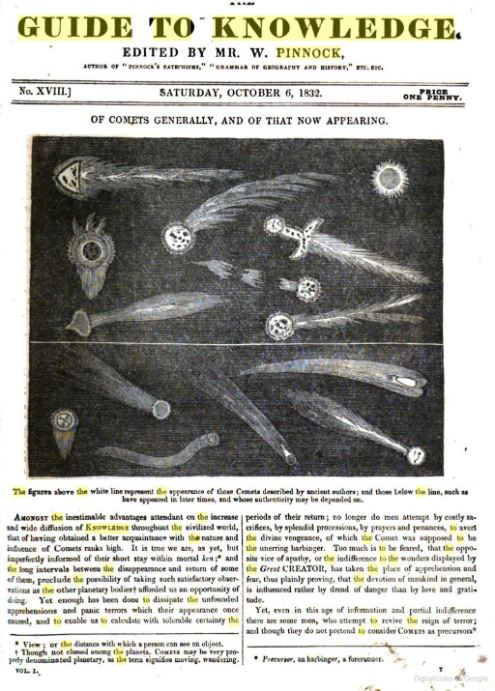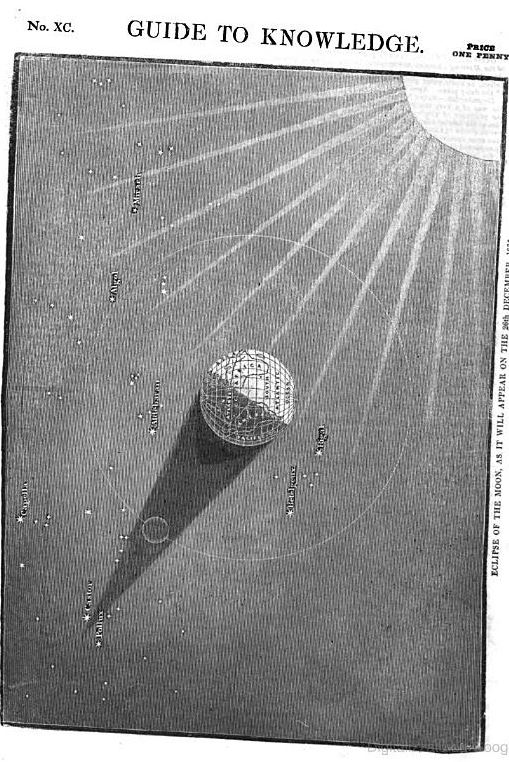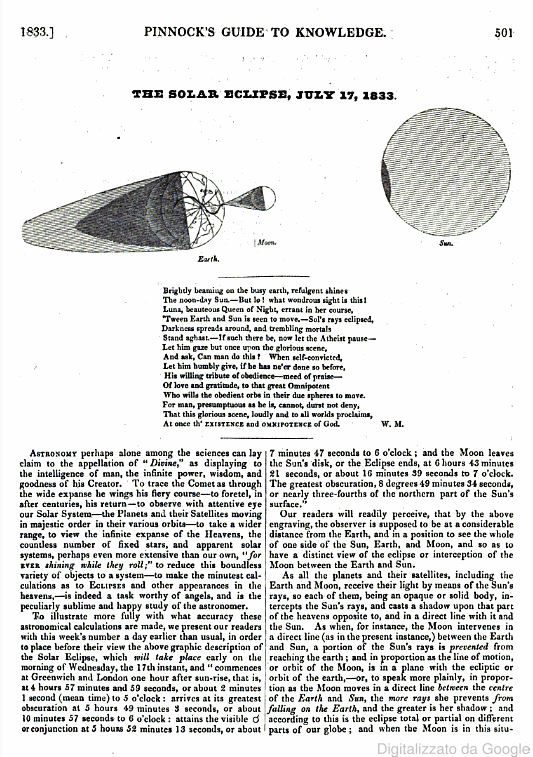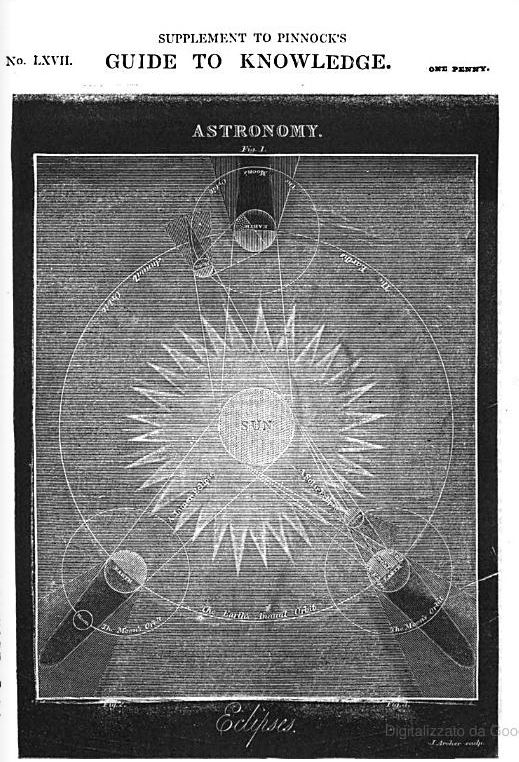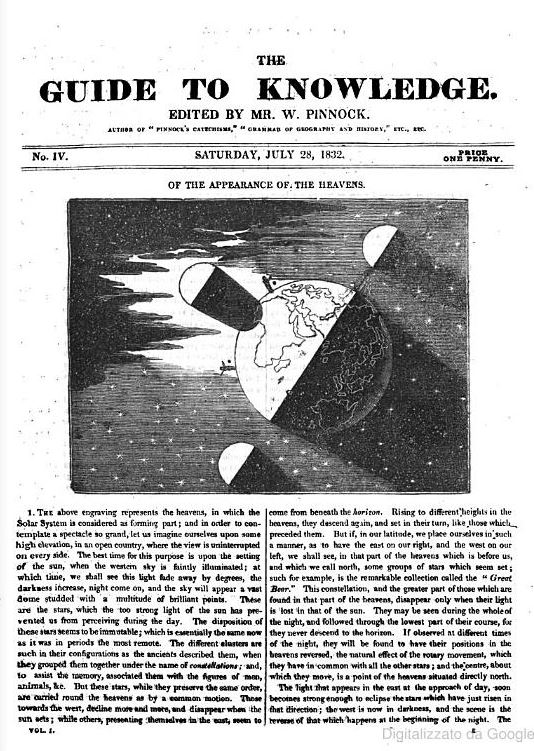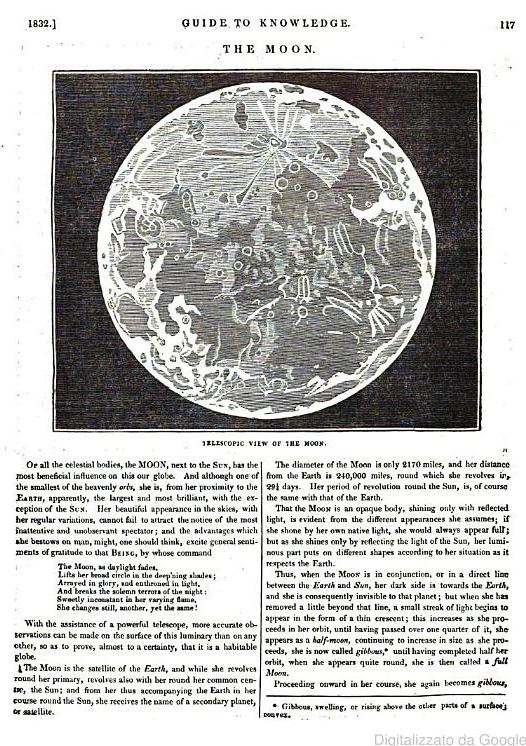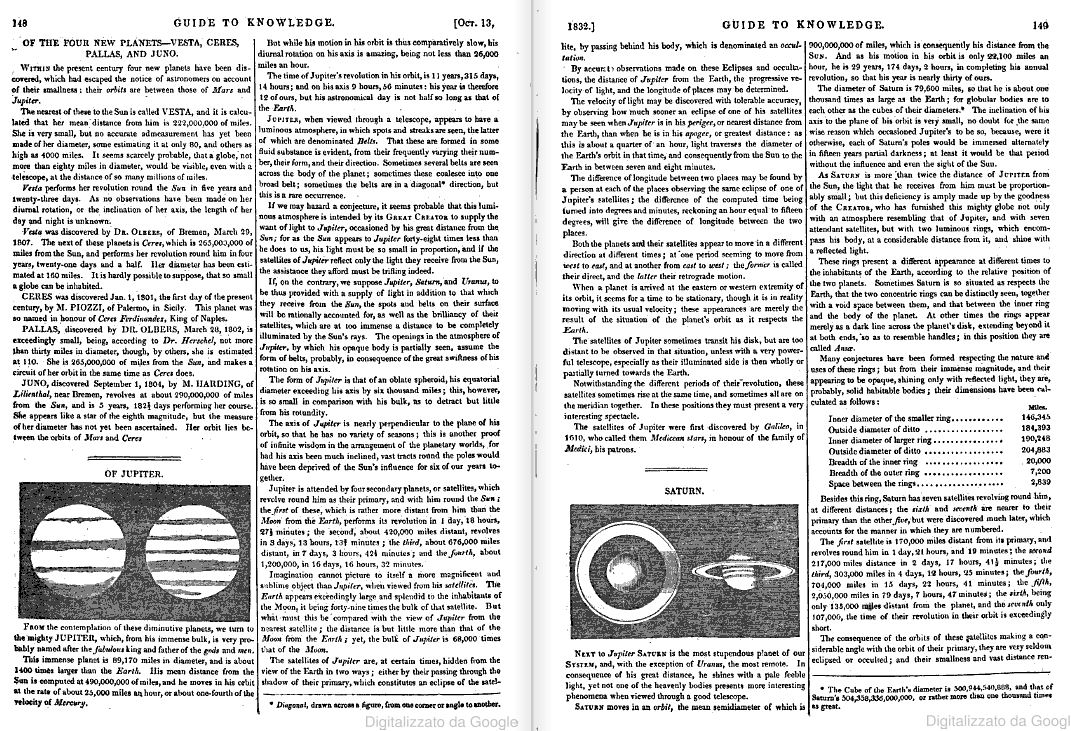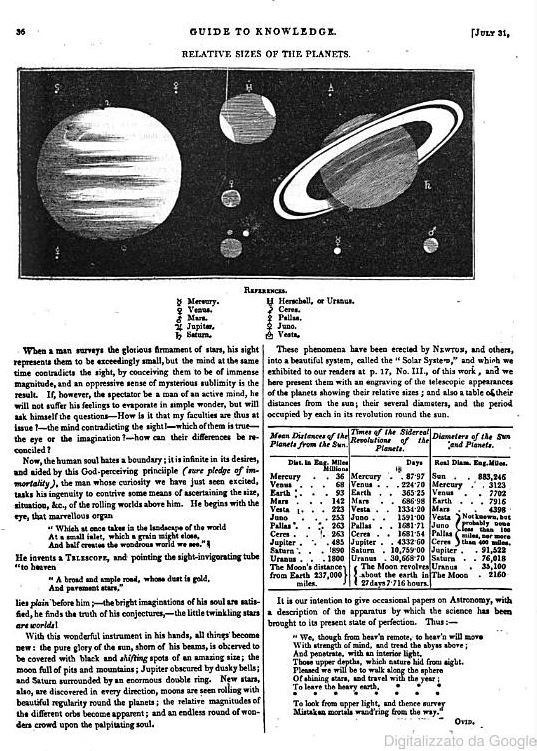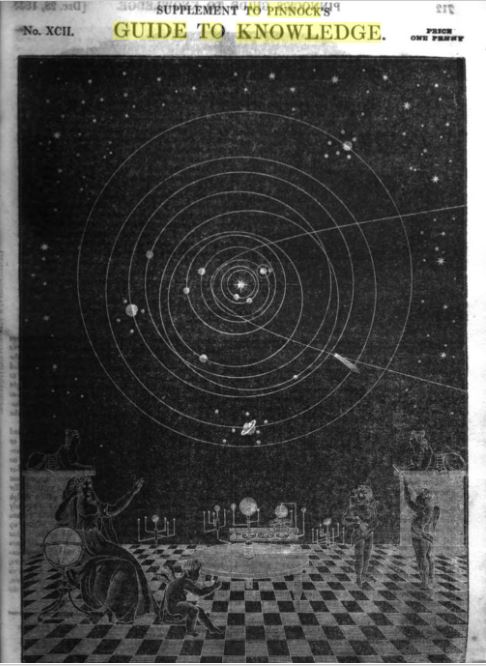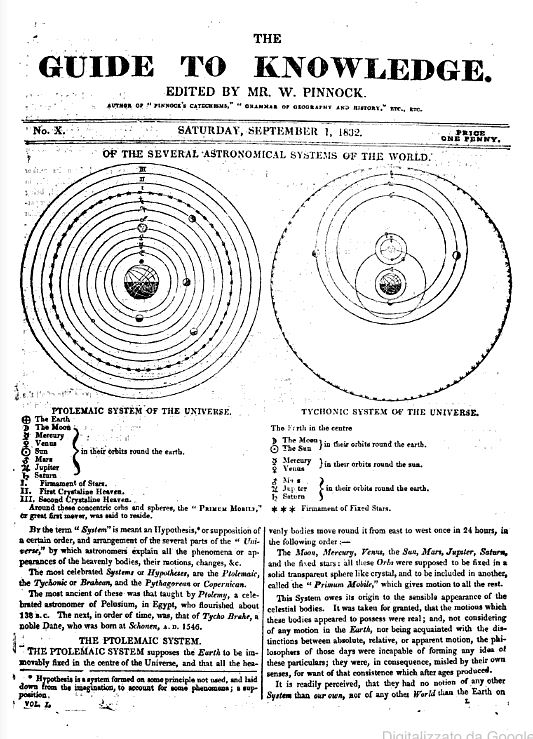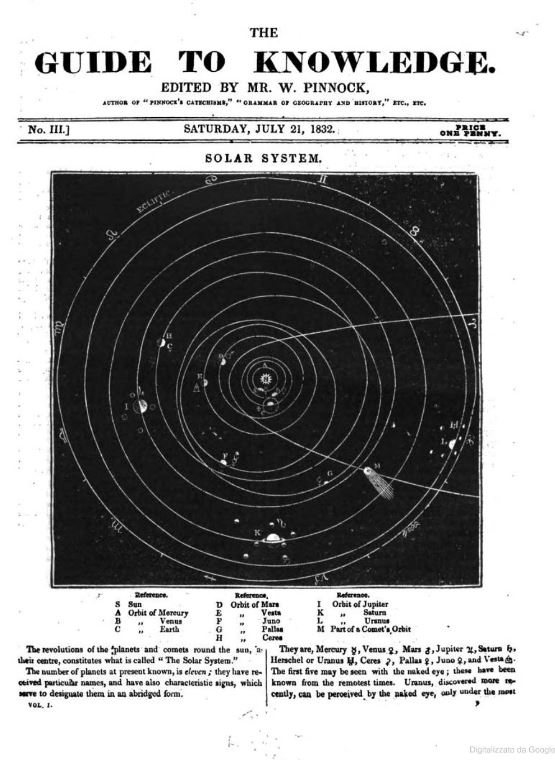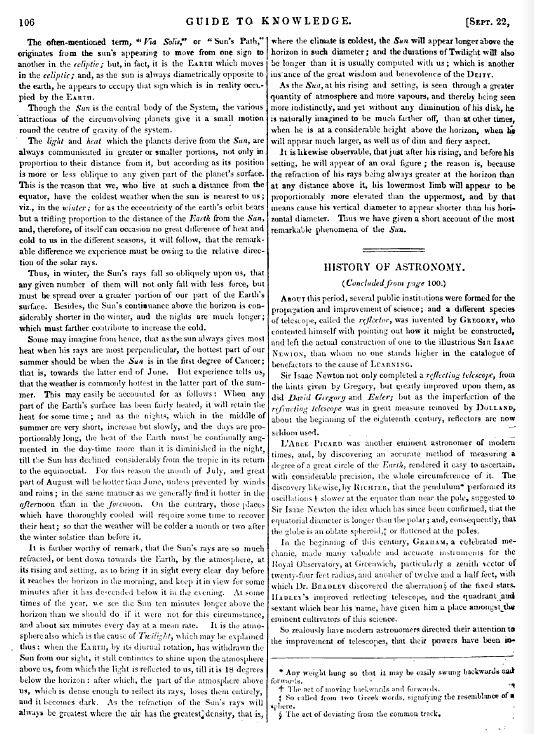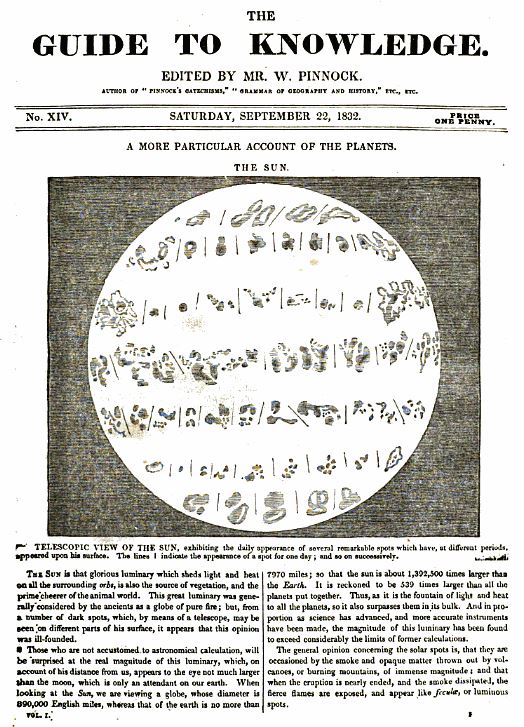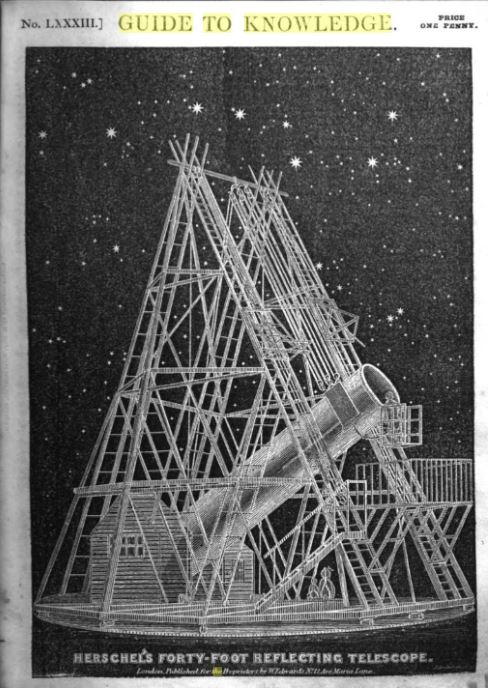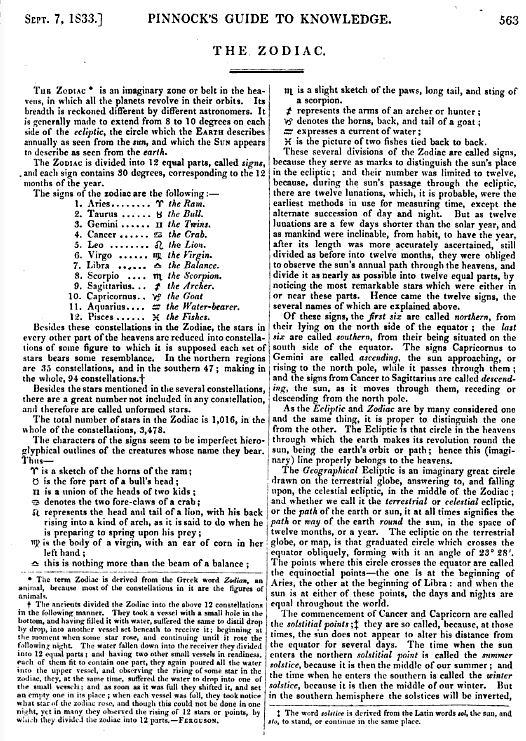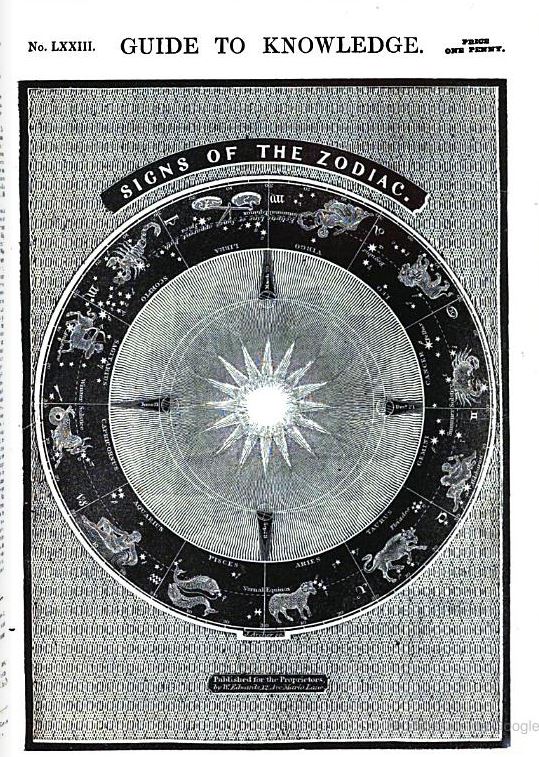 Consulta i volumi
vol 1 e 2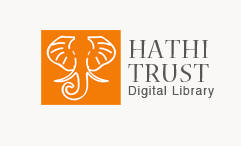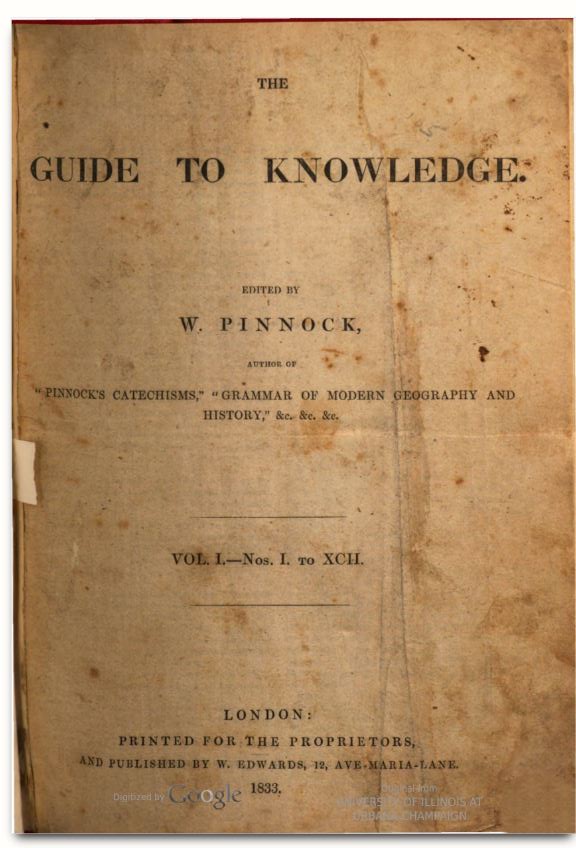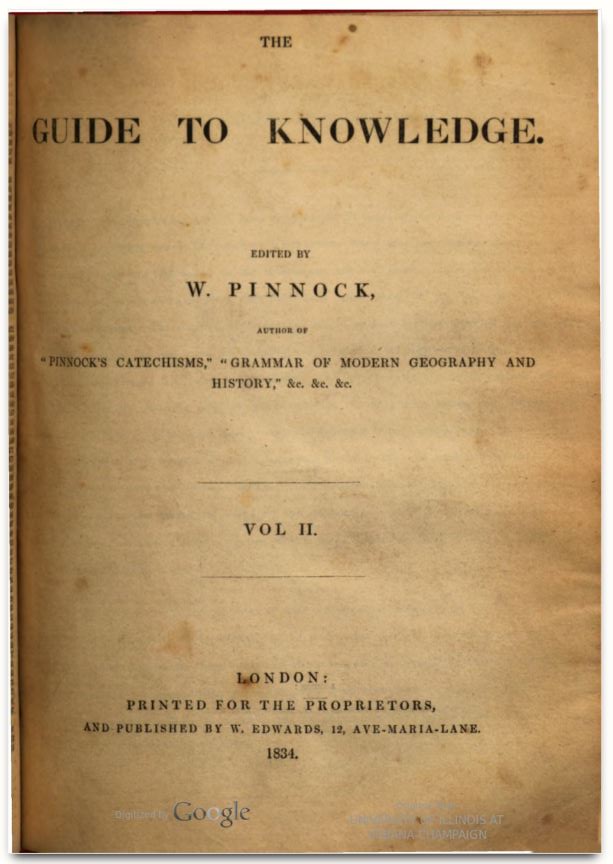 https://catalog.hathitrust.org/Record/100642703
https://babel.hathitrust.org/cgi/pt?id=uiug.30112113988940&view=1up&seq=7
vol 3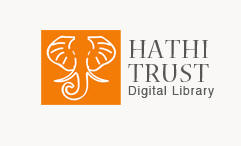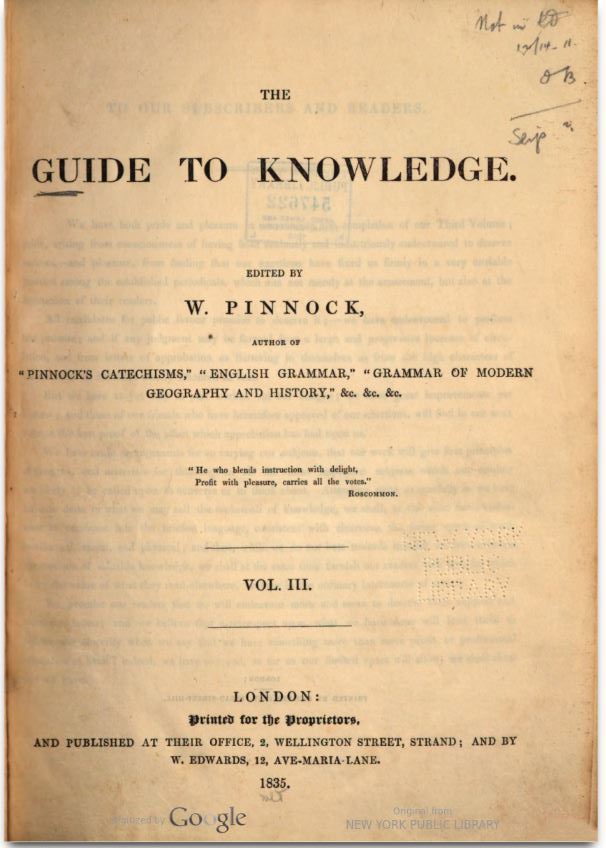 https://babel.hathitrust.org/cgi/pt?id=nyp.33433104893189&view=1up&seq=19
Scheda sull'autore

https://en.wikipedia.org/wiki/William_Pinnock
Tra le sue altre numerose pubblicazioni troviamo anche Astronomy made easy, London 1847: un saggio divulgativo dedicato all'astronomia, ricco di tavole illustrative: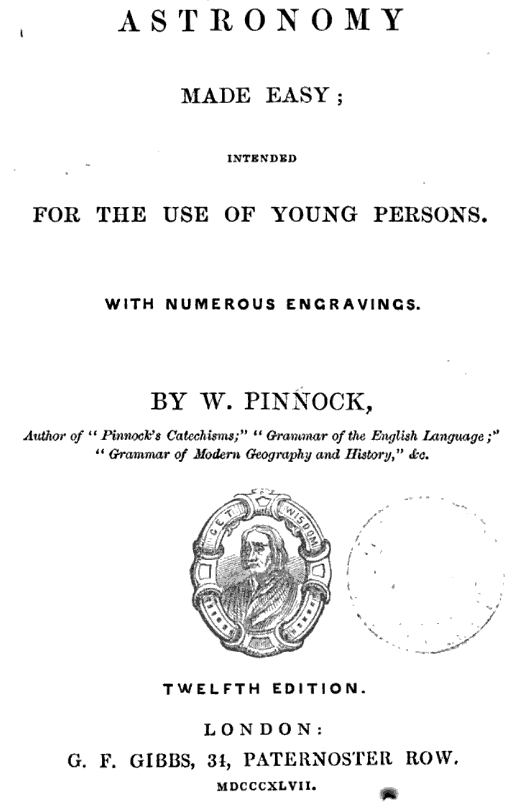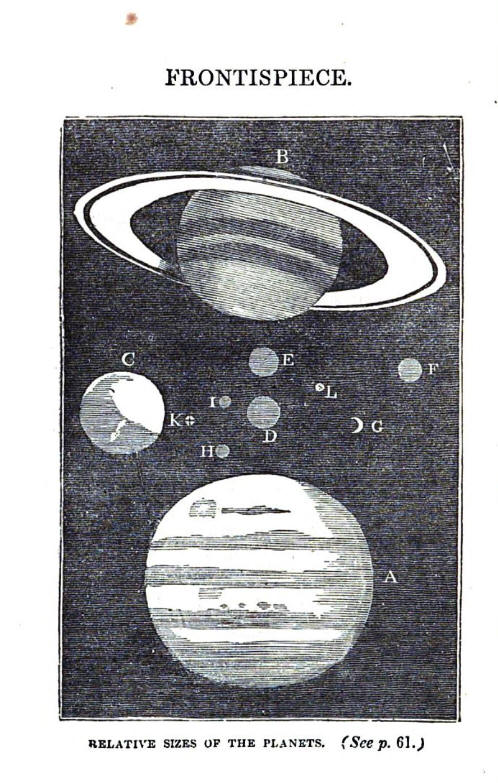 https://books.google.it/books?id=-RMEAAAAQAAJ&printsec=frontcover&hl=it&source=gbs_ge_summary_r&cad=0#v=thumbnail&q&f=false
Un elenco delle altre sue opere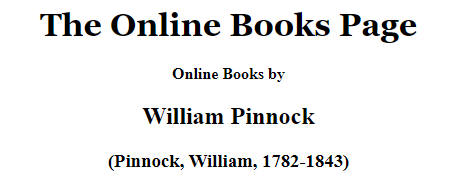 http://onlinebooks.library.upenn.edu/webbin/book/lookupname?key=Pinnock%2C%20William%2C%201782-1843
di FELICE STOPPA
GENNAIO 2023